For most PC gamers, this generation of graphics cards has not been fun. A lot of the GPUs released have been quickly snapped up by miners, scalpers and fellow gamers. Which is why it was perhaps nice to see AMD come back into the limelight with an entry-level GPU for gamers who really just want something for 1080p gaming: the AMD Radeon RX 6600 XT.
Based on their RDNA 2 architecture, AMD claims that the RX 6600 XT delivers the 'ultimate 1080p gaming experience'. It looks like a solid choice for those who daily drive 1080p monitors and don't want to upgrade, as well as for gamers on a budget that would still like to play the latest triple-A games. Priced at USD379 (~RM1,599.95), it's set to go up against NVIDIA's RTX 3060 which may be priced cheaper at USD329 but does also perform worse, according to AMD's own testing anyway.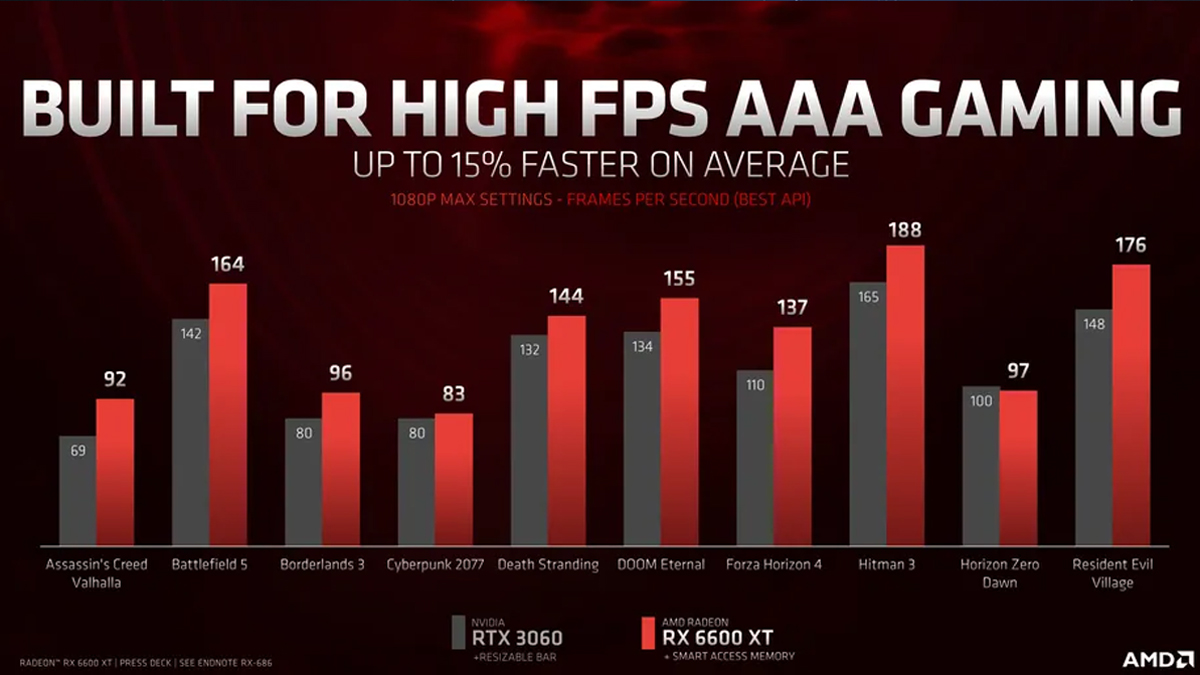 Numbers-wise, you're looking at 32 compute units, 8GB of GDDR6 RAM, 1968MHz base clock, 2589MHz boost clock with 32MB of AMD Infinity Cache. For comparison, AMD's next-in-line RX 6700 XT brings 40 compute units to the table, while the top tier RX 6900 XT offers 80 compute units. It should be pointed out though that the RX 6600 XT is rated at just 160W of power with AMD recommending a 550W power supply unit. In contrast, the RTX 3060 needs 170W and a 550W PSU.
AMD won't however be selling any reference designed RX 6600 XT cards themselves. Instead, this new card will only be available via their hardware partners. As such, you can probably expect a host of different designs as each hardware partner looks to balance price and cooling potential to meet AMD's USD379 MSRP.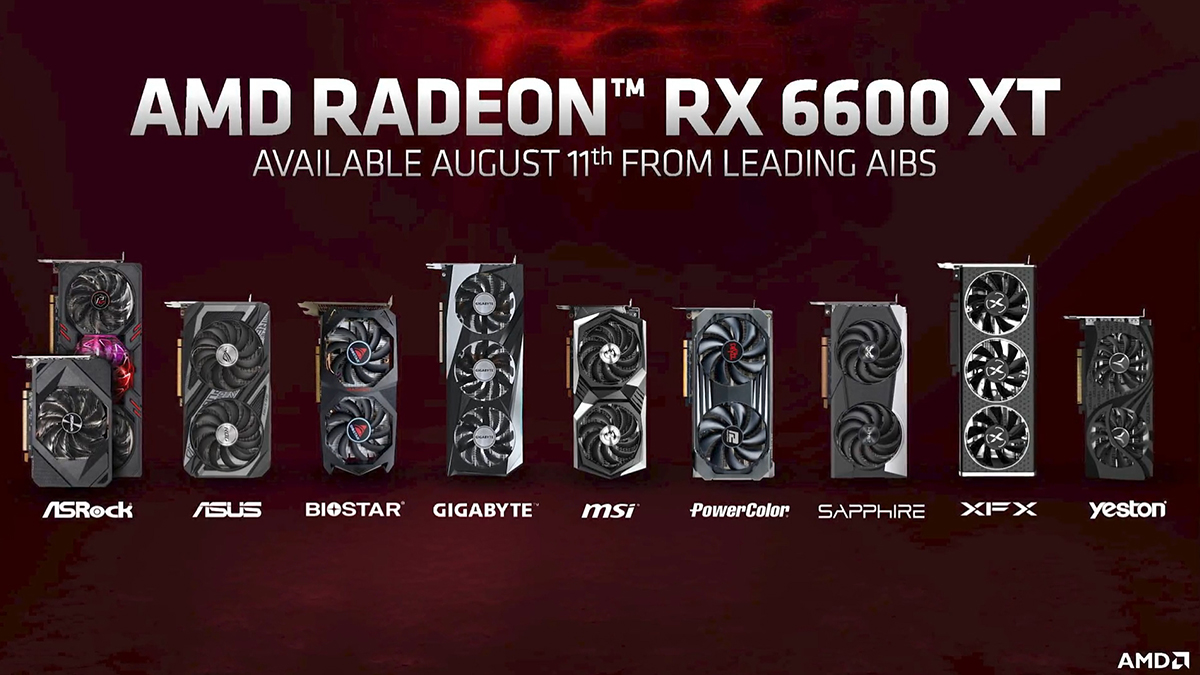 According to AMD, most gaming-grade monitors sold in 2020 were actually just 1080p panels. However, a vast chunk of them were high-refresh rate displays, meaning that for many, getting solid FPS numbers is more important than going 4K. As such the RX 6600 XT seems to make a lot of sense, as with AMD's Smart Access Memory technology it was able to hit up to 83fps in demanding games like Cyberpunk 2077. The addition of AMD FidelityFX Super Resolution in more games in the future should also mean more frames for gamers out there.
It'll likely be a solid choice for those stuck on GPUs of yesteryear. The Steam Hardware Survey still lists the five-year-old NVIDIA GTX 1060 and GTX 1050 Ti as the most popular GPUs on the platform. The only issue of course would be availability; if AMD and their partners can pump out enough of these cards, it will surely fly off the shelves. But with no end to the global silicon shortage in sight, we'll have to see how well they cope with supply.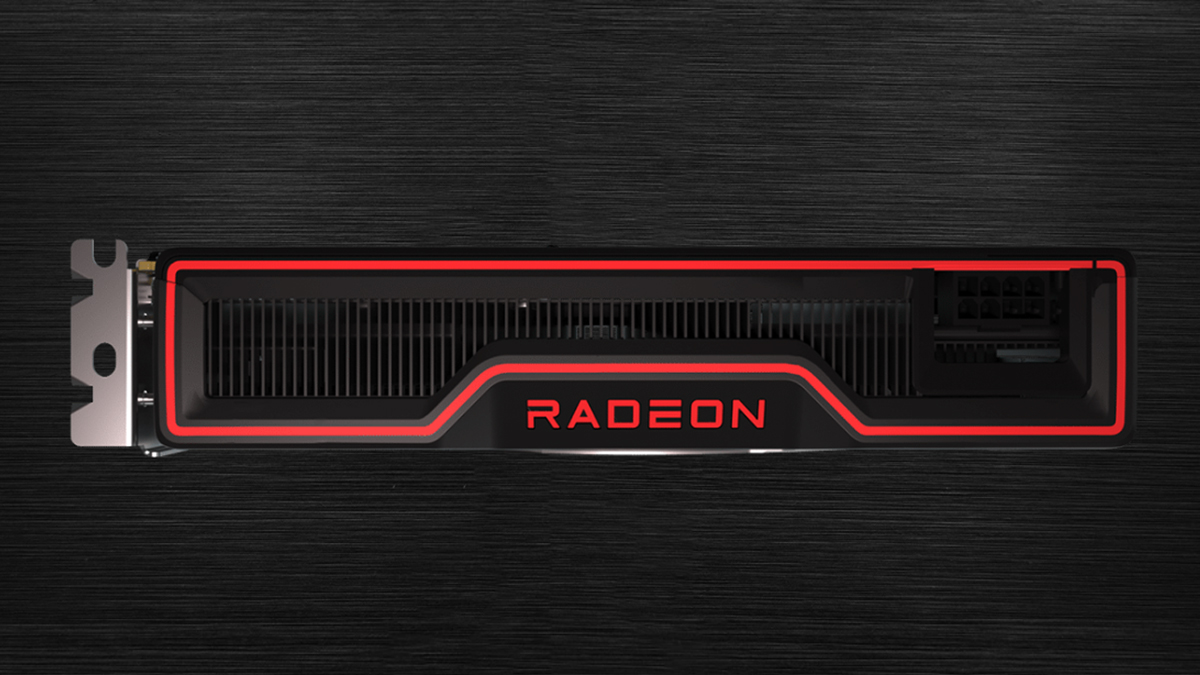 The AMD Radeon RX 6600 XT will be available from the 11th of August onwards from their hardware partners. You can check out more details about the new GPU on its product page on AMD's website.