Back in the start of June, we touched on a leak regarding the Snapdragon 888 successor. Now, thanks to another new leak we can expect Qualcomm to be calling their upcoming flagship system-on-chip the Snapdragon 898.
According to serial leaker Ice Universe on Weibo, he has spotted a Snapdragon 898 SoC in the works. It's said to reach speeds of up to 3.09GHz, which is pretty incredible when you consider the fact that the current generation Snapdragon 888 tops out at 2.84GHz, while the Snapdragon 888+ clocks a bit higher at a max of 3.0GHz.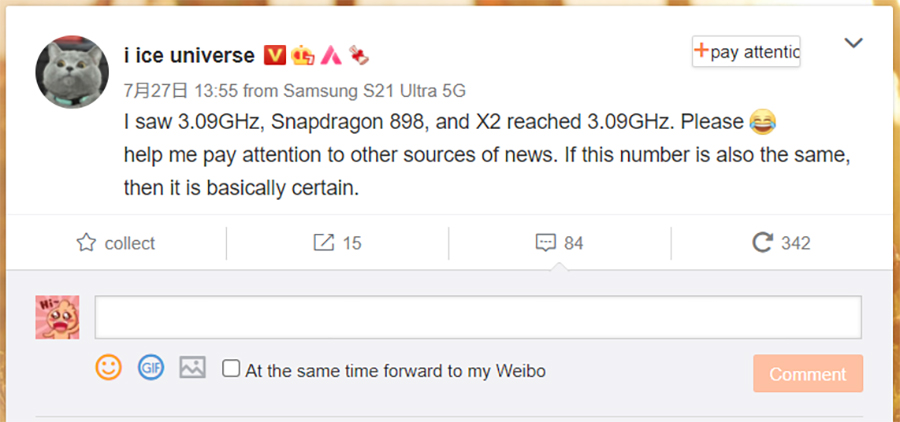 One big factor behind the improvements is the purported ARM Cortex-X2 prime CPU core in the Snapdragon 898, based on ARM's new Armv9 architecture. Judging from how ARM themselves touted a 30% performance boost over the current generation SoCs in Android phones, it's no surprise then that the Snapdragon 898 can reach such numbers.
What's interesting though is that this could also be the same chip that we first heard about back in June. While that was expected to be the Snapdragon 895, there was no actual name attributed to it other than the model number SM8450. That leak also reported that it was built on ARMv9 technology, which ostensibly means the Cortex-X2 CPU core too. If it is indeed the same chip in question, then the Snapdragon 898 should also bring a huge increase in GPU performance over the current generation, along with an upgraded 5G modem and image signal processor.
Other previously leaked info about this SoC include the CPU core layout of the chip. Apart from the Cortex-X2 prime core, there would also be three 'big' Cortex-A710 cores supplemented by four 'little' Cortex-A510 cores. It's also widely expected that Qualcomm's new flagship SoC will be manufactured on Samsung's 4nm process node, while a 'plus' variant will be made on TSMC's 4nm node instead.
It remains to be seen of course if Qualcomm's next chip will actually be that powerful, let alone actually be called the Snapdragon 898. However, as things stand this could be a very interesting time for ARM-based CPUs and mobile users in general.
[ SOURCE ]