Samsung has seemingly always been behind the likes of Xiaomi and Oppo when it comes to fast charging technology. However, that looks set to change as their reported 65W charger comes a step closer to fruition with Danish authorities giving it an approval.
Denmark's Demko, kinda like our own SIRIM, issues out certifications for electronic goods and gadgets. The latest spotted online is for a Samsung power adapter with the model number EP-TA865. Previous leaks have shown that the EP-TA865 is the Korean giant's 65W charger that they've been working on for quite some time now. In fact, it first appeared in South Korean certification documents way back in Sept 2020, and there were even leaked pictures of the real thing earlier this year.
Interestingly enough, the Demko certification doesn't just list a 65W power delivery at 20V and 3.25A. The EP-TA865 was also given approval for 5V, 9V and 15V power output, ostensibly meaning that it would be able to power a number of different devices. This would make it one of their most powerful charging solutions, as their previous best was only a 45W charger from a few years ago.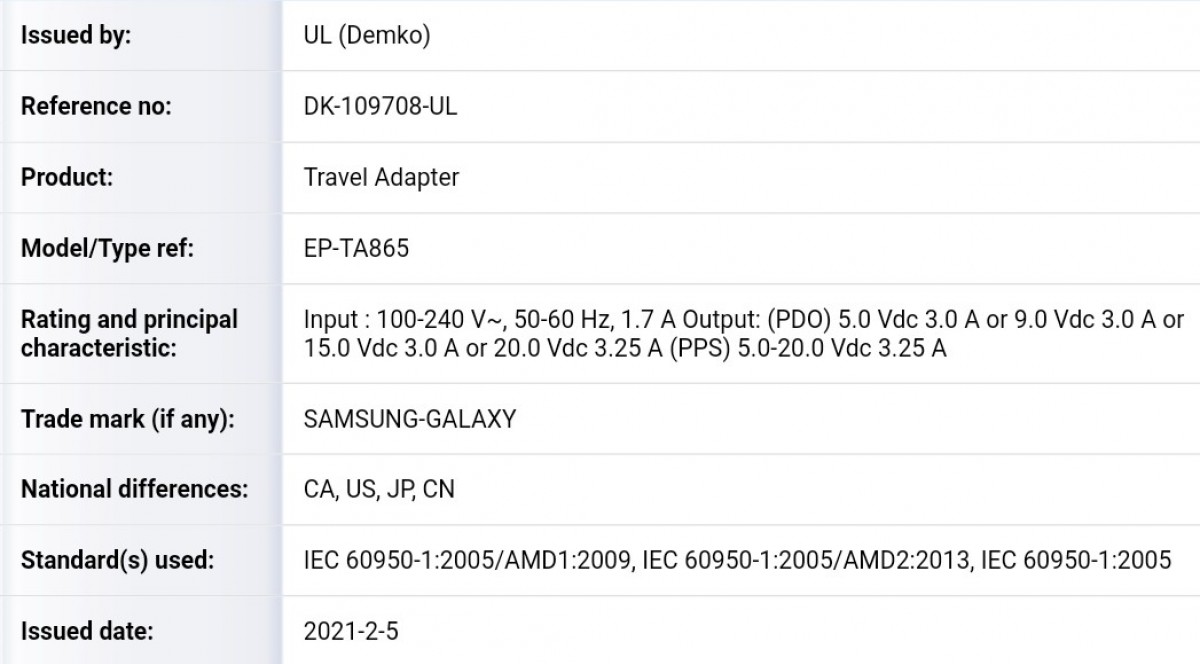 The Galaxy Z Fold 2 and Galaxy S21 Ultra for example only has 25W fast charging, while the older Galaxy Note 10+ and Galaxy S20 Ultra managed up to 45W charging speeds. It's unlikely that the upcoming Galaxy Z Fold 3 or Z Flip 3, rumoured to debut in August, would feature support for 65W charging, but the Galaxy S22 lineup due next year might have it. Even then, seeing as Samsung sold the 45W charger separately from the Note 10+ and S20 Ultra, the EP-TA865 will likely not come in the box—assuming there's even a charger included at all.
While a 65W charger isn't anything near the limits of charging technology, it's still a fairly big step for Samsung. Perhaps with the Samsung Galaxy Note 7 debacle still fresh in their mind, they've steered clear of high wattage chargers for a while now. But with their Chinese rivals pushing the boundaries, it's probably time for Samsung to at least have their own 65W charger out in the market soon.