[ UPDATE 25/1/2022 13:00 ] Maxis is replacing Hotlink Prepaid Internet 365 with Hotlink Pantas on 27 January 2022.
===
Maxis has introduced its Hotlink Prepaid Internet 365 plan which promises to provide data validity for one full year. Not only it saves you the hassle of buying data monthly but the plan also helps you to reduce data wastage. The plan is different from the old Hotlink 365 and you can get more data for less with the current Jaringan Prihatin programme.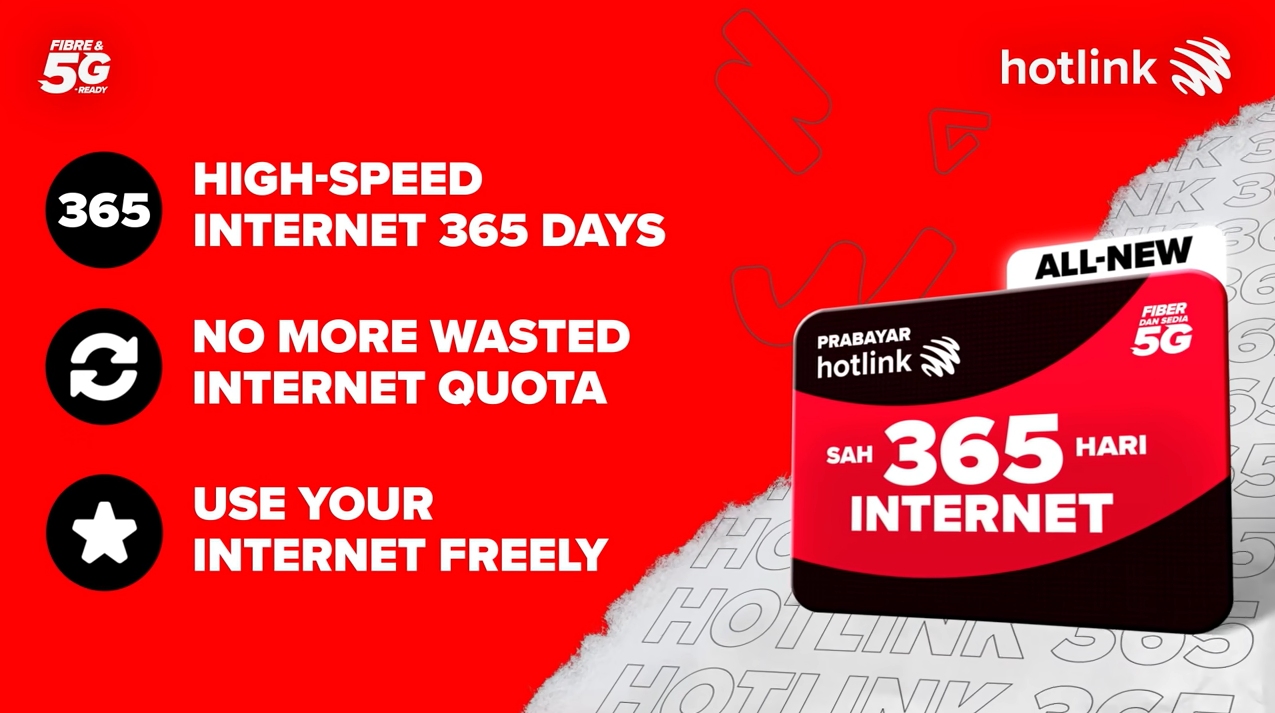 The SIM pack costs RM10 which comes preloaded with RM5 of credit. Maxis is also offering an online bundle for RM25 which comes pre-loaded with 10GB of internet quota that's valid for 365 days along with RM2 of credit.
If you need more data, you can purchase 2GB for RM6, 4GB for RM10 or 10GB for RM20. For eligible individuals under the Jaringan Prihatin programme, you can get 10GB of data for only RM5 (RM15 discount).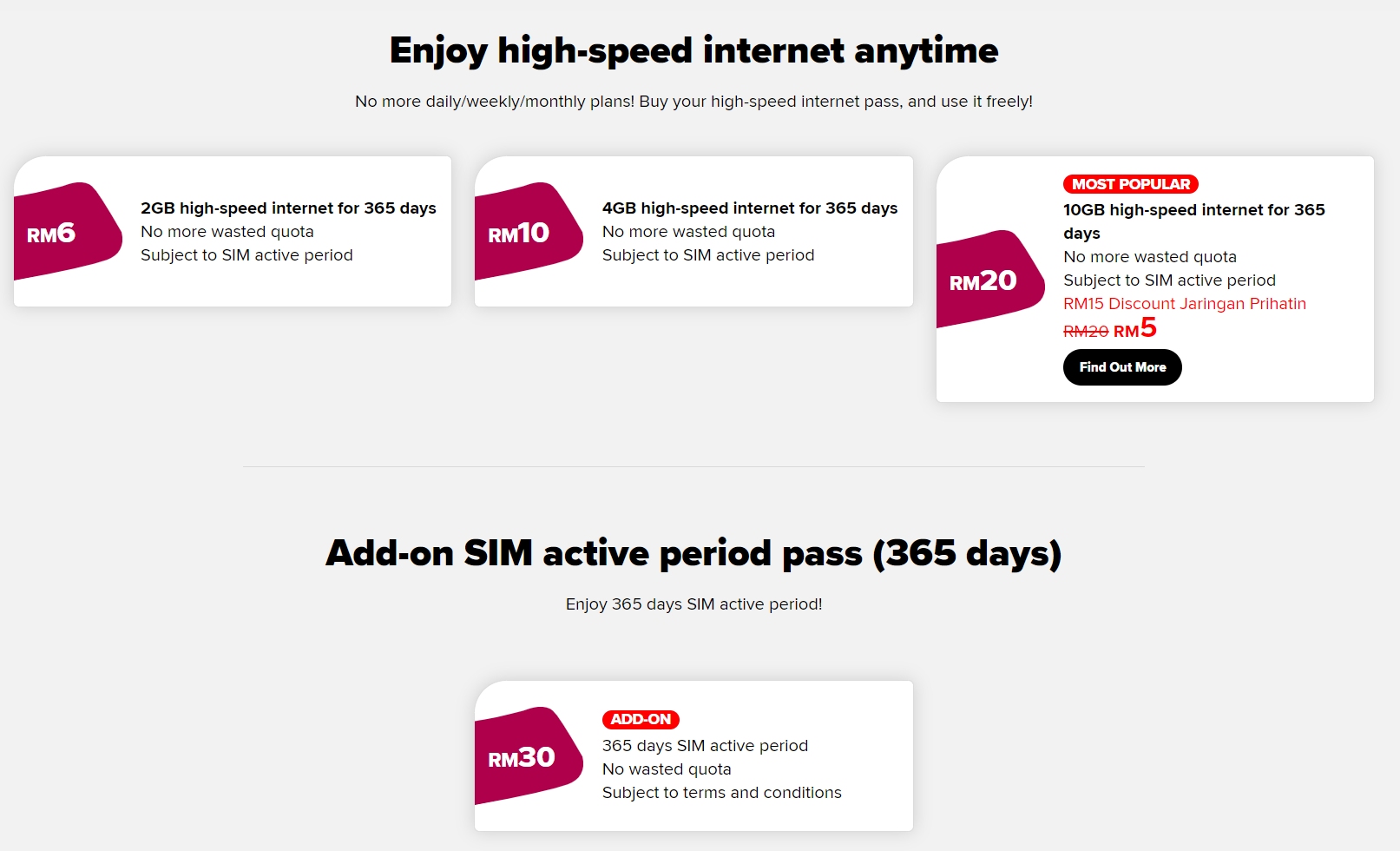 365 data validity doesn't cover the account
Despite its 365 days validity for its data quota, it doesn't mean that the SIM will stay active for 365-days. You will still need to keep your line active by making a regular top-up. The good news is that any top-up amount will provide 60 active days.
If you don't want the hassle of topping up every 2 months, you can purchase a 365-day active add-on for RM30 which will keep your account active for one year. So in total, you're looking at spending RM53 if you get the Hotlink Prepaid Internet 365 online bundle SIM with RM2 credit, 10GB of data and 365-day account validity.
For greater value, it is probably better to top up every 60 days with a minimum of RM5 as you can use the credit to spend on data, calls or SMS.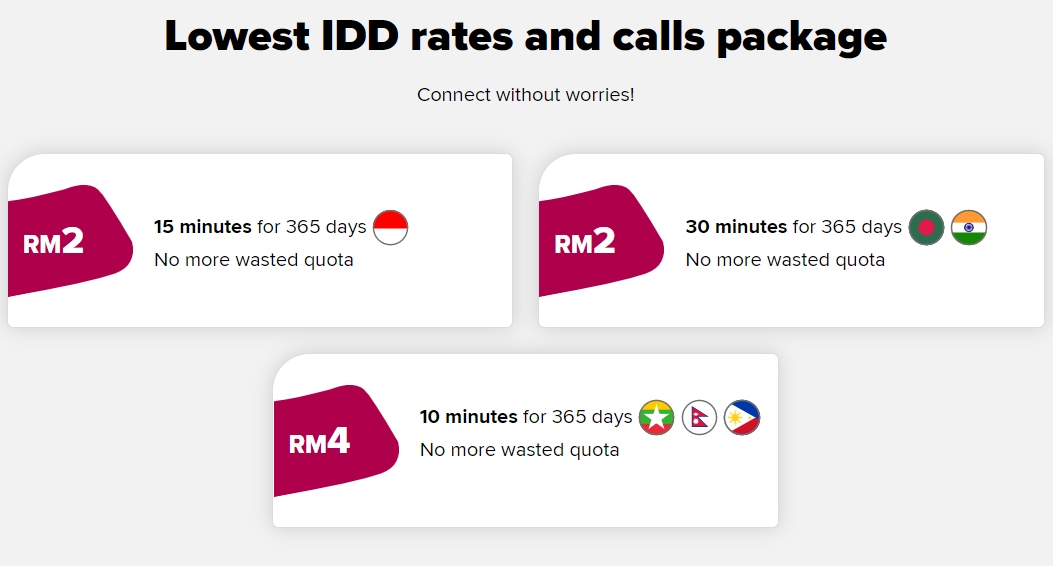 Calls to all domestic numbers are charged at 30 sen per 60 second-block while SMS is charged at 15 sen each. The Hotlink Prepaid Internet 365 plan also offers IDD call packages for selected countries. For RM2, you can buy 15 minutes worth of calls to Indonesia or 30 minutes worth of calls for Bangladesh and India. For RM4, you can get 10 minutes of calls to Nepal, Myanmar or the Philippines.
According to the T&C, there's no speed throttle upon hitting your quota limit. Once you've finished your quota, you need to purchase more data to continue accessing the internet.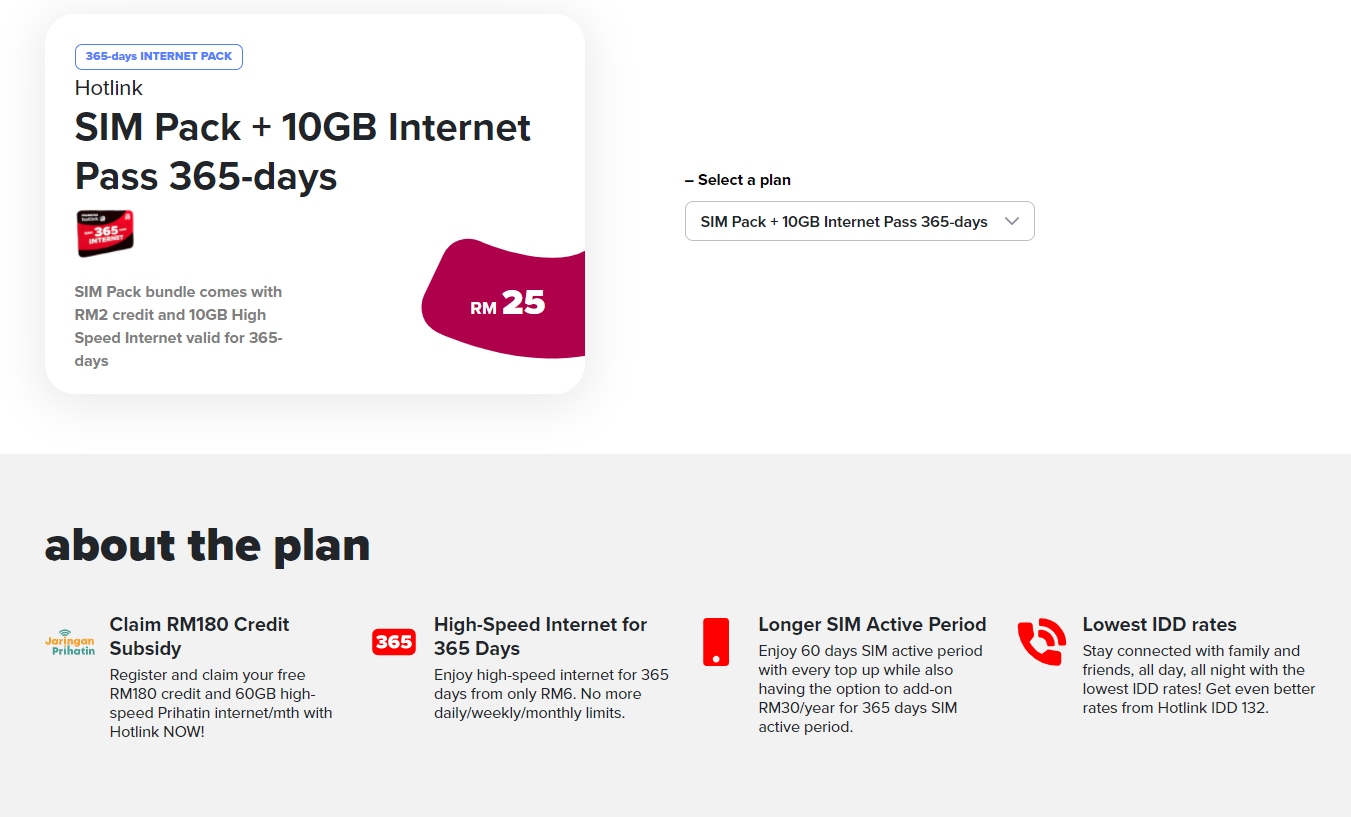 If you're interested, you can buy a SIM Pack with the 10GB data bundle from Hotlink's online store for RM25. The RM10 Hotlink Prepaid Internet 365 starter pack with RM5 preloaded credit is also available at 7-Eleven, myNews and 99 Speedmart outlets. All existing Hotlink Prepaid customers of any plan can switch to Hotlink Prepaid Internet 365 via the app but there's a change fee of RM5.
For more info, you can visit Hotlink's product page.