A major appeal of using Google Drive is that it is such an effective tool for collaboration. Need to share a file or folder with someone? Simply enter a valid Gmail address of the recipient and you're good to go.
Google Drive allowed unwanted spamming
However, this feature of Google Drive is also a double-edged sword, because it allows room for unwarranted files or folders to be sent to you without your consent, as there are no security controls that allow individuals to accept or reject files, similar to receiving emails.
On top of that, some users noticed that they were unable to remove themselves from a folder that they initially had view-only access to. Furthermore, sometimes the content that is said to be removed may still show up in other places, such as in searches. Some have even gone to say that Google was even enabling harassment.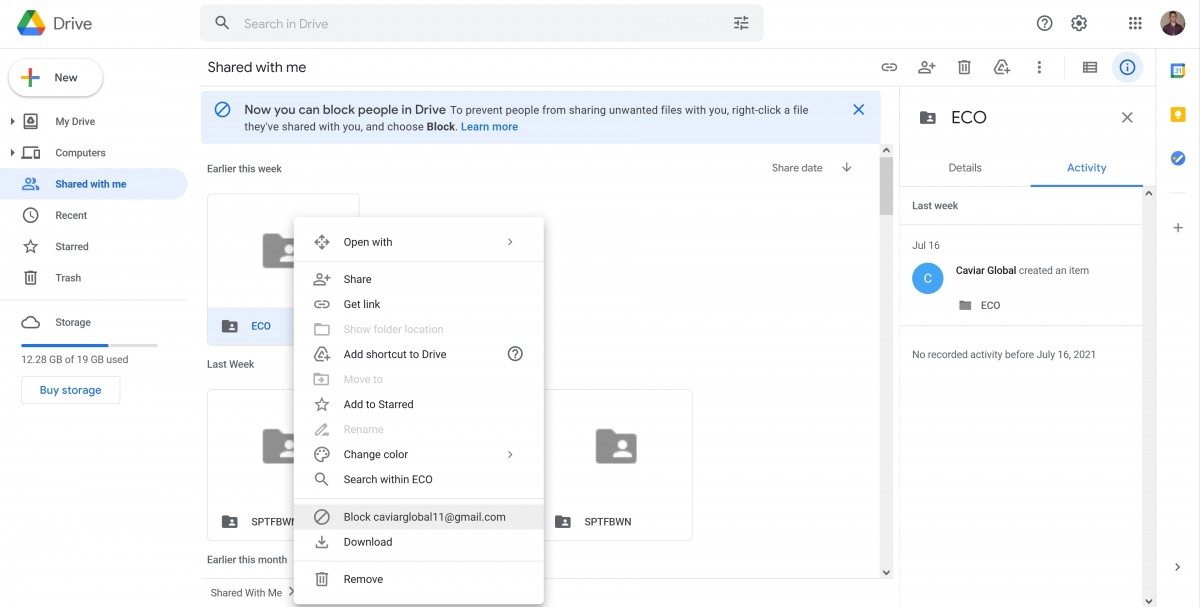 Then there were other reports that demonstrated that Google Drive had spam issue, and has been that way for quite some time now, with some experiencing unsolicited file sharing since 2017.
Blocking people on Google Drive
Finally, Google is addressing the problem by giving users more control to block others from sharing unwanted content. The feature was first announced for Google Workspace users in May and now they have started rolling it out to everyone.
Moreover, you can now remove all existing files and folders that were shared with you from said blocked user. Google notes that if you block someone on Drive, they will also be blocked on other Google services.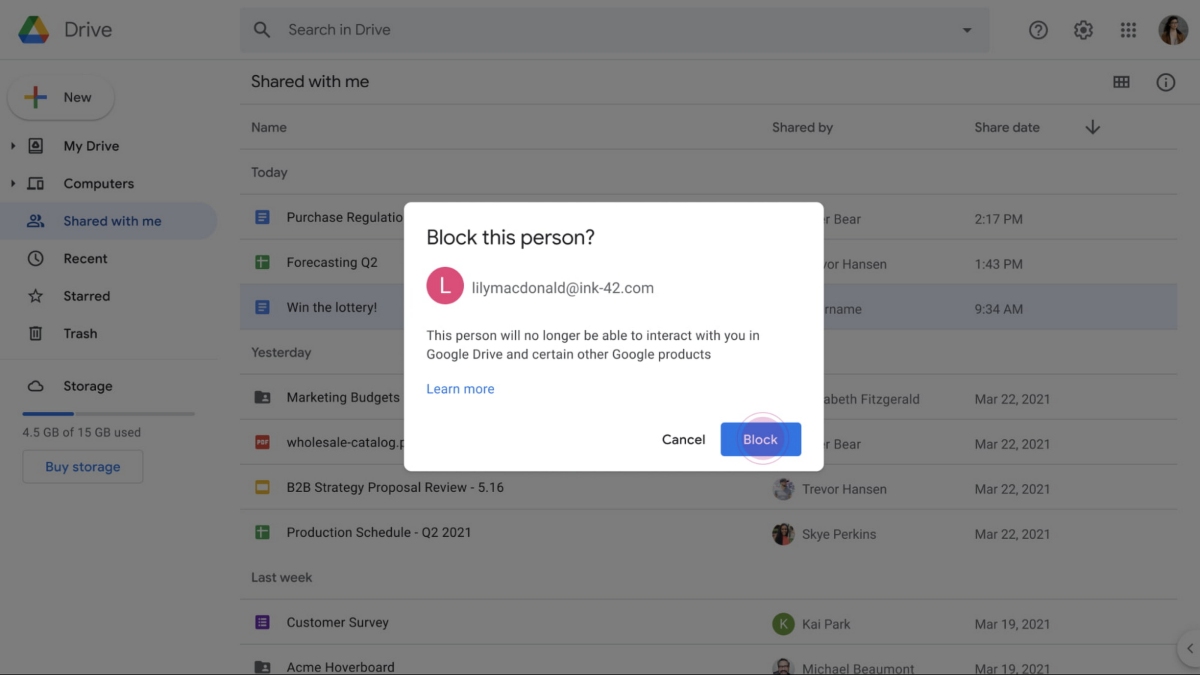 While this feature is great to keep unwanted file spammers at bay, this doesn't actually prevent someone from sending over unsolicited files in the first place. In fact, a spammer behind a blocked email would just need to create another account and they can get on with their spamfest.
To block someone on Google Drive, right-click on a file in the "Shared with me" tab which came from them, and you should be able to see a "Block" option from the dropdown menu. Of course, if you block someone, you can always unblock them.
After clicking on your profile picture, select the "Manage your Google account" tab. Under "People & Sharing", you can scroll down to see the list of users that you have blocked, and may proceed to unblock them from there.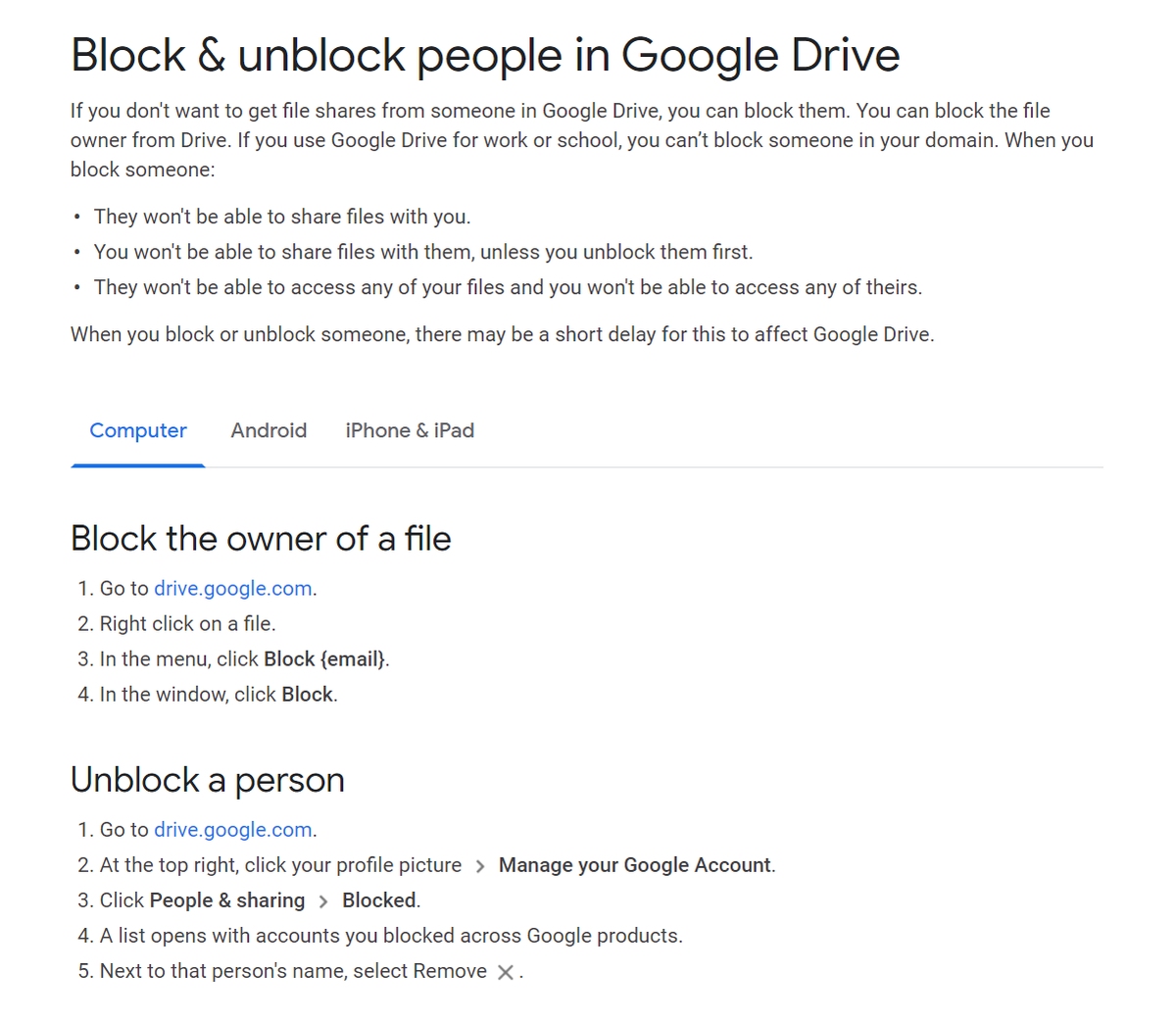 It would have been great if Google implemented a request-based approach for file sharing similar to accepting a message or friend request on Facebook. As a user, you can choose to accept them or reject the Google Drive file sharing if you do not recognise the user.
Alternatively, Google should employ spam-filtering options for Drive the same way it does with Gmail. Gmail uses intelligent algorithms to identify suspicious emails including ones that have been blacklisted, and also refers to its database of sketchy keywords.
At the time of writing, the Google Drive block option doesn't appear to be available for Malaysian users yet, as it is said to roll out within the next couple of weeks. So if you encounter unwanted file sharing in the meantime, your best bet is to report it as abusive.