The Malaysian Communications and Multimedia Commission (MCMC) has issued a total of 64 compounds valued at RM3.2 million to four telcos in Malaysia over violations committed during the second quarter of 2021. The bulk of the compounds were issued to Maxis, while other telcos were issued compounds between RM50,000 to RM250,000.
Maxis was slapped with 54 compounds amounting to RM2.7 million for its failure to comply with the Numbering and Electronic Addressing Plan (NEAP) under the Communications and Multimedia (Numbering) Regulations 2016. In addition, MCMC has also issued two more compounds worth RM100,000 to Maxis for not complying with prepaid registration guidelines.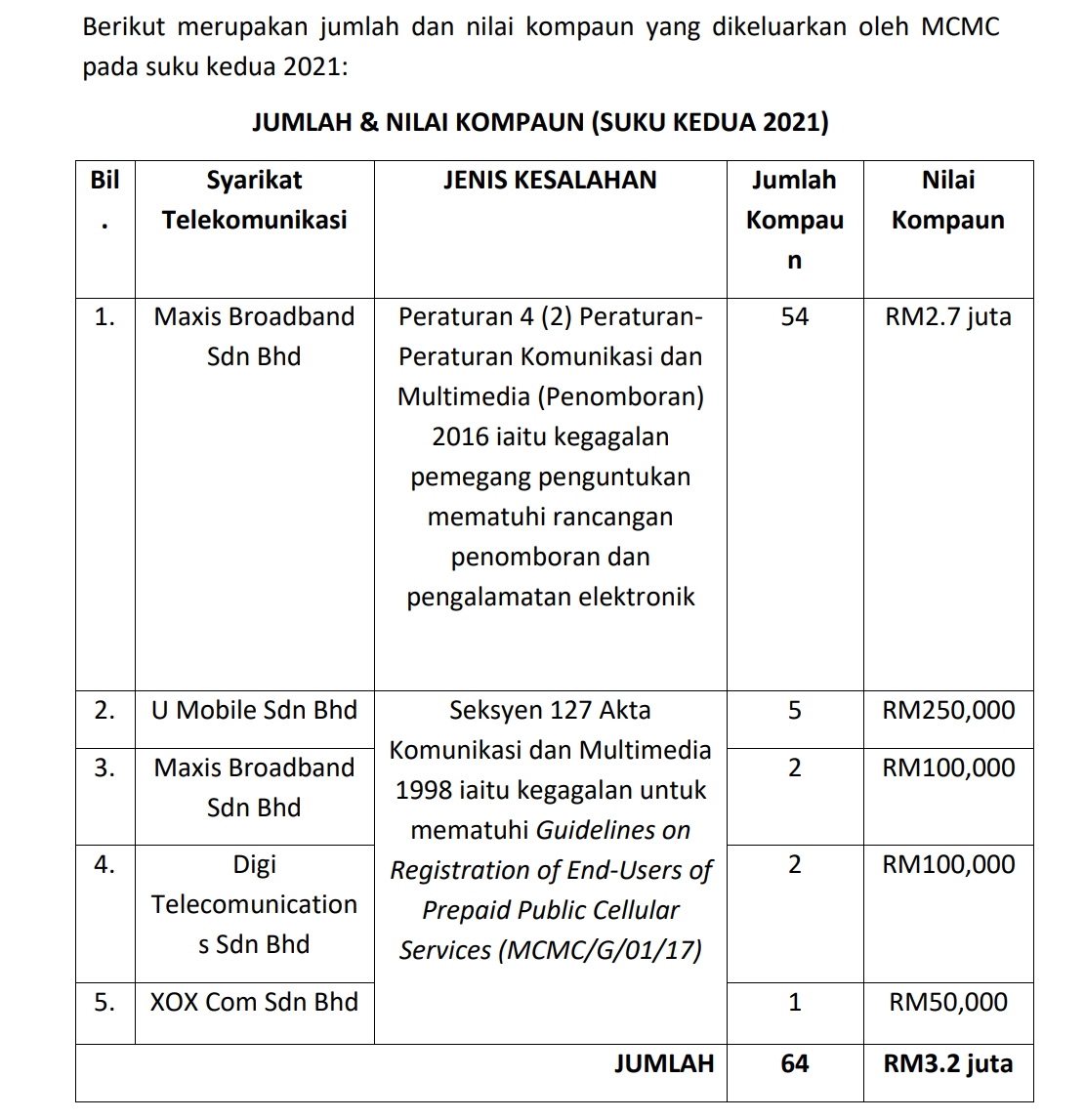 Besides Maxis, the three other telcos were also issued compounds by the MCMC for prepaid registration-related offences. U Mobile received 5 compounds amounting to RM250,000, followed by Digi with 2 compounds amounting to RM100,000 and XOX with 1 compound amounting to RM50,000.
Accounting to the MCMC, the compounds were issued to ensure that consumer rights are protected. It urged telcos to be more strict with their agents to ensure that they comply with the necessary guidelines to ensure user safety and to curb potential cybercrimes.
The MCMC doesn't usually provide a detailed breakdown of the actual offences. Under the prepaid registration guidelines, all telcos are required to conduct an ID verification (IC or passport) for new prepaid SIMs and this is aimed at curbing misuse of services especially for terrorism and cybercrime.
For Numbering and Electronic Addressing Plan (NEAP)-related violations, it covers a wide range of areas including the assignment, transfer, suspension, cancellation of numbers as well as Mobile Number Portability (MNP). In the last quarter, Maxis was issued 67 compounds worth RM3.25 million for the same offence.
Related reading