This post is brought to you by Lenovo Malaysia
Back in May of 2021, we asked you to help us understand you better as a gamer. Today, after over 2,500 of you have taken the survey, we finally have the tallied results. Here's what the SoyaCincau gaming audience is like.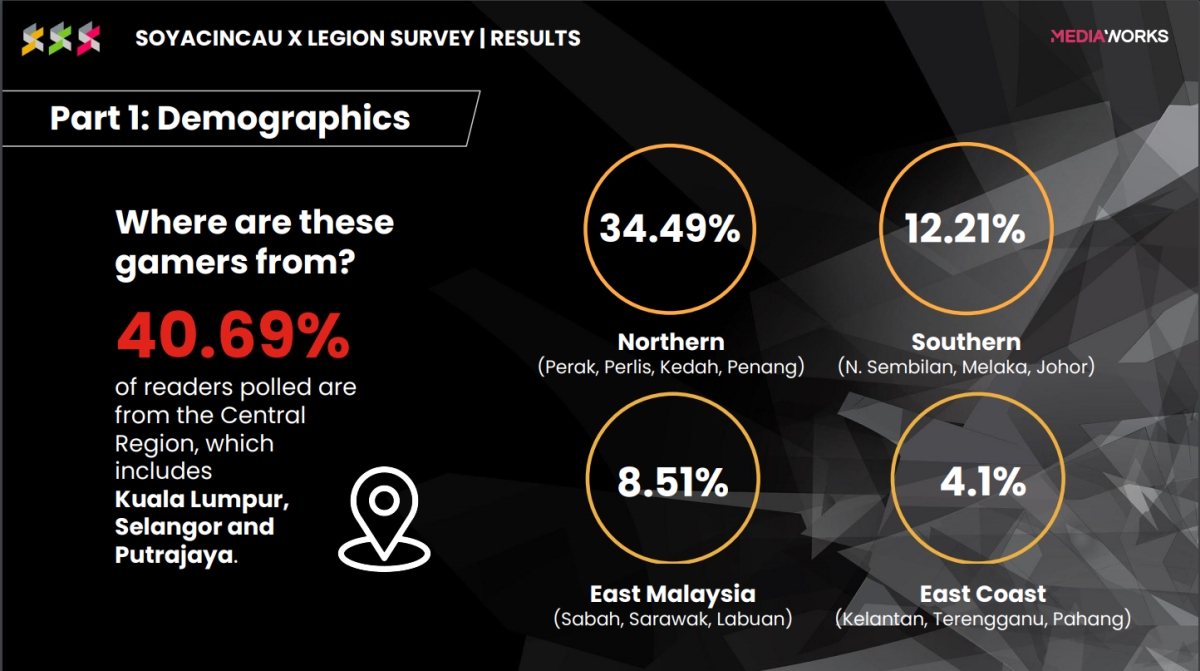 Perhaps unsurprisingly, the biggest majority of the ones who participated in the survey are from the central region (40.69%). However, there was also a large percentage (34.49%) who are from the Northern region of Perak, Perlis, Kedah, and Penang.
And, of all the over 2,500 respondents, more than half of you (54.45%) deem yourself casual gamers. What's interesting is that 33.48% of all respondents game between 5-10 hours per week, which is pretty substantial.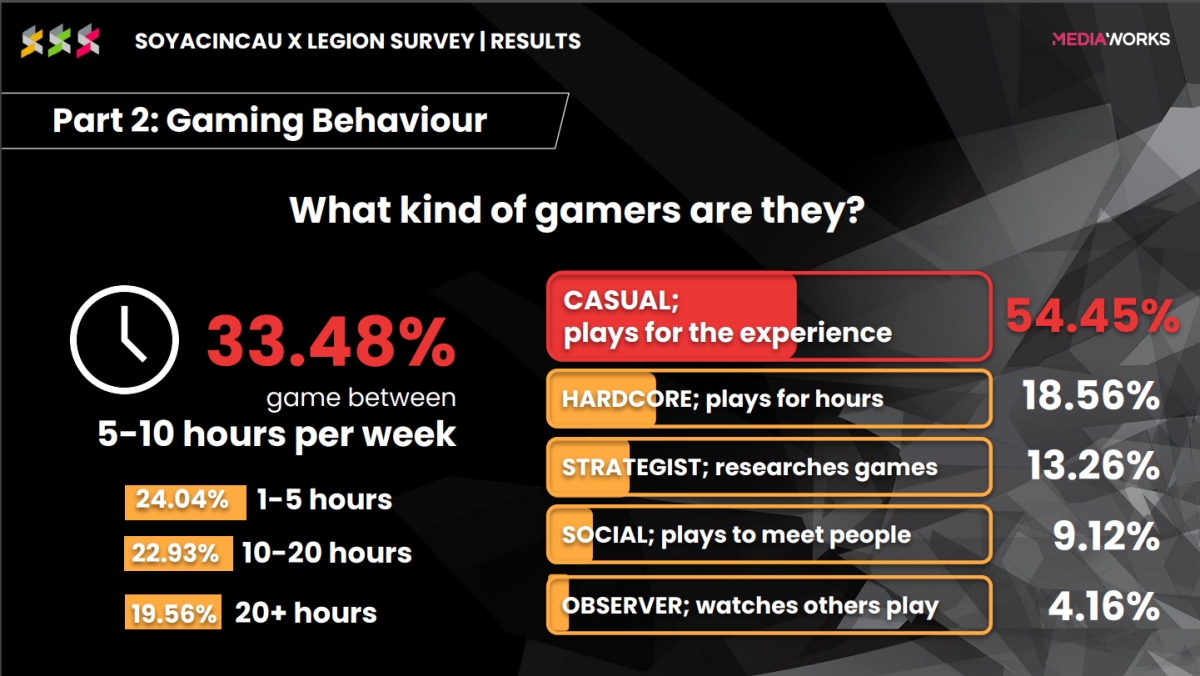 Perhaps, then it's less a case of how long you game, and more a case of the kind of games—or the kind of enjoyment you get out of the games—that separates the casual gamers from the hardcore gamers (18.56%). Still, almost 20% of you also play more than 20 hours a week, so there are definitely the dedicated ones among you.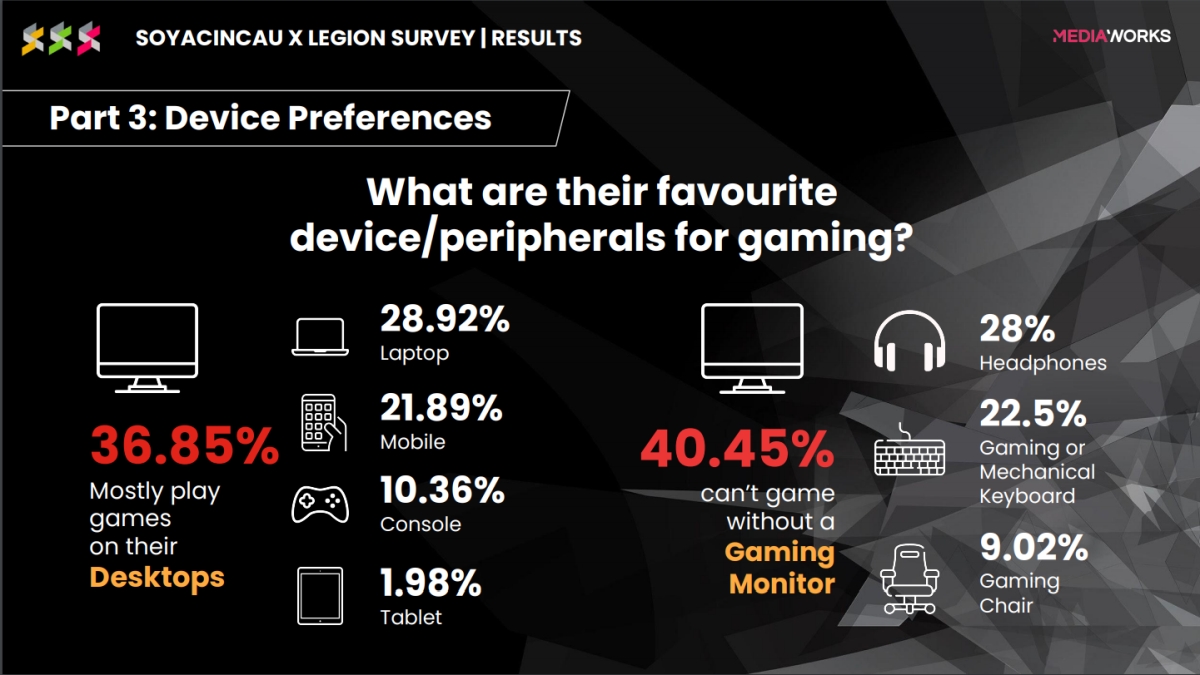 An interesting discovery is also that the majority of respondents (36.85%) mainly game on their desktops. Despite being in such a mobile-centric age, the laptop (28.92%) and the mobile device (21.89%) are playing second fiddle to the immobile desktop computer. What's more, of all the crucial gaming peripherals, a gaming monitor was deemed the most important, with over 40.45% of you saying you can't game without a gaming monitor.
This seems to suggest that peripherals like a gaming mouse and keyboard, and even gaming headphones, aren't as important as a good screen. Typical characteristics of a gaming monitor include a higher refresh rate and quick response time, both big factors in giving users a good gaming experience.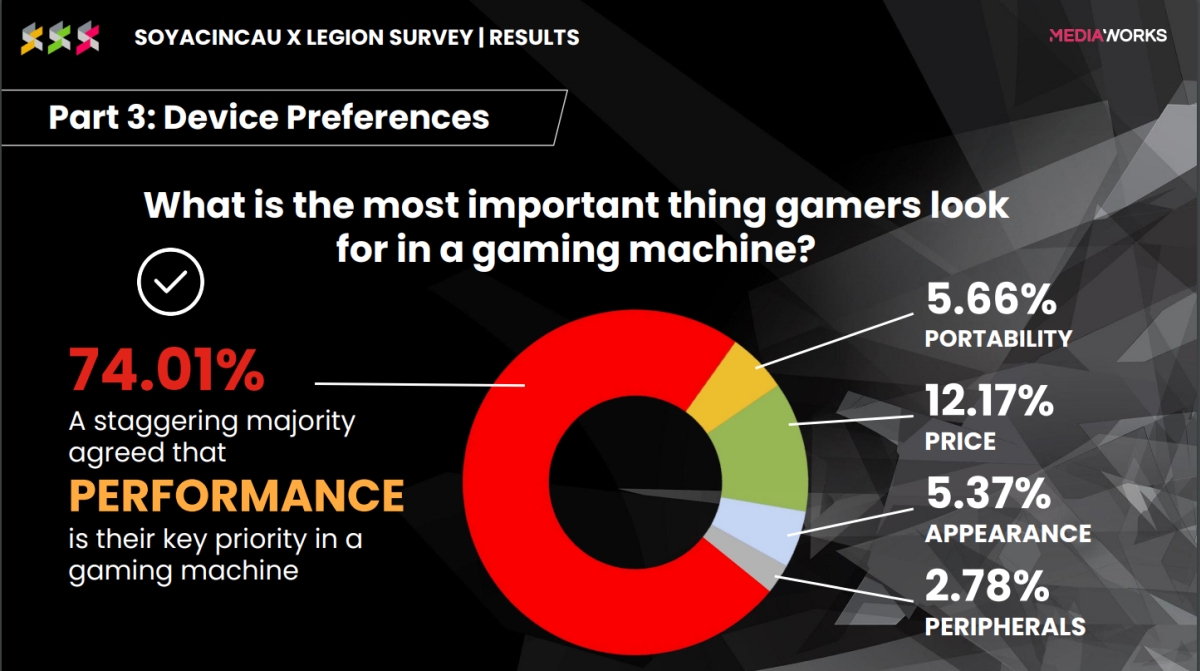 Looks like the two big factors influencing purchasing decisions are down to Performance and Price, with Performance being the main priority for an overwhelming majority (74.01%) of respondents. Unsurprising, since you will need a capable machine to run modern video games. And if you can get that for a good price, that's just the cherry on top.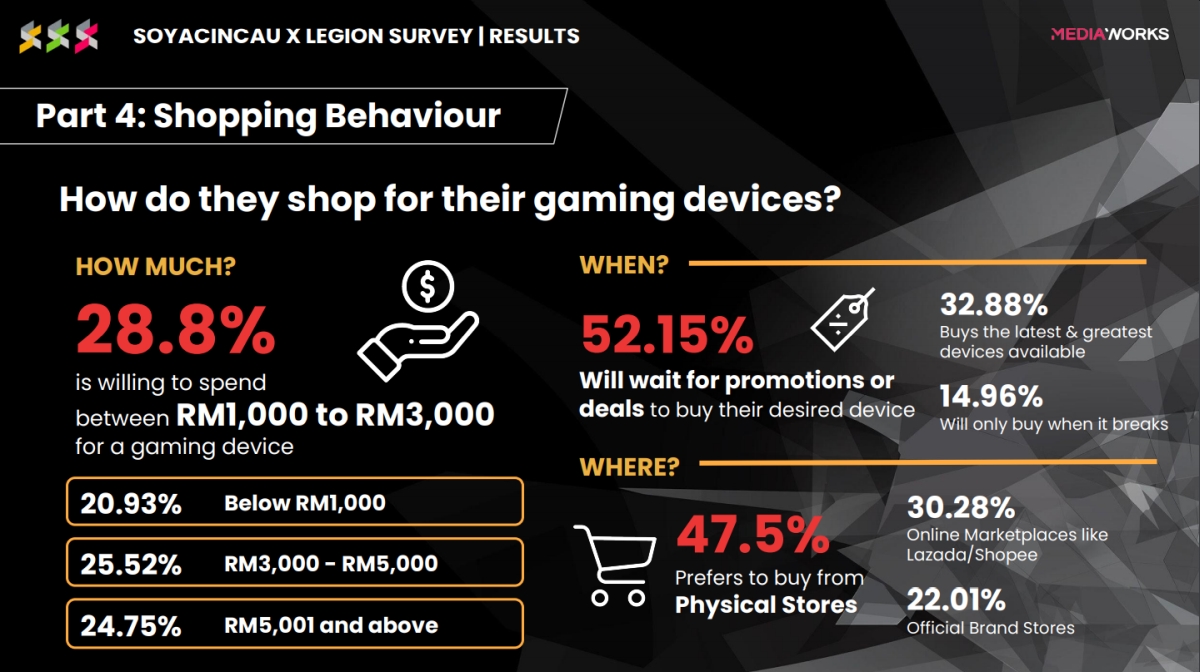 According to our data, the sweet spot when it comes to price lies between the RM1,000-RM3,000 price point (28.80%), while a quarter of you (25.52%) are also willing to pay a little more to enter that RM3,000-RM5,000 price bracket. That's perhaps expected since it is in those price ranges that you'll find the most performance-per-ringgit.
Naturally, more than half of the respondents (52.15%) will wait for promotions and/or deals before picking up their gaming device. Malaysians, after all, love their sales. That being said, what's interesting is that 47.50% of you prefer to buy from physical stores, despite the country being in the midst of a pandemic.
Perhaps this is because you can really get a feel of the build and performance aspect of the device at a store. You can also build a relationship with the brands and store owners when making your purchases—an important aspect of building consumer confidence. 30.28% of respondents, however, prefer the convenience of online marketplaces like Lazada and Shopee, which is a good indication of the rising levels of trust in these large marketplaces.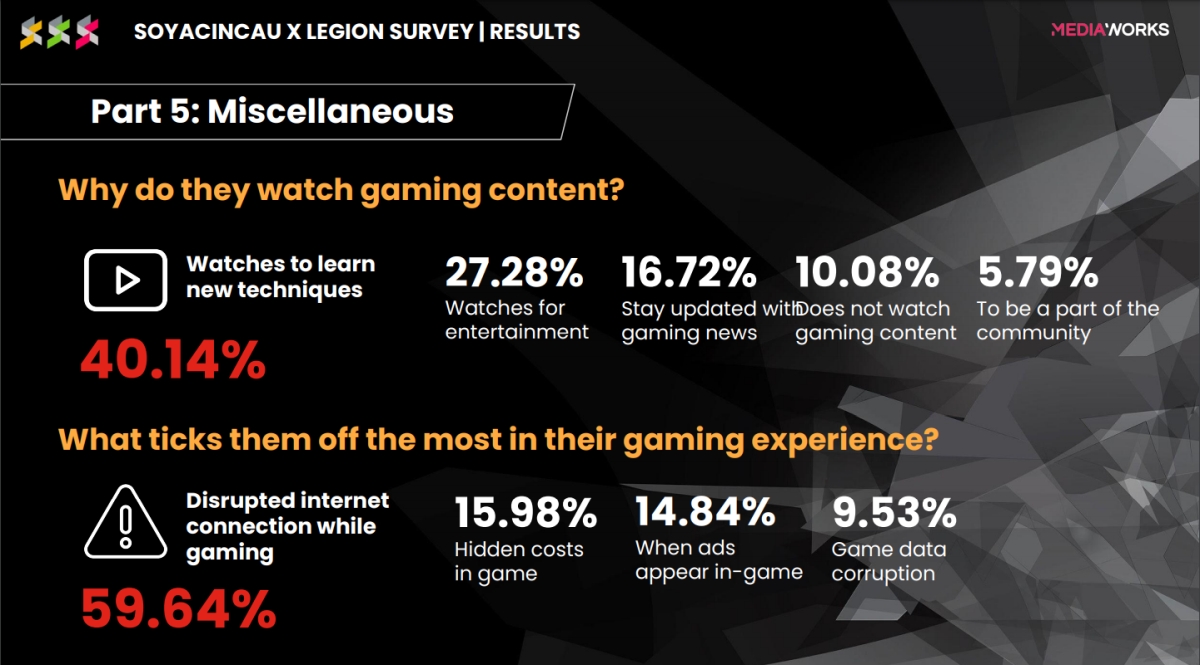 Of all the gamers who enjoy watching gaming content online, 40.14% of respondents will watch content to pick up new techniques that they can then apply to their own game. With the overall popularity of eSports in Malaysia, it looks like the competitive spirit among local gamers is going strong. Still, watching gaming content as a source of entertainment is also pretty high, with more than a quarter of respondents (27.28%) consuming it for this reason.
That being said, it looks like the most frustrating thing about gaming in Malaysia is having your gaming session interrupted by a disrupted internet connection (59.64%). Which makes sense, considering how many games now require an internet connection even if it is a single-player title. Without that, it wouldn't matter how capable your gaming device is—it becomes a glorified paperweight.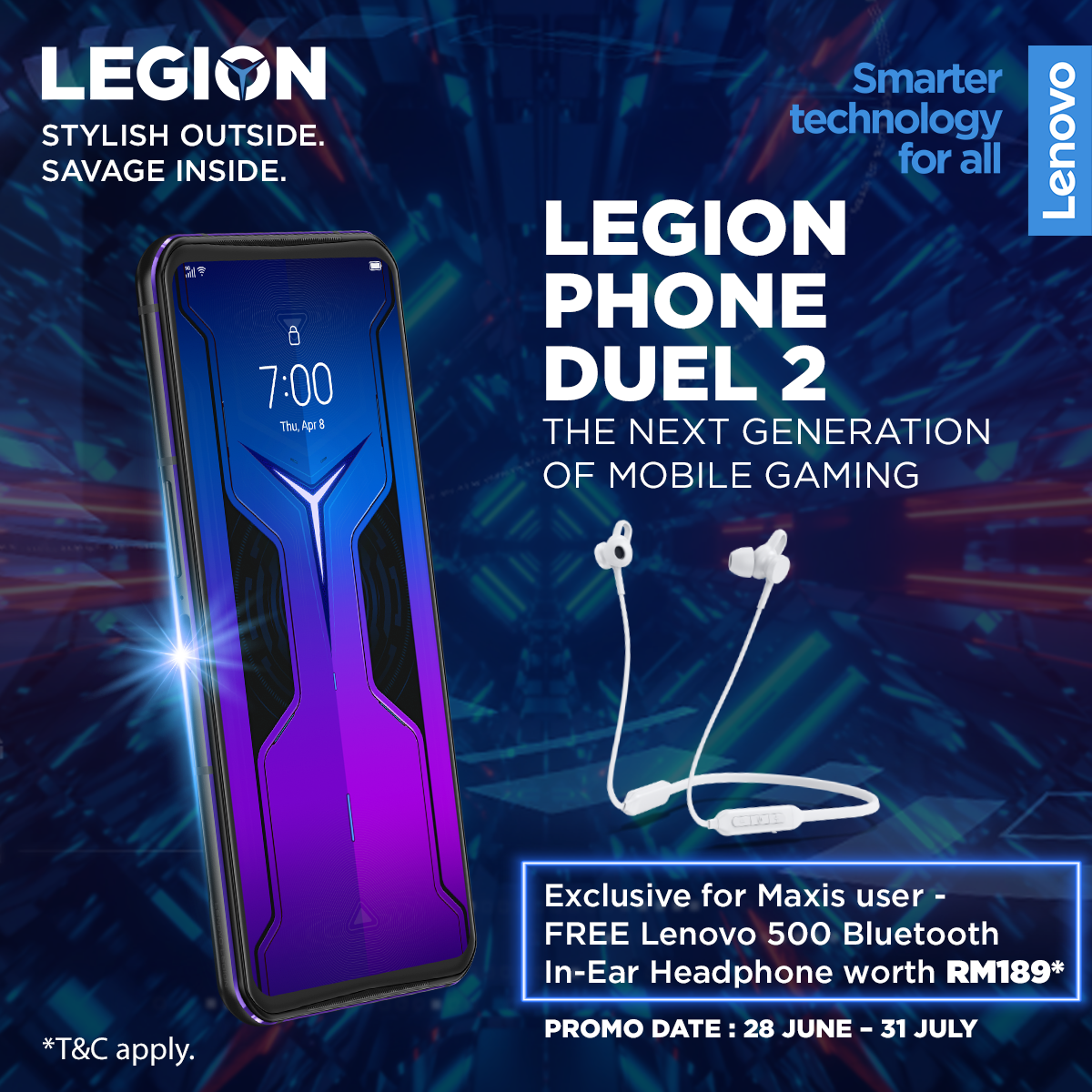 If you're more of a mobile gamer on Maxis and hotlink, there's good news! From now until 31st July 2021, consumers who buy a brand-new Lenovo Legion Phone Duel 2 at participating stores, or Lenovo's official stores on Lazada and Shopee, will receive a Lenovo 500 Bluetooth In-Ear Headphone worth RM189.
Here are the two configurations for the Lenovo Legion Phone Duel 2
o       RM3,299 for 12GB RAM + 256GB Storage 
o       RM3,899 for 16GB RAM + 512GB Storage