You've got a few more days before this year's Steam Summer Sale ends at 1am, 9th July. If you still don't know what to get though, no worries as we're here to help. Here's a quick rundown of the top 10 games that you should check out during one of the biggest video game sales in the year.
10. The Elder Scrolls V: Skyrim Special Edition
If you've never played The Elder Scrolls V: Skyrim when it first launched back in 2011, there's no time better than the present.
While the original version remains a classic, it's since been replaced with 2016's Special Edition. It's a remaster of TESV:Skyrim and includes all of the DLC too. Bethesda, the developers, also added in new graphical features such as better lighting, dynamic depth of field and screen-space reflections. Skyrim SE however still retains all of that open-world RPG goodness that made it 2011's game of the year in the first place.
The best part though is the vast modding community for it. The original still has more mods for it, but Skyrim SE over the years has gotten most of not all of the best mods that served the 2011 version. And with The Elder Scrolls VI years away still—series director Todd Howard has said that they're still only in the design phase for it—there's no better time to dive into Skyrim:SE if you've never tried it. There's a reason Microsoft used it in their Windows 11 event; it's just that good.
The Elder Scrolls V: Skyrim Special Edition is 60% off on Steam right now, priced at RM63.20.
9. Hades
Big into Greek mythology? Love action roguelikes and dungeon crawlers? Then there's no better game to try out this Steam Summer Sale than Hades.
In Hades, you play as Zagreus, prince of the Underworld and son of the Greek God Hades. You'll have to battle out of the Underworld in an attempt to get away from your father and reach Mount Olympus. As you fight and slash your way through each new room filled with enemies, you meet legends of Greek mythology such as Sisyphus, Patrocius and Zeus.
The best part is that because it's a roguelike game, if you die, you lose all progress and start again—but that also means every attempt to beat the game is unique. It's extremely replayable, and has already been named as 2020's game of the year by many publications. It's also the cheapest it's ever been on Steam now, priced at RM30.80 after a 30% discount.
8. Sid Meier's Civilization VI
"One more turn, one more turn, one more turn, one more turn." You'll find yourself saying that to yourself as you play Civilization VI, justifying playing just a little bit more in this addicting strategy game.
Civ VI is essentially one big digital board game. Pick one of history's famous rulers, and guide your people to become the the world leader, either by diplomacy or by force. It has a huge variety of factions to choose from, and each civilization has their own perks and playstyle, keeping you entertained for potentially thousands of hours. You could also play against other players in multiplayer if you wish.
Sid Meier's Civilization VI is available on Steam for RM44.75, with a discount of 75%. If you'd like to get the two major expansions that change up the in-game mechanics, as well as a number of new civilizations to play as, you can also get the Civ VI Anthology, a bundle that includes all of the DLCs released. The Civ VI Anthology is priced at RM184.21, after a 73% discount.
7. It Takes Two
If you and your special someone want to play a fun co-operative game together, It Takes Two needs to be on your list of games to try. Not only has it already been well-received, only one of you needs to buy it—even if you're playing from different computers and Steam accounts!
Without spoiling too much, you play as the couple Cody and May who's been turned into dolls through magic. Trapped in a fantasy world, play your way through different stages and experience the narrative story together.
If you do get the game, remember that only one person needs to actually own it on Steam. The other player can download the It Takes Two Friend's Pass, a free version of the game where you can join the first player's game to play together online. Perfect for long-distance couples, or perhaps more aptly couples living more than 10km away from each other. Of course, you can also play it with a friend. Alternatively, you can also play it together on the same PC too.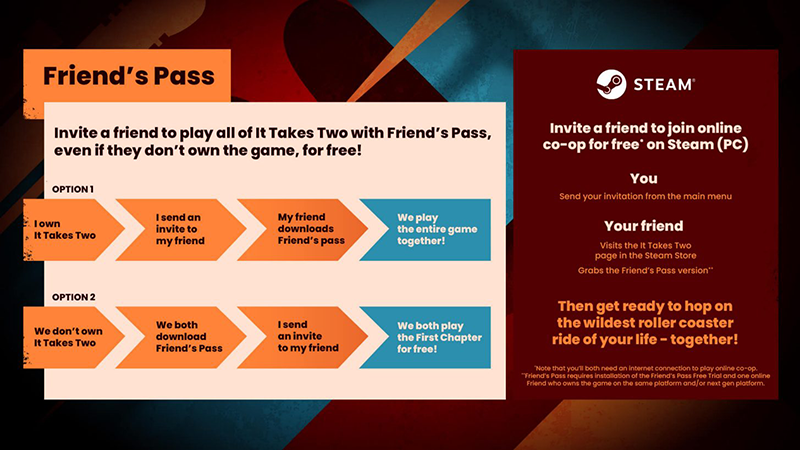 It Takes Two is available on Steam for RM119.25, with a 25% discount thanks to the Steam Summer Sale.
6. Dishonored
Stealth games have always been popular since the original Metal Gear popularised the genre. But with Dishonored, it really takes it up a notch with a world that changes based on your decisions.
In Dishonored, you play as Corvo, a man framed and jailed for a crime he didn't commit. Breaking out, he seeks revenge and with the help of a mysterious supernatural being, he tries to make things right again. With a plague wrecking havoc in your city as well, the dark steampunk atmosphere and narrative of the game really does make it a hallmark of the genre.
Perhaps the best part of Dishonored (and the rest of the series for that matter) is the multitude of ways you can play it. Want to be a super stealthy ninja? Climb the roofs and pipes, and silently take out your enemies. Want to go in guns blazing? Remember to bring enough ammo. The world will also react to your actions; cause more chaos, and enemies will get more vigilant. Your actions may also change the way the story pans out.
Dishonored is currently 70% off, priced at RM11.85. There's also the option to get the full Dishonored trilogy—Dishonored, Dishonored 2, Dishonored: Death of the Outsider and all the DLCs for the games—for RM94.65, down from a total of RM315.50.
5. Valheim
When Valheim first appeared early this year, it took the gaming world by storm. It sold millions of copies in just a few weeks, and it's not hard to see why.
In Valheim, you play as a warrior in a mystical Norse world. Armed with quite literally nothing, make your way around the map to gather resources, build your base, and fight the bosses as you try and survive the harsh world. Every new world you create is unique and procedurally-generated, and you can even explore the world with up to 9 other friends.
Valheim may only be 10% off, but for RM35.10 you're getting a lot of game to play. It also helps that the developers seem to be actively updating the game, adding more and more features so that it always feel fresh and new.
4. Forza Horizon 4
Driving and racing games remain a fan favourite genre among gamers, and one of the best out there right now is Forza Horizon 4.
Featuring an open-world map of Great Britain to drive and race within, Forza Horizon 4 has a dynamic weather system that changes the seasons you race in every week. There's over 700 cars for you to choose from and each different season brings with it new challenges to complete too. And because you play in a shared world with other players, everyone playing the game will experience the dynamic atmosphere together.
Originally launched in 2018, it was only made available on Steam earlier this year, but has already been a hit on the platform. Forza Horizon 4 is available during the Steam Summer Sale at half off, priced at RM47.50.
3. The Witcher 3: Wild Hunt
You know it's probably a good game if it's won over 800 awards, and The Witcher 3: Wild Hunt has done exactly that.
A story-driven open-world RPG, you play as Geralt of Rivia, a professional monster hunter who needs find a child of prophecy. Travel around the huge map to find various cities, islands, caverns and mountains to explore, while customising your inventory and armour along the way. Alternatively, if you're not a gamer but you've watched the Witcher series on Netflix, The Witcher 3: Wild Hunt might be a good choice to get into the open-world RPG genre.
While the base game is available for RM20.79, we recommend adding the extra RM5 to get The Witcher 3: Wild Hunt – Game of the Year Edition which costs RM25.80. Both are 80% off it's usual price, but the GOTY Edition features the two major expansions that adds more to the game.
2. Mass Effect Legendary Edition
We know, we know, it's another remastered game on the list. But if you've haven't played the Mass Effect trilogy, or want to reexperience the RPG shooter again, this is an opportunity to do so.
Mass Effect Legendary Edition features all three games from the Mass Effect trilogy, along with all the DLCs that came along with it. It's been remastered and optimised for modern hardware, meaning you can play it in up to 4K resolution or 21:9 ultrawide too. They've also added all the good stuff that comes with next-gen gaming too, from HDR visuals, enhanced performance, depth of field and full-resolution audio.
Because the Legendary Edition unifies the three games into one, there's now a unified character creator so that you can play through the entire trilogy as the same person. Meanwhile, the developers have also tweaked a few things under the hood for fewer bugs, better aiming and improved controls.
Mass Effect Legendary Edition was only launched back in May, and can now be had on Steam with a 17% discount, priced at RM206.67.
1. Red Dead Redemption 2
From the makers of games like Grand Theft Auto V and Bully, Rockstar Games' open-world story rich Western game Red Dead Redemption 2 is hands down one of their best ever. If you want something to provide hundreds of hours of content, this is the game you may want to consider during the Steam Summer Sale.
It's 1899, and you play as Arthur Morgan, an outlaw on the run. As part of the Van der Linde gang, you have federal agents, bounty hunters and rival gangs all chasing you and your fellow gang members down. Explore 17th century America on horseback as you try to stay alive while balancing the gang's needs and your own ideals.
Go hunting, fishing or camping out in the American frontier, or rob banks, trains and wagons on the outskirts of towns. You can spend your time playing poker or blackjack, and then find yourself in shootouts with rival gangs. There's so much to do in Red Dead Redemption 2 that sometimes you might even need to pace yourself so that you actually remember to finish the main story quests every now and then. And once you're done with the hundreds of hours worth of singleplayer content, there's even RDR Online to play with friends too.
Red Dead Redemption 2 is available for RM146.73 after a 33% discount.
With several areas of Selangor and Kuala Lumpur currently under EMCO and most of the country under MCO still, picking up one or two games may be a great time for you to spend your time at home. Remember, the Steam Summer Sale ends 1am, 9th July, so you better hurry!