Nothing is ever what it seems when a cryptocurrency mining operation was uncovered last Friday in a palm oil plantation in Miri. Sarawak Energy's technical team was conducting a typical inspection to sniff out possible power theft when they stumbled upon evidence of an illicit cryptocurrency mining operation.
The team came across an electrical supply hooked up to a run-down wooden hut and enlisted the help of the Miri District Police to investigate. They found 44 cryptocurrency mining machines worth RM225,000, non-standard cables as well as a modem. To make matters worse, the wooden hut looked like it was about to cave in due to its wobbly structure.

Currently, Sarawak Energy together with the police are on the hunt for these electricity thieves. There has been a recent pattern of utilising deserted houses or huts for cryptocurrency mining to go unnoticed.
To be able to mine cryptocurrency, one would need high amounts of electricity as well as cooling methods as these operations produce an extensive amount of heat. That coupled with the illegal wiring methods used sets the perfect conditions for devastating fires to break out.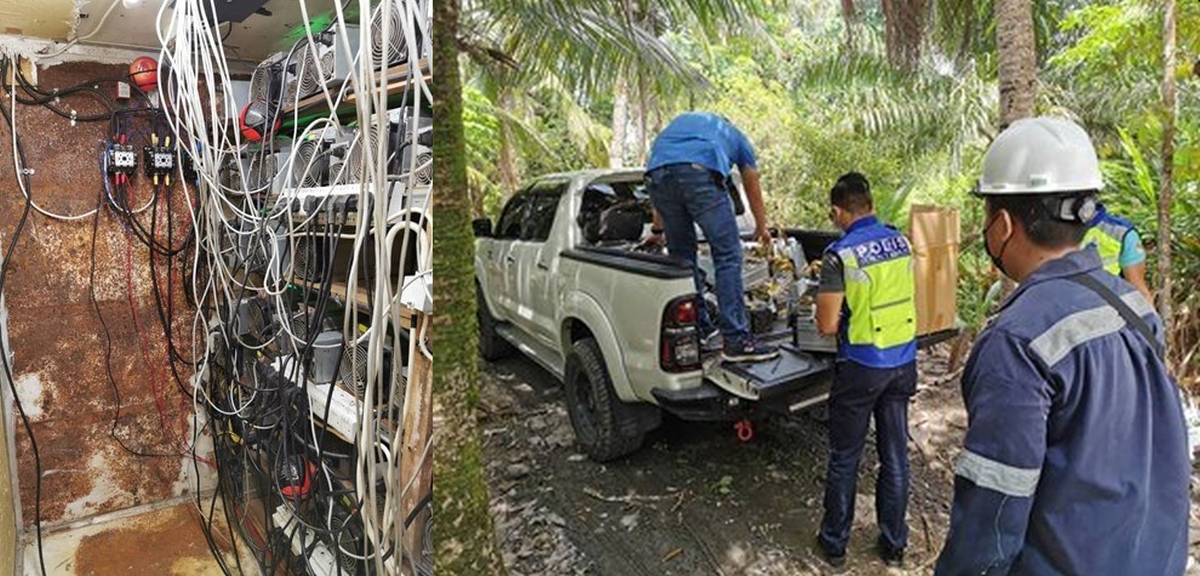 One of the most affordable mining machines around, the Bitmain Antminer S9i consumes 1.32kWh of energy and yields a hash rate up to 14TH. 1.32kWh which is roughly 31.68kWh a day would consume 950.4kWh a month. Assuming these mining machines were the exact ones used in the illegal operation, the total power consumption from the 44 machines would amount to a whopping 41MWh a month – enough to power a small town. At the moment, 1 Bitcoin (BTC) is valued at around RM150,000.
Stealing electricity is a crime and is punishable by a fine of up to RM100,000, 5 years of jail time or both, under Section 33(5) of the Electricity Ordinance. Not only that, illegal wiring that connects straight to the main supply could compromise the power grid which may bring about blackouts. Individuals unaware of such wiring also have a risk of being electrocuted.
Sarawak Energy has urged the public to report electricity theft by calling their hotline at 1-300-88-3111 or email them at customercare [@] sarawakenergy.com.
Illegal cryptocurrency mining activities have stolen millions of ringgit worth of electricity from power utility companies. Earlier this year, the Johor police had crippled a bitcoin mining syndicate that operated 1,746 units of mining machines from 21 premises. The operation had caused Tenaga Nasional Berhad to lose RM8.6 million in revenue. It is also reported that Johor TNB had suffered a total loss of around RM90 million due to electricity theft linked to bitcoin mining last year.
[ SOURCE, VIA, IMAGE SOURCE ]