Do you remember the last time you used something that was so much better than anything you've used before? That realisation that every other similar device should be like this, and the dread of knowing you might never be able to go back? Even as someone who spends a lot of time with lots of bleeding-edge consumer technology, this feeling has only happened a handful of times.
Most recently, it happened when I was using the brand new Asus ZenBook Flip S OLED. As a laptop, it really wasn't particularly special—in fact, I have my gripes with quite a lot of it. But, it had one absolutely mind-blowing feature that made me wish every other laptop had the same feature:
The screen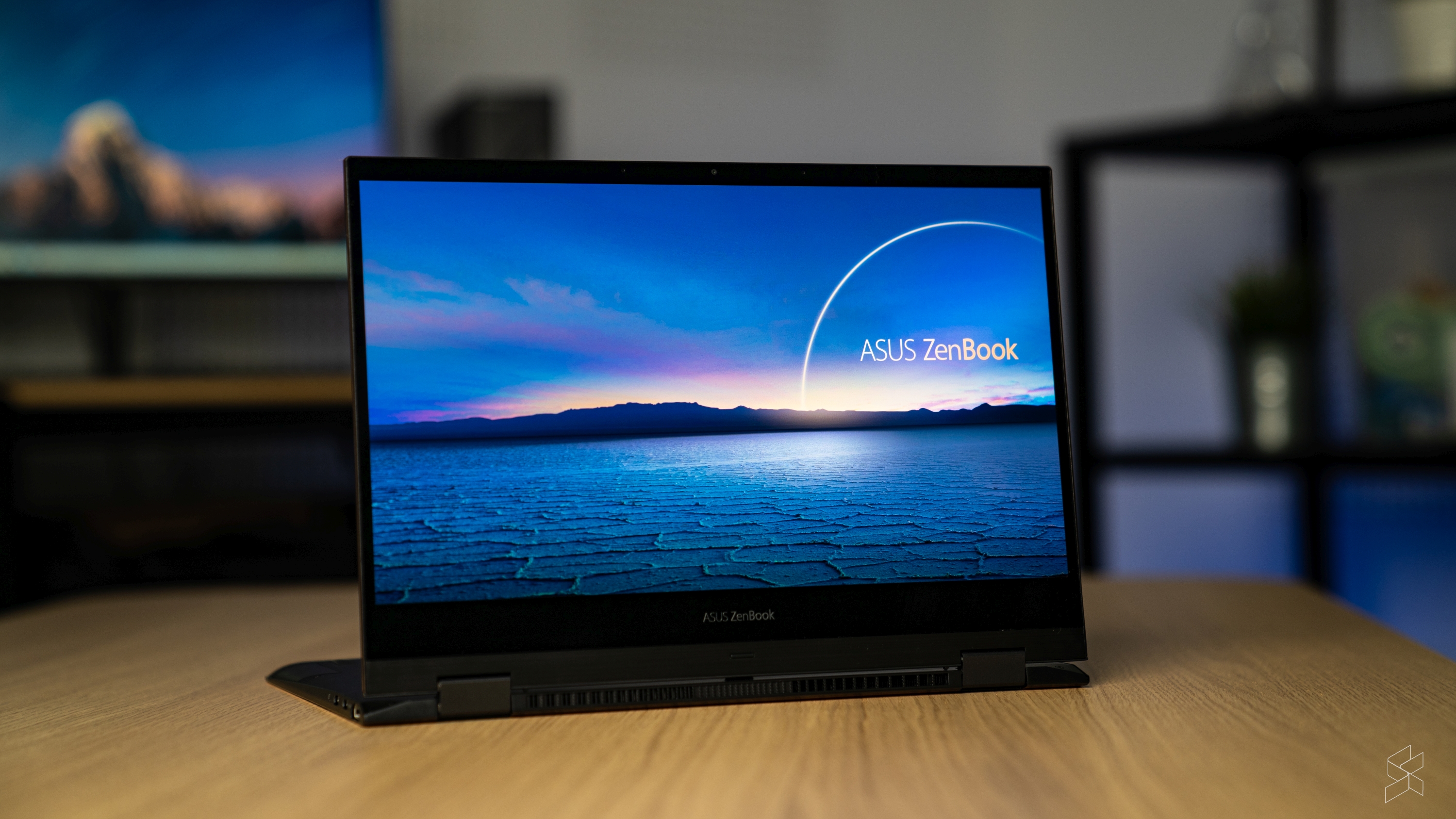 Coming into this, I've never had the chance to use a laptop with an OLED display before. Sure, I've seen it on phones, on TVs and even certain camera viewfinders, but never a laptop. And I expected the display to be good, because most modern OLEDs are, but I didn't expect how jaw-dropping a 4K OLED touch panel would be on a laptop.
You see, my laptop screen is probably the display I spend the most time looking at, second maybe only to my smartphone. Work has, probably unhealthily, become 90% of my life so I spend an inordinate amount of time with my laptop.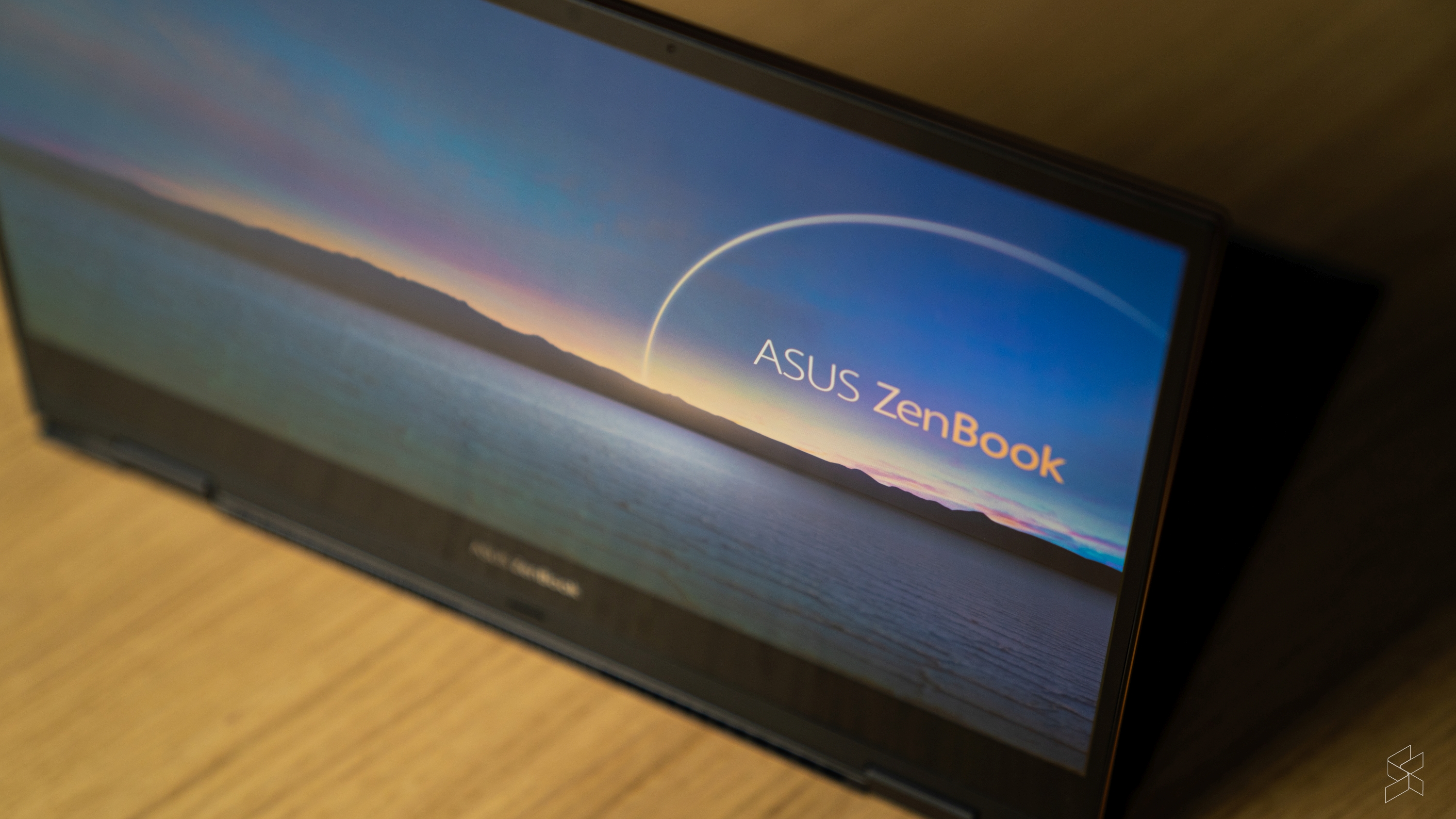 And that gives a laptop screen a different dynamic from like a TV screen or even a smartphone screen. I hardly ever look at a TV, and while I probably look at my phone more, it's a really tiny screen so a dramatic change in image quality isn't so noticeable. But on a 13" laptop screen, it's just big enough that you can really appreciate the higher resolution, and most importantly the gorgeous contrast and colours of that OLED display.
Everyone I showed the screen to was shocked at how amazing it looked. It had nice punchy colours, great contrast and solid viewing angles—all things you'd want in a laptop's screen. On the technical front, Asus says the Pantone Validated display covers 100% of the DCI-P3 colour gamut and is able to push a max brightness of 400 nits.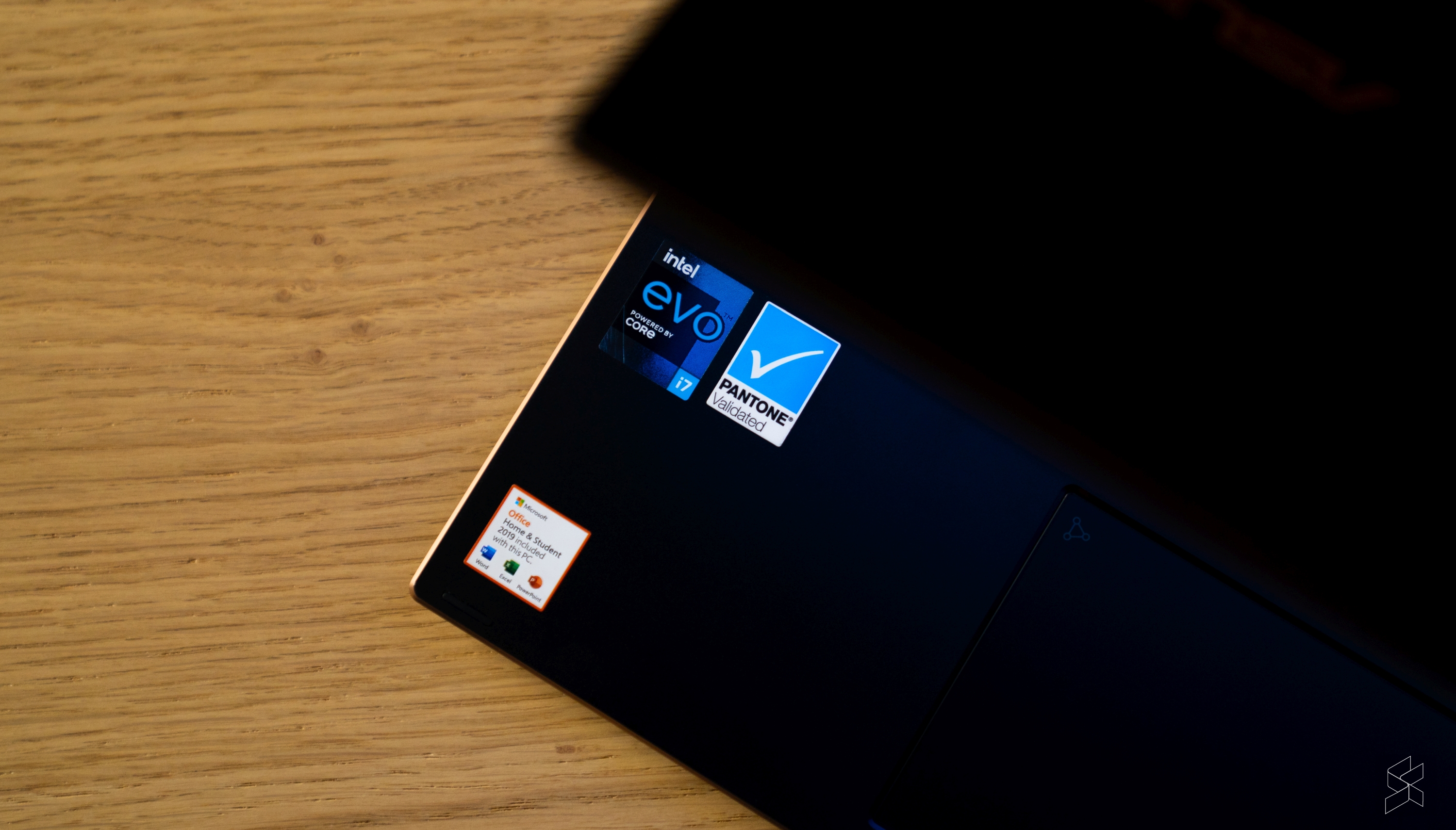 Sure, that doesn't sound that bright compared to the 1000+nits on smartphones, but I had no trouble viewing the laptop even in bright conditions. Plus, because it's a 4K display, the scaling you can get on the icons and screen elements is incredible. And obviously, everything was tack sharp.
I often run my work laptops with a black wallpaper and a black theme with all the desktop icons turned off, and it was just so satisfying to see this setup on a beautiful OLED panel with basically all the pixels turned off.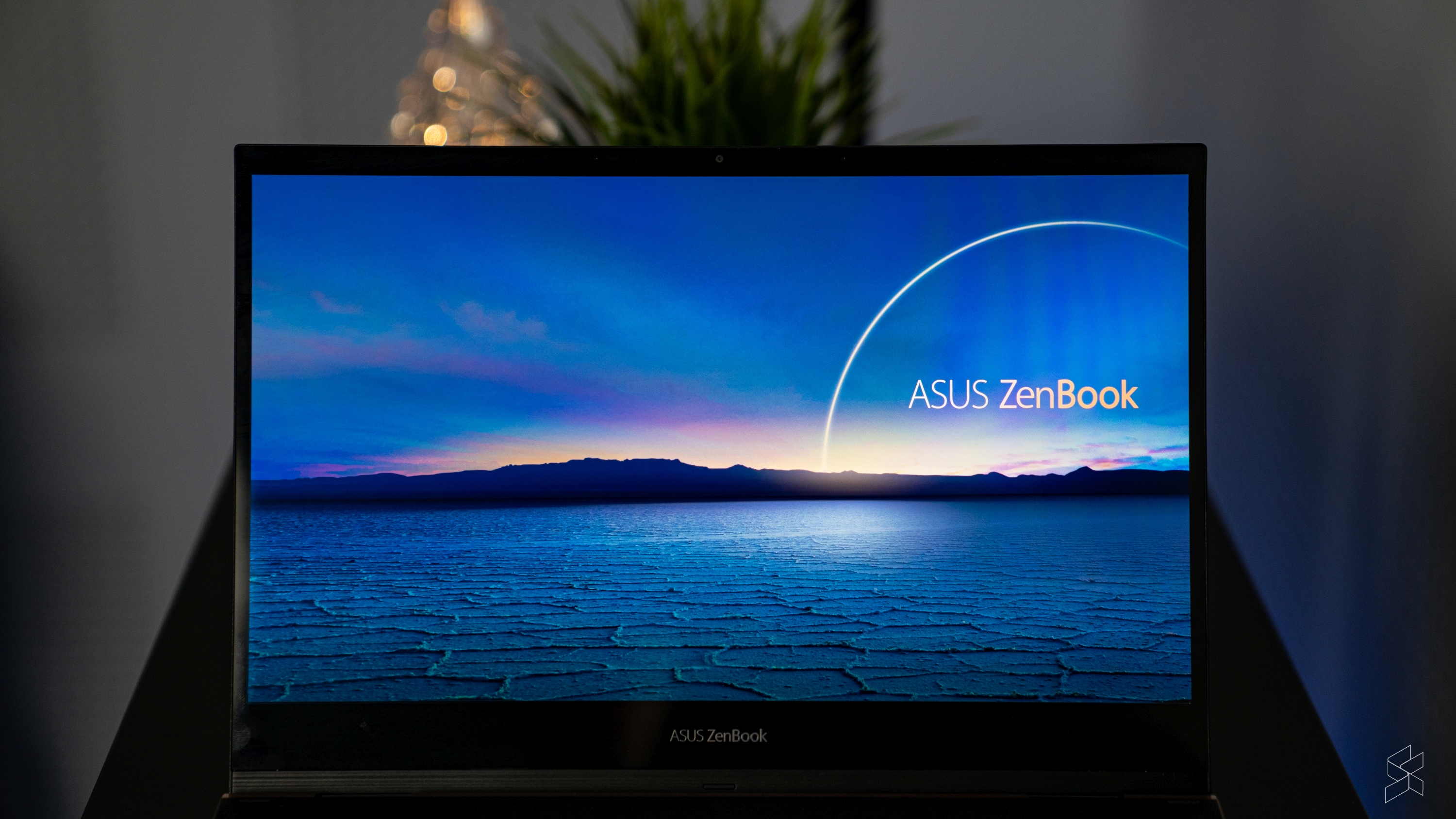 The gorgeous display is enhanced further by the ZenBook Flip S' form factor. It's a 360-degree convertible laptop, which means the screen—in addition to being a touch panel—can flip all the way around to the back. This allows you to set up the device in a whole number of configurations. Personally, I use regular laptop mode when I'm working on the go, flat when I'm in meetings and in stand mode when I have it hooked up to my external keyboard (so the screen is closer to me). It's really quite handy.
I was also a fan of the build quality, which from what I can tell is mostly an aluminium affair. It's got a fairly robust chassis that inspires confidence that it won't break in my backpack, and it even looks quite nice. The gold touches on the otherwise navy device strike a good balance between giving it a little flair without making the laptop look too garish.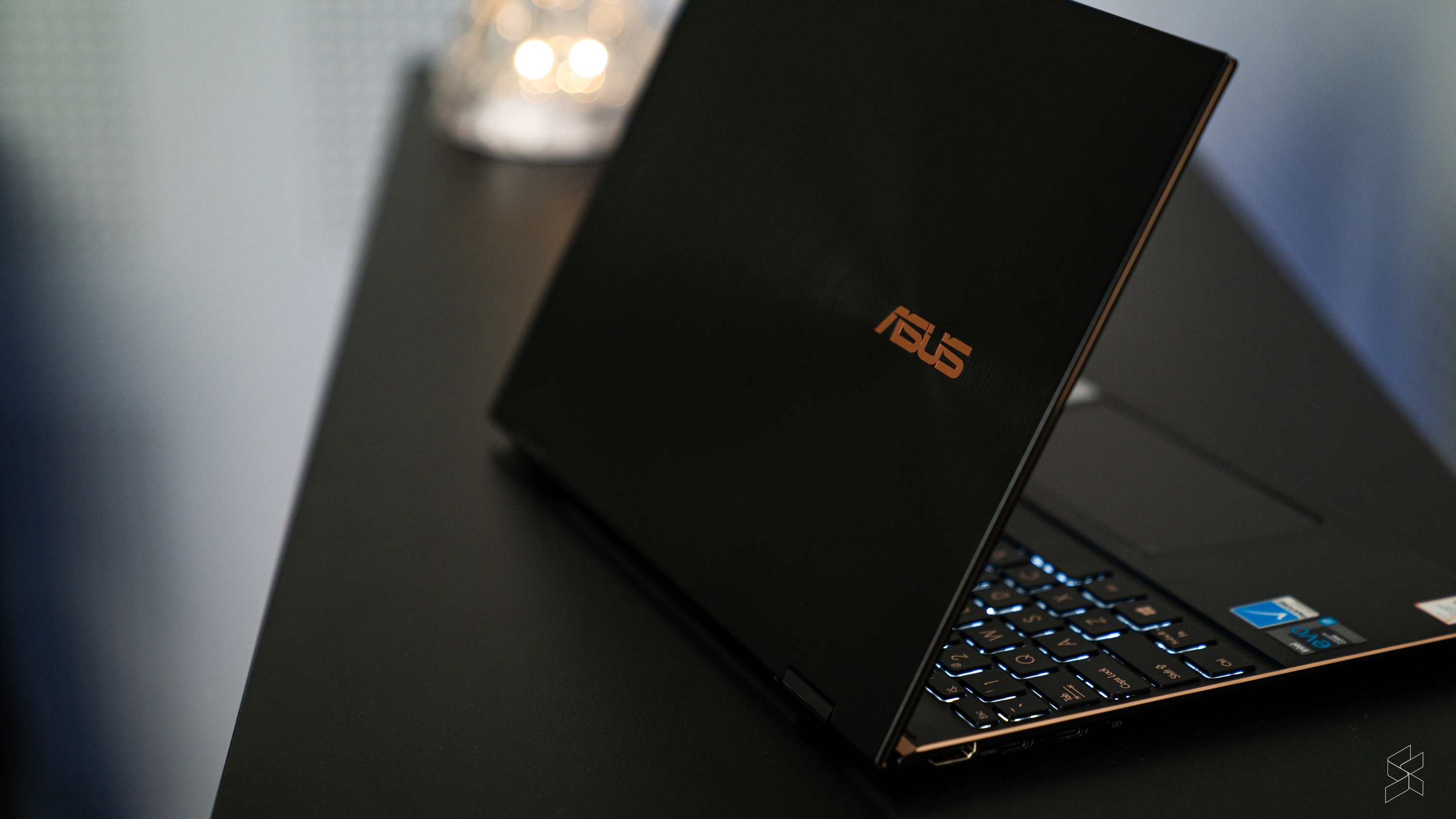 There are also a bunch of useful touches that I appreciate on a modern laptop. Stuff like Windows Hello facial recognition, and a solid 7-hour battery life (despite the 4K screen) for my workload which consists of lots of word processing, light photo editing and video content consumption. Pair that with the stunner of a screen and the ZenBook Flip S OLED should be one of my favourites—but it's not.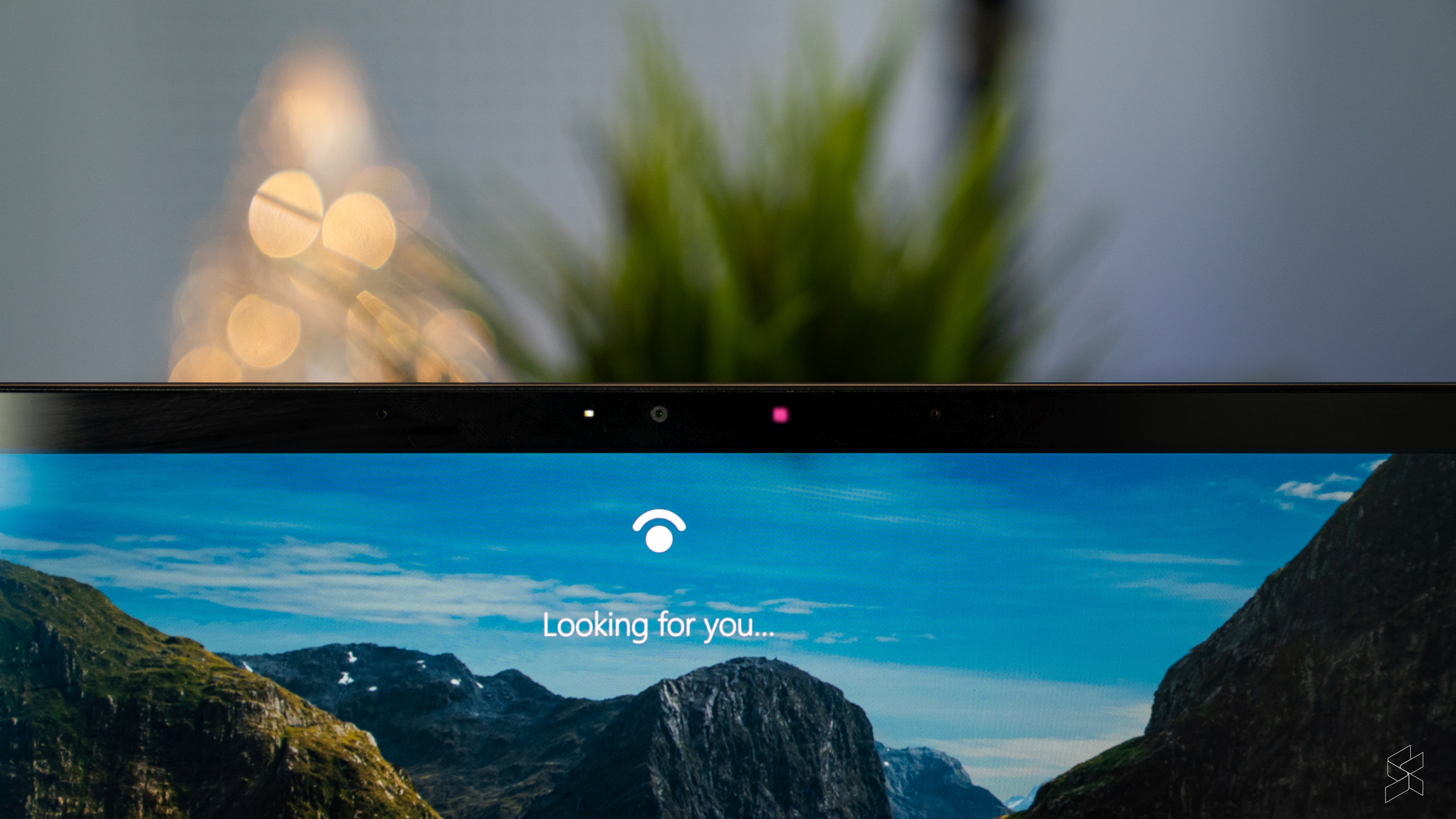 Mainly, this is down to two main factors. First, is the audio setup. The speakers are absolutely terrible. You would get more volume from a hamster shouting through a straw than you would from this laptop's speakers—and that's only a slight exaggeration on my part. I understand why they couldn't do the MacBook-style front-firing speakers flanking the keyboard, but surely they could have done a bit more to give it some oomph.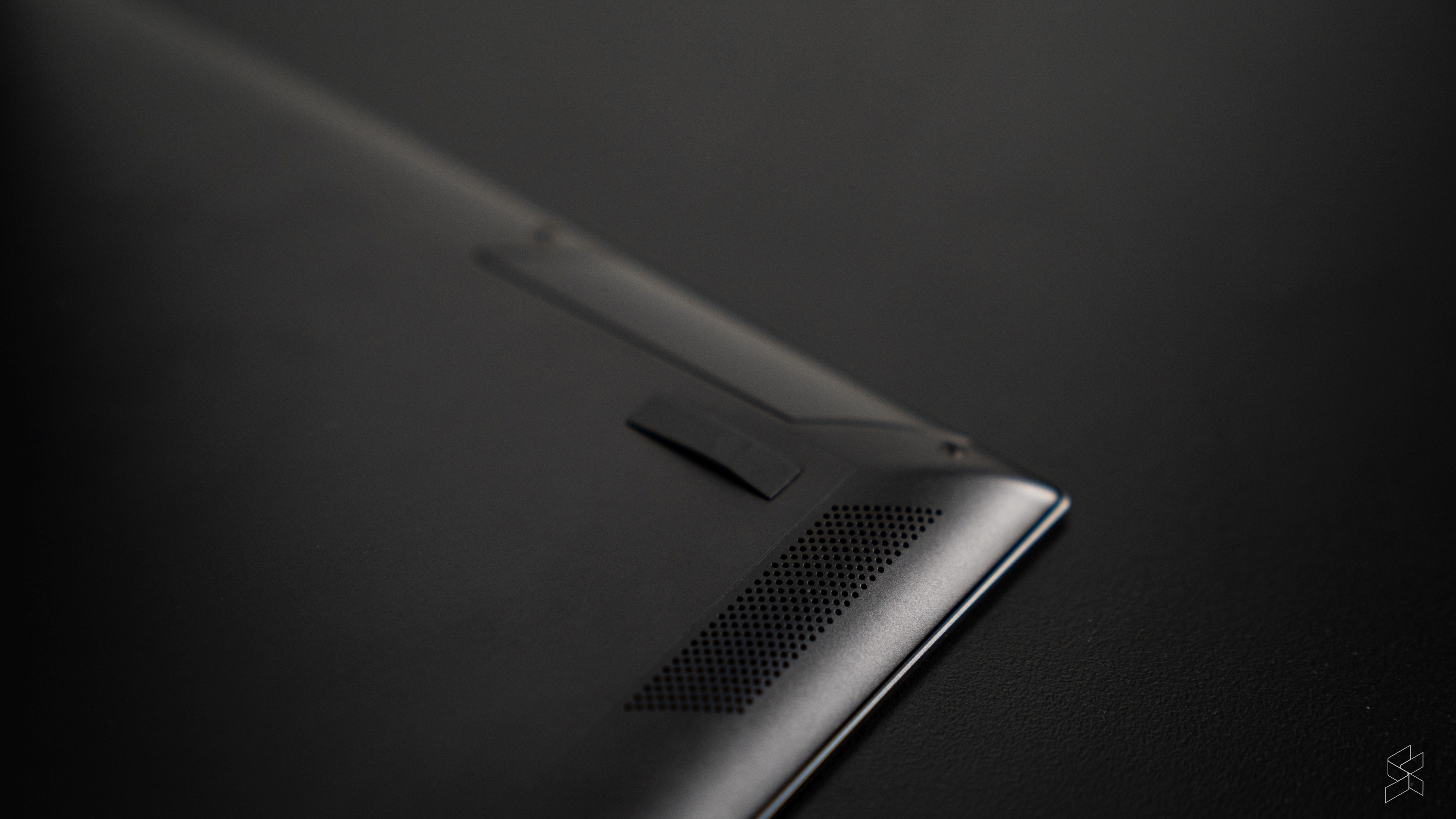 And if you thought you could fix this by simply hooking up a pair of headphones or speakers via the 3.5mm headphone jack. Well, tough luck, there is no 3.5mm headphone jack on this device. While I can still somewhat believe that there "isn't enough space" on a smartphone to fit a 3.5mm jack, don't you dare tell me a laptop has the same problem. Especially when this laptop is not exceptionally thin or compact.
What makes it even more frustrating is, besides this glaring omission, the ZenBook Flip S OLED has a really good selection of I/O. You get two USB-C ports (both of which are Thunderbolt 4), a full-sized USB-A for your legacy devices, and a full-sized HDMI port. Besides a full-sized SD card slot, I wouldn't have asked for anything else on a laptop in this category…except a 3.5mm headphone jack.
The second factor has to do with the laptop's performance. On paper, the ZenBook Flip S OLED should be a strong performer. It's powered by an Intel Core i7-1165G7 processor with Intel Iris Xe Graphics, 16GB of LPDDR4X memory and 1TB of PCIe NVMe SSD storage. At the very least, I was expecting the 11th-gen ZenBook Flip S OLED to be on par or better than my 10th-gen ExpertBook B9, but in my experience this wasn't the case.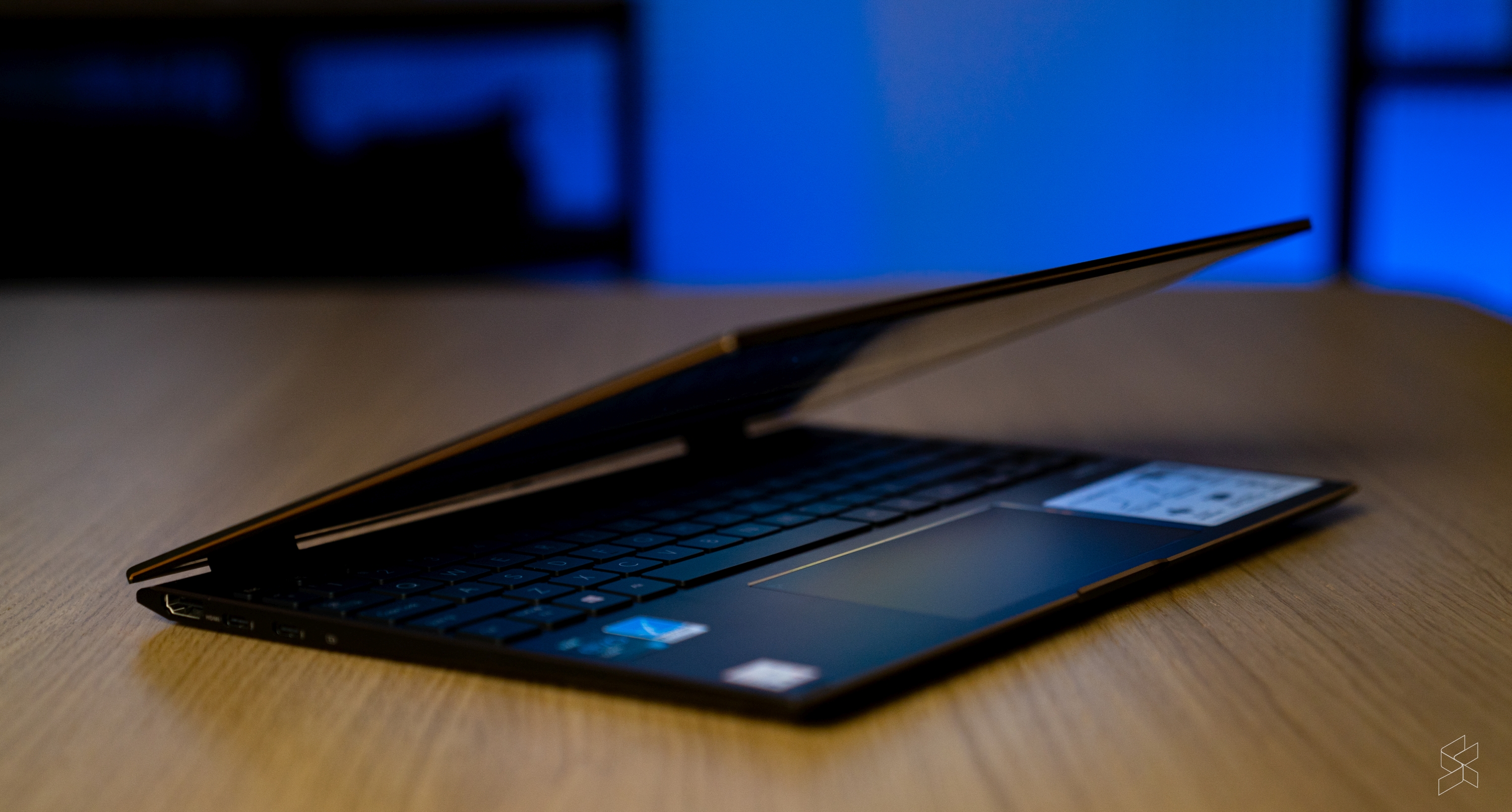 In fact, I was quite disappointed with how it performed. Even regular tasks like web browsing, text editing and light photo editing appeared to be a struggle for the laptop. It often ground to a halt when I ran my usual load of Chrome tabs, which was quite the letdown. And I won't even get into video editing because it definitely can't handle that.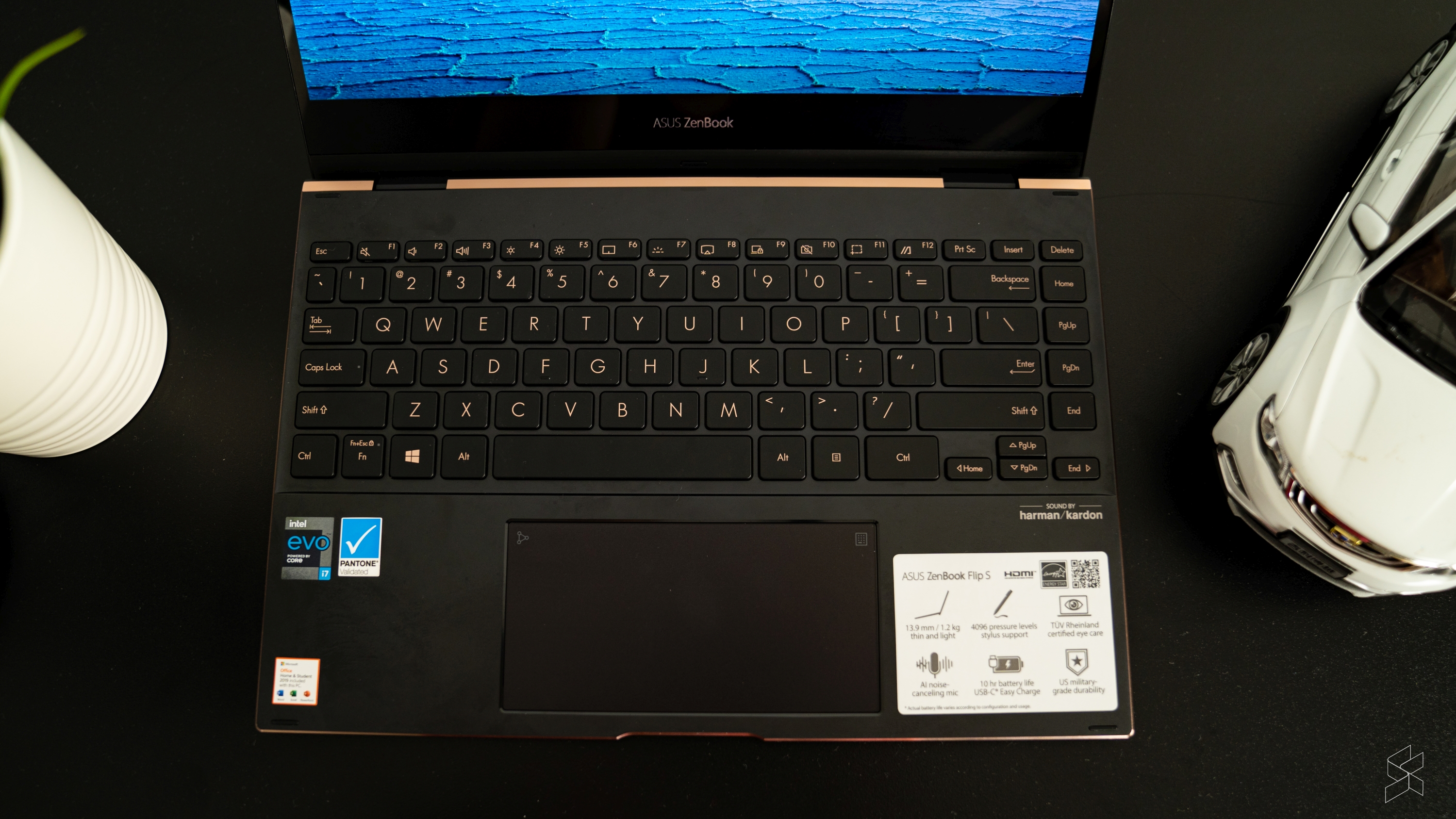 I'm not sure what the issue was because on-paper, it should be a pretty decent performer. Perhaps it's because the 4K OLED screen has just too many pixels for the hardware to reliably push. Or perhaps, to get the really solid battery life with that high-res screen, Asus had to tune the chip to be more power efficient instead. I'm not entirely sure, that level of technicality is out of the realm of my expertise.
But I will say that I had the opportunity, during my review period with the ZenBook, to use a similar 11th-gen laptop from MSI, the Prestige 14 Evo. And this particular laptop offered an interesting look at the other side of the coin: less show, more go.
MSI's other side of the coin: the Prestige 14 Evo
Looking at the on-paper specs, it was nearly identical to the ZenBook Flip S OLED, though it has a slightly faster Core i7-1185G7 processor instead. However, from what I gathered doing a little research was that the performance gap wasn't supposed to be big.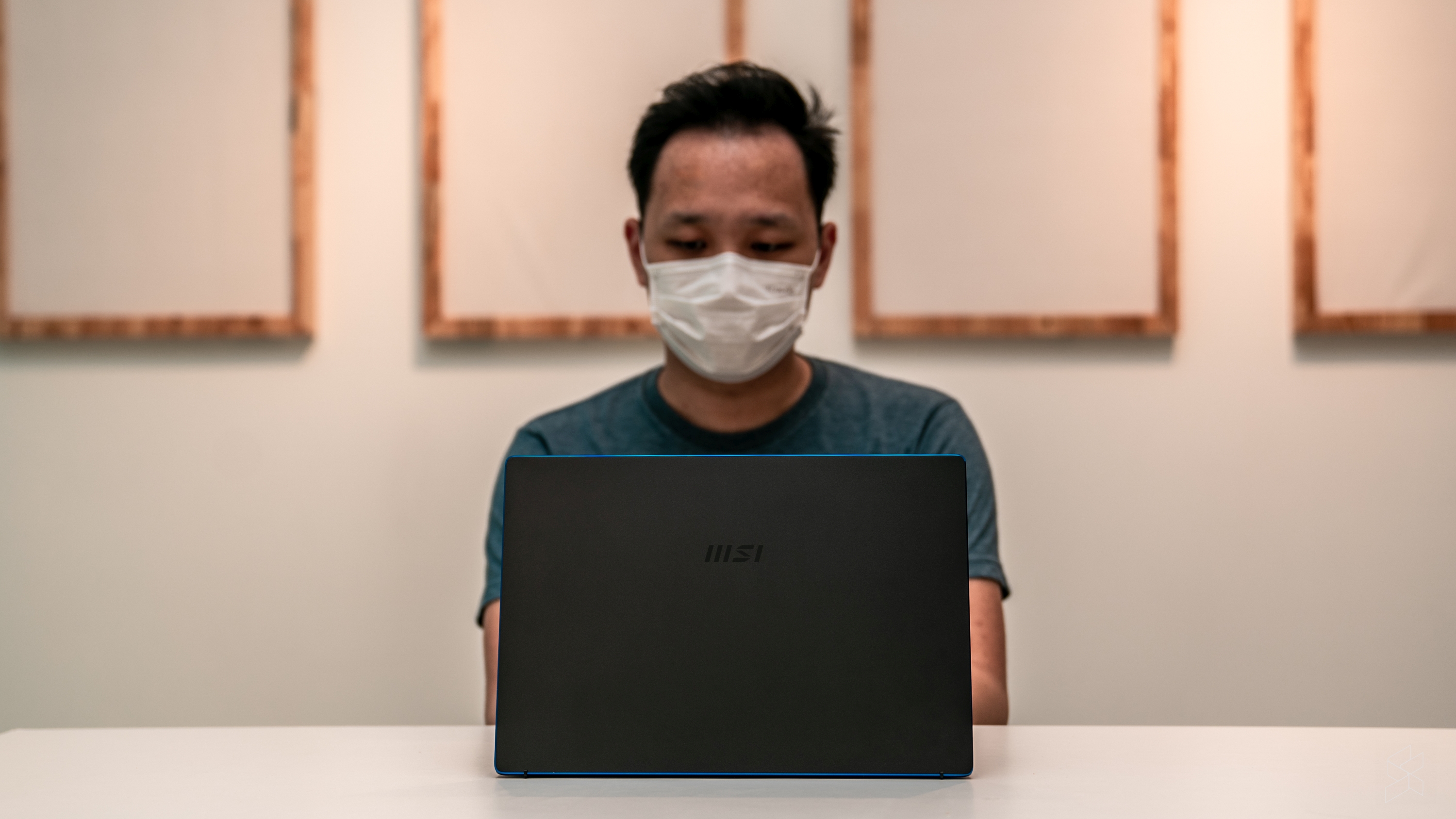 That said, the MSI Prestige 14 Evo definitely outperformed the ZenBook when it came to my usual workload. I could open all the Chrome tabs I usually ran with without the whole device grinding to a halt. It also ran everything much smoother and was way more responsive than the ZenBook. Though, I will note that video editing performance gains were marginal at best—so you'd best stick to the Full HD timelines if you plan to use this as an editing machine.
It has comparable battery life of about 7 hours on a single charge, and it also comes with a good selection of I/O ports, though it trades the full-sized HDMI port on the ZenBook for a microSD card reader instead. That being said, this laptop does come with a 3.5mm headphone jack because MSI was being sensible.
However, that's pretty much where my preference for the MSI Prestige 14 Evo ends because the laptop is definitely not built to the extent of the ZenBook Flip S OLED. The chassis feels…cheap, even though it definitely feels like it's made of metal. The keyboard doesn't have a lot of flex, but the keys are definitely not satisfying to type on. Add the unsatisfactory trackpad and the MSI Prestige 14 Evo is already on the back foot.
And while the Prestige 14 Evo was nice enough to include a 3.5mm headphone jack, the speakers were almost as bad, if not a little worse, than the ones on the ZenBook. Honestly, with what Apple is able to do with their MacBook speakers, how is it that nobody in the Windows camp has been able to do the same?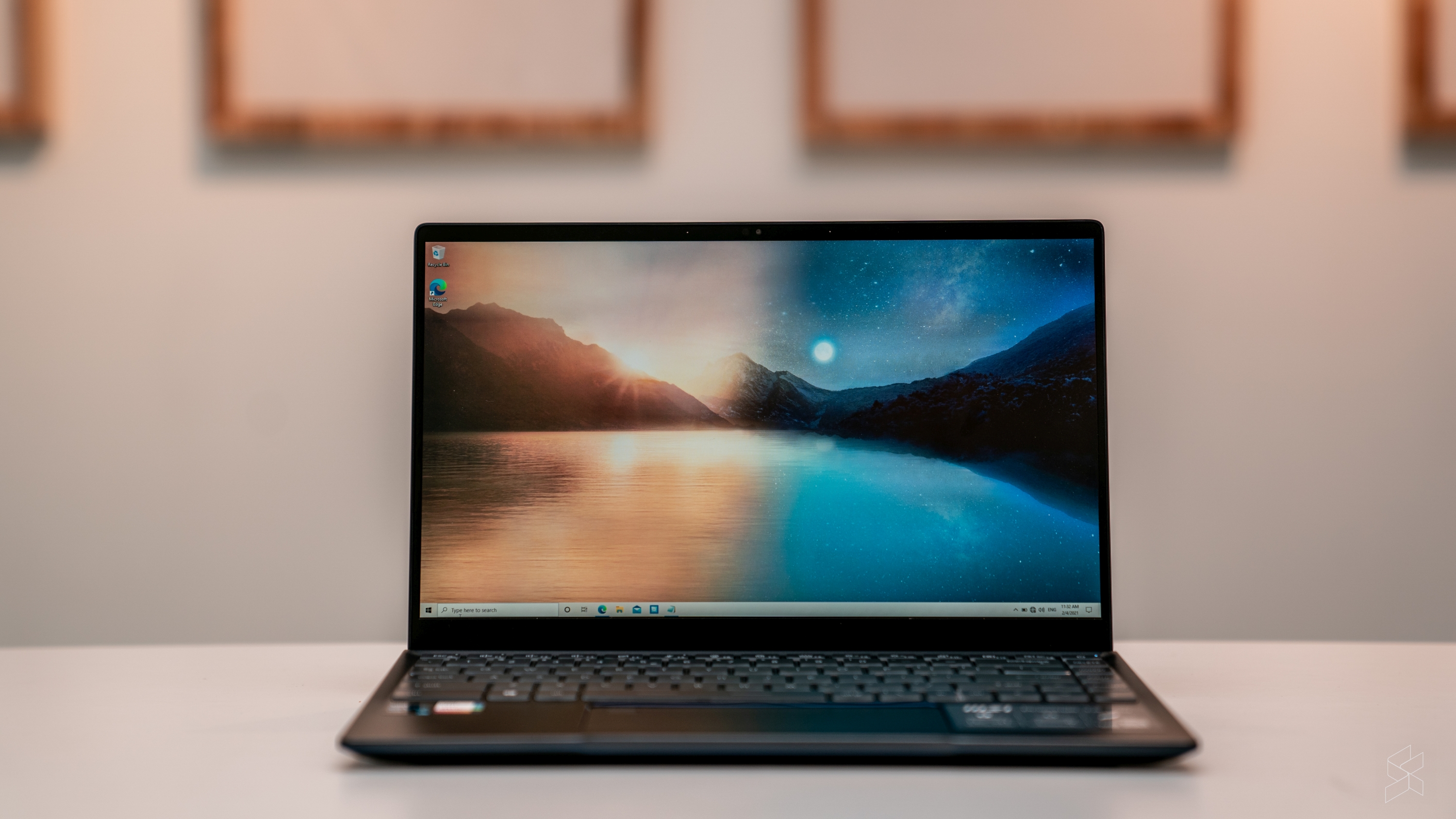 This particular laptop features a 14" Full HD IPS display, but its quality is definitely nowhere near the top of the line. It has pretty good viewing angles, and I like that the hinge folds all the way flat. However, the panel felt a little washed out to my eyes and is certainly a huge drop-off compared to the gorgeous OLED panel on the ZenBook. But I guess that's the trade-off you'd have to make for a laptop that costs RM1,600 less.
Considering the fact that this laptop has a low power IPS panel with lower resolution and a similar spec configuration, I was surprised that it didn't have markedly better battery life compared to the ZenBook. Which got me wondering: was the ZenBook's poor performance by design? How much did Asus prioritise power efficiency over out-and-out performance?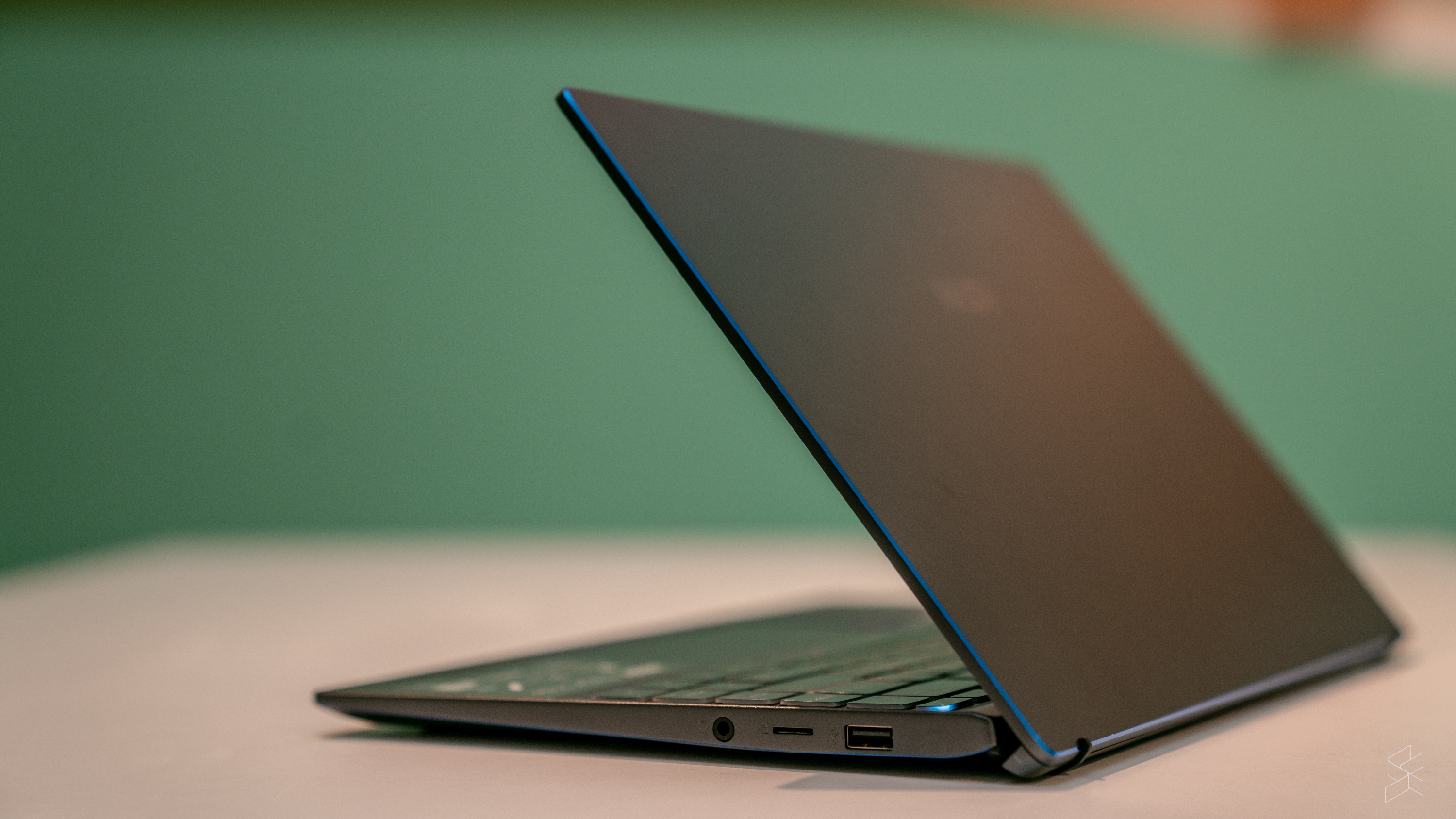 What I ultimately ended up with at the end of reviewing both these devices, are two laptops that I simply wouldn't recommend. Both, I think, are a little too expensive for what they offer: the ZenBook Flip S OLED being RM6,799 (as tested) and the MSI Prestige 14 Evo being RM5,199 (as tested). And honestly, that's a little disappointing because I cannot stress how much I love the screen on the Asus ZenBook Flip S OLED. I just can't figure out why it performs so abysmally. I would even be OK with living without a headphone jack for that screen.
Now that you know what not to buy, you're probably wondering what you should buy if you're looking for something in this class. Well, I might have a few options for you. If you want to go down the bang-for-buck route, a solid contender would be the Acer Swift 3X (RM4,599).
It's got nearly the same specs as the MSI Prestige 14 Evo (except the Swift has the 1165G7) but for RM600 less. I've also used plenty of Swifts in the past and in my experience the build quality isn't far off the MSI laptop. If you're looking for a laptop with an OLED screen at a lower price point, Asus themselves have the ZenBook 13 OLED (from RM4,299)—also configurable with an i7-1165G7 (RM4,999)—and that only weighs a juicy 1.14kg.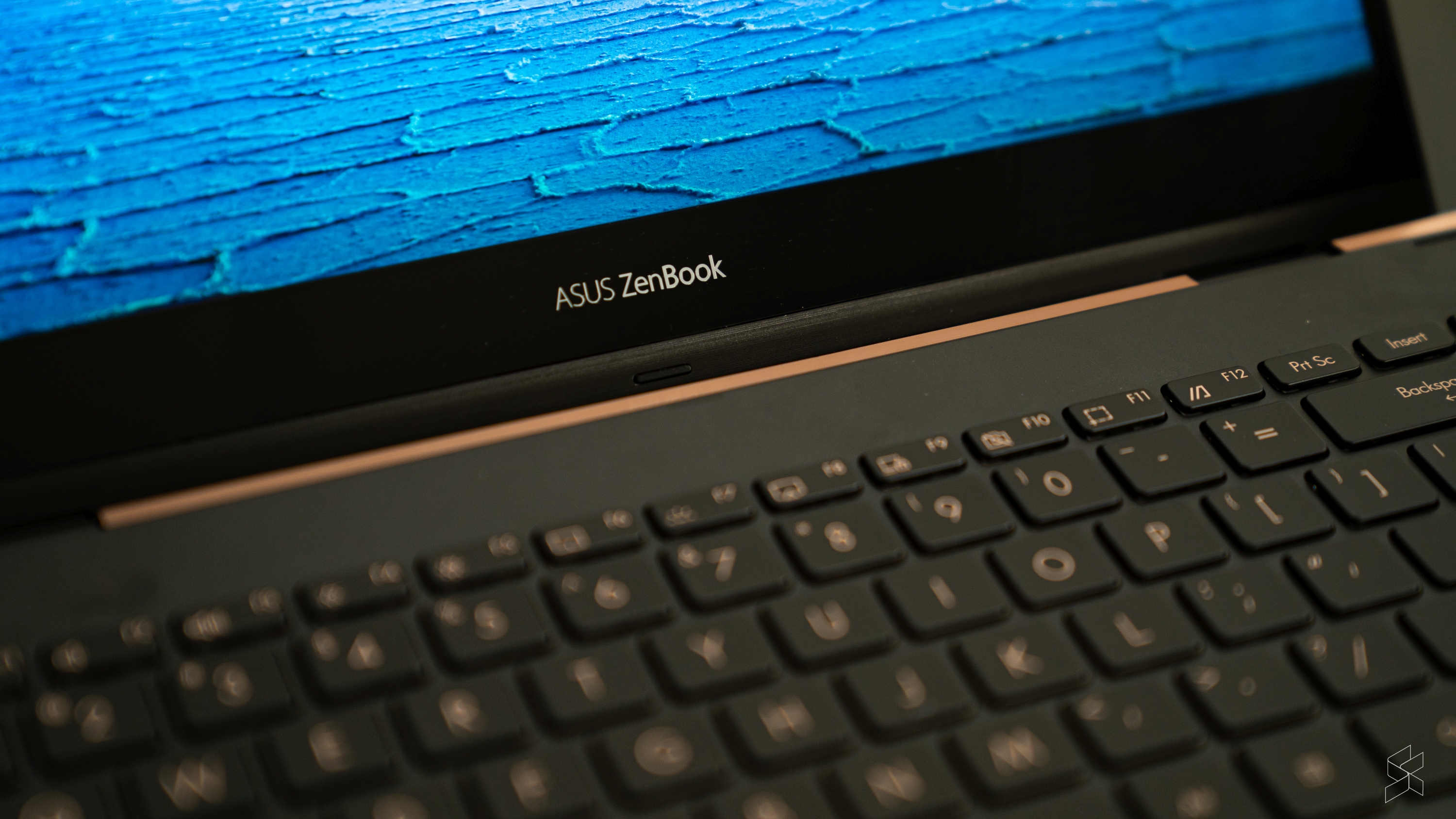 Personally, I'm definitely looking forward to seeing more OLED laptops. Maybe not over-the-top ones like the ZenBook Flip S OLED, but more like the ZenBook 13 OLED. Maybe strike a good middle ground with a 2K OLED panel, and I think you'll have a banger of a laptop. Though, if I'm being honest, if Asus can sort out the Flip S OLED's performance issues, I think that'd be a solid laptop because I'd be willing to live with the other drawbacks.
Photography by Rory Lee & Zachary Yoong with the Sony A7 III.