According to AP News, nearly all COVID-19 related deaths in the U.S. now are in people who weren't vaccinated. Analysis of U.S. government data showed that out of more than 18,000 COVID-19 deaths in May, only about 150 of them were fully vaccinated people—which is about 0.8%.
Fully vaccinated people also accounted for less than 1,200 COVID-19 hospitalisations, out of the total of more than 853,000. This means that fully vaccinated people accounted for just about 0.1% of all hospitalisations last month.
However, the figures are based on "incomplete information", as it was only based on the report of 45 of the 50 states of the U.S. Some states might also not be as aggressive in looking for cases as some other states, and so some of those cases might go unnoticed.
"Still, the overall trend that emerges from the data echoes what many health care authorities are seeing around the country and what top experts are saying," wrote AP.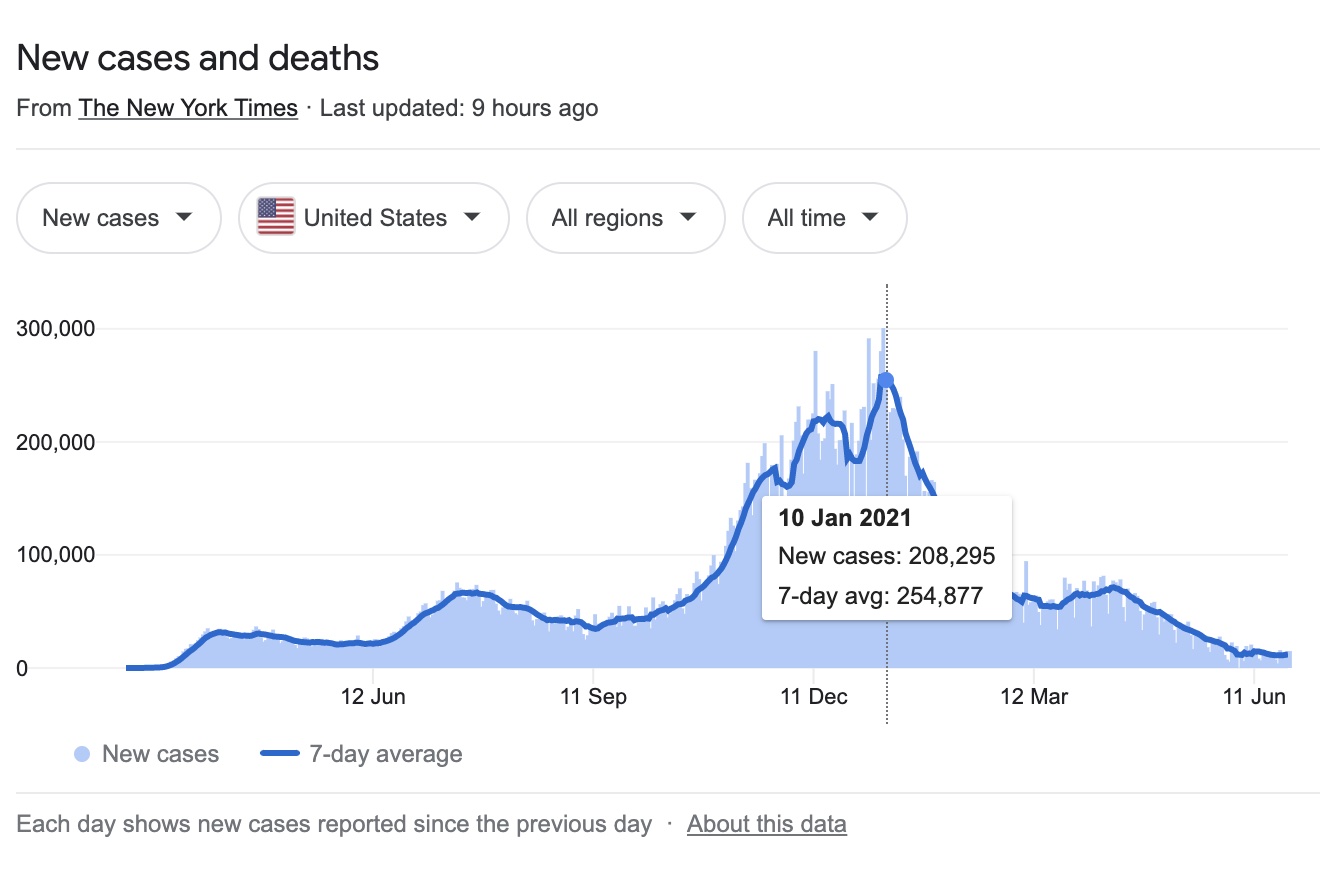 Vaccinations rolled out in the U.S. in December 2020, and in January, COVID-19 cases fell dramatically. Before the drop, cases averaged to about 250,000 a day, but in June, cases averaged to about 17,000 a day.
Deaths in the U.S. have plummeted from more than 3,400 a day on average in mid-January to 300 a day on average. CDC Director Dr. Rochelle Walensky said that the vaccine is so effective that "nearly every death, especially among adults, due to COVID-19, is, at this point, entirely preventable".
However, Malaysia's results might be more difficult to figure out—as vaccinations haven't been as readily available as vaccinations in the U.S. A total of 5,803 cases were recorded in Malaysia today, 26 June—and the number has been hovering around the area for quite some time.
Malaysia has recorded 2,007 COVID-19 deaths between 1 to 25 June, which is an average of 80 deaths per day. At the moment, Malaysia has vaccinated just slightly over 5 million people with at least one dose, which is 15.5% of the total population. Nearly 2 million people have completed their vaccinations with two doses.
[ SOURCE, IMAGE SOURCE ]
Related reading