The one year trial of Apple TV+ for customers who have purchased a new iPhone, iPad, iPod touch, Apple TV or Mac will end in July. Instead, customers who buy Apple hardware will get just a 3-month trial for the company's video streaming platform.
Apple had previously gifted a one-year tree trial to customers back in 2019, and has been extending the period up until this year. In fact, the 'free year' trials have been extended twice for up to an additional 9 months free.
Apple TV+ customers have access to a collection of about 80 TV shows and films that the platform will have by the end of 2021. Their original content include Ted Lasso, The Morning Show and Central Park. You can also look through here for some recommendations.
According to 9to5Mac, Apple TV+ currently has between 30-40 million subscribers, but consists of mostly free trial members. I'm uncertain that Apple TV+ will keep the amount of subscribers after the free trial ends.
The free trials can only be redeemed once per Family Sharing group. This means that if you've had a free Apple TV+ trial before, you can't redeem another one.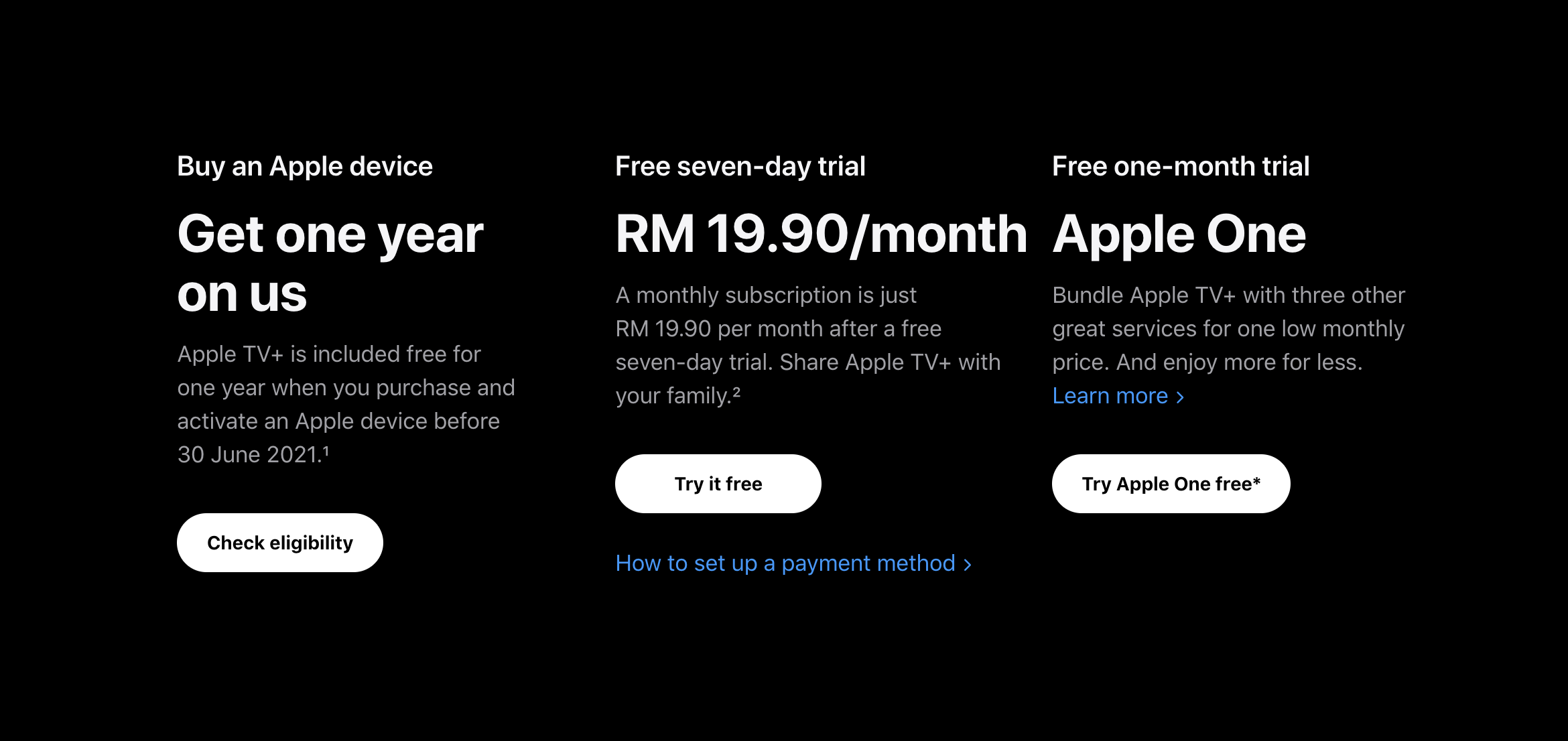 If you have bought an Apple device from 10 September 2019 until now, you might be able to claim your free 1-year membership while you still can before 30 June 2021. If you're eligible for the trial, you will be notified by email.
Alternatively, you can start a one-month trial if you opt for Apple One—their all-in-one bundle subscription service. Apple One lets you have access to Apple Music, Apple TV+, Apple Arcade and iCloud storage with savings of up to RM40.70/month.
A third option is a one-week trial of Apple TV+—which you can share with your Family Sharing group. After that, you'd need to pay RM19.90 a month. You can start your trial here.
[ SOURCE, IMAGE SOURCE ]
Related reading