Apple had already announced back in May that Apple Music will be supporting Spatial Audio and Lossless Audio soon. Indeed, it was during the 2021 Worldwide Developers Conference Apple confirmed that it has begun rolling out the features to Apple Music subscribers. If you have an Apple Music subscription, you can start using the features at no additional cost.
Spatial Audio
Spatial Audio with Dolby Atmos allows listeners to have an immersive audio experience, with multidimensional sound coming from all around them. A select number of albums will be available in Spatial Audio, and there will be a badge on its detail page to make it easier to find music with Spatial Audio support.
To begin listening with Spatial Audio on your iPhone or iPad, you'll first need to update your device to iOS or iPadOS 14.6. Then, head over to Settings, hit Music and tap Dolby Atmos under Audio. You can choose between Automatic, Always On or Off. If you choose Automatic, supported songs will automatically go play in Spatial Audio when you're using the following to listen with:
Airpods Pro or Airpods Max; you'll need to turn on Spatial Audio in for them in the Control Center first
Airpods
Beats X, Beats Solo3 Wireless, Beats Studio3, Powerbeats3 Wireless, Beats Flex, Powerbeats Pro, or Beats Solo Pro
The speakers on an iPhone XR or later (except iPhone SE), iPad Pro 12.9-inch (3rd generation or later), iPad Pro 11-inch, iPad (6th generation or later), iPad Air (3rd generation or later), or iPad mini (5th generation)
If you're using other headphones that don't support automatic Spatial Audio playback, you can choose Always On. Do note however that this setting only applies for headphones.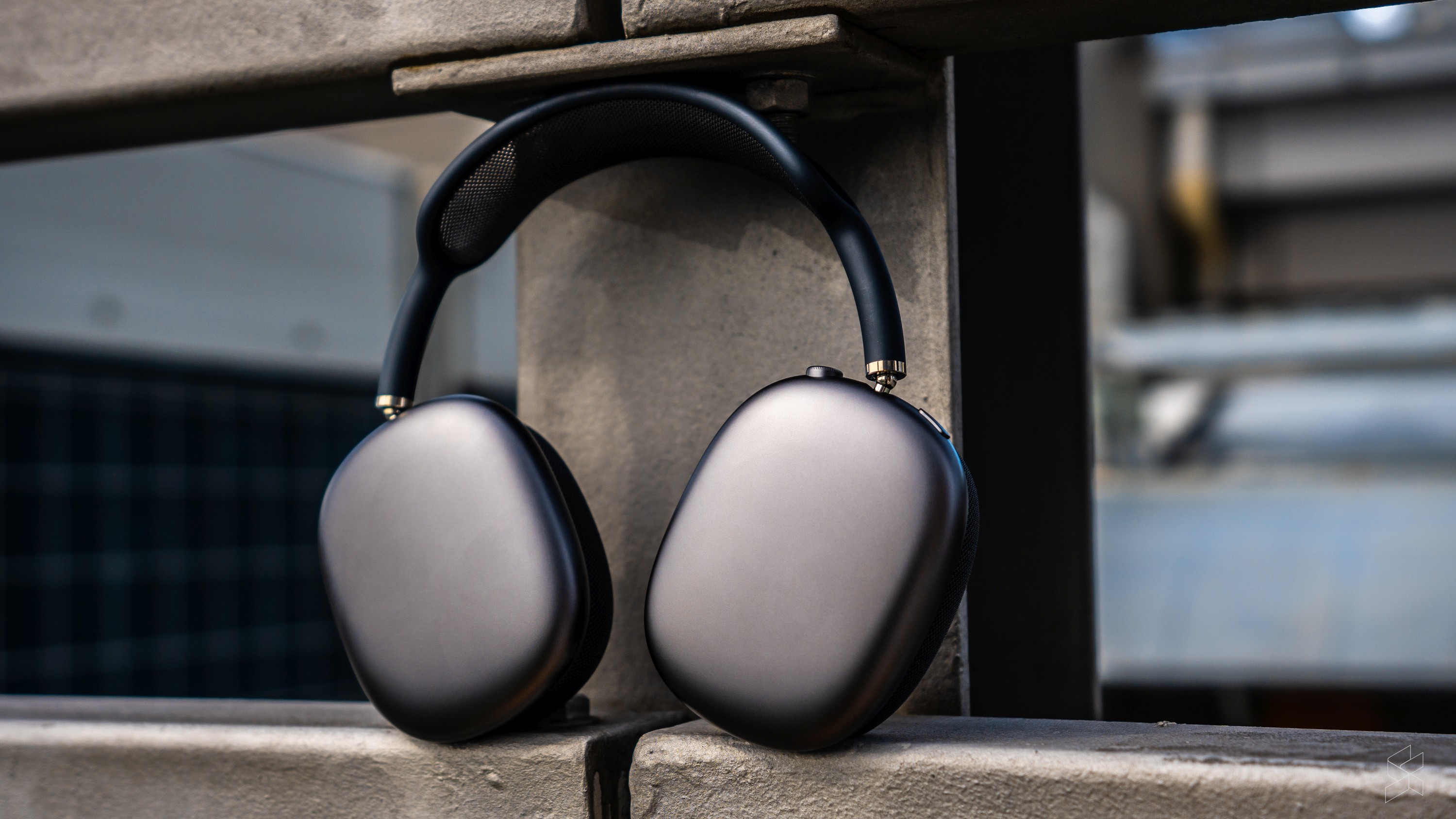 Alternatively, if you're using a Mac, you'll first want to ensure your macOS has been updated to macOS 11.4. In the Apple Music app, head over to the menu bar, hit Music, then Preferences, and then click the Playback tab. Here you'll see the same options for Dolby Atmos: Automatic, Always On, or Off.
If you choose Automatic, the supported headphones are the same as above, while machines with speakers that can handle it include the MacBook Pro (2018 model or later), MacBook Air (2018 model or later), or iMac (2020 model or later). And like before, you'd want to select Always On if you're using other headphones without automatic playback.
You might also notice that regular stereo music might be much louder than Dolby Atmos tracks. According to Apple you can fix that by turning on Sound Check in the Preferences section of the Apple Music app on your Mac, or in the Settings of your iPhone or iPad.
If you're ready to dive into Spatial Audio, you can also check out specially curated playlists from Apple Music themselves. These have all been curated based on genre, and features everything from rock to pop and hip-hop, as well as jazz and classical music too. You can click here to find Apple Music's curated playlists.
As for your downloaded music, you can upgrade them to one with Spatial Audio if available by simply deleting the song and redownloading it. You're also going to want to ensure you've turned on 'Download in Dolby Atmos' in the settings of your device.
Apple have also said they'll be bringing Spatial Audio with dynamic head tracking in the coming months, for an even more immersive audio experience. The dynamic head tracking feature will adjust the Spatial Audio as you turn your head. Apple's Logic Pro audio software meanwhile will get an update this year so that any musician can create and mix their songs with Apple Music-compatible Spatial Audio. And for those of you using Apple Music on Android devices, Spatial Music will also be coming to you soon.
Lossless Audio
Another major new feature in Apple Music is the support for lossless audio for their entire catalog – that's over 75 million songs that are now available in lossless audio. Apple is using the Apple Lossless Audio Codec (ALAC) on top of Advanced Audio Coding (AAC), meaning that the Apple Music catalog now ranges from CD quality 16-bit/44.1kHz up to super hi-res 24-bit/192kHz.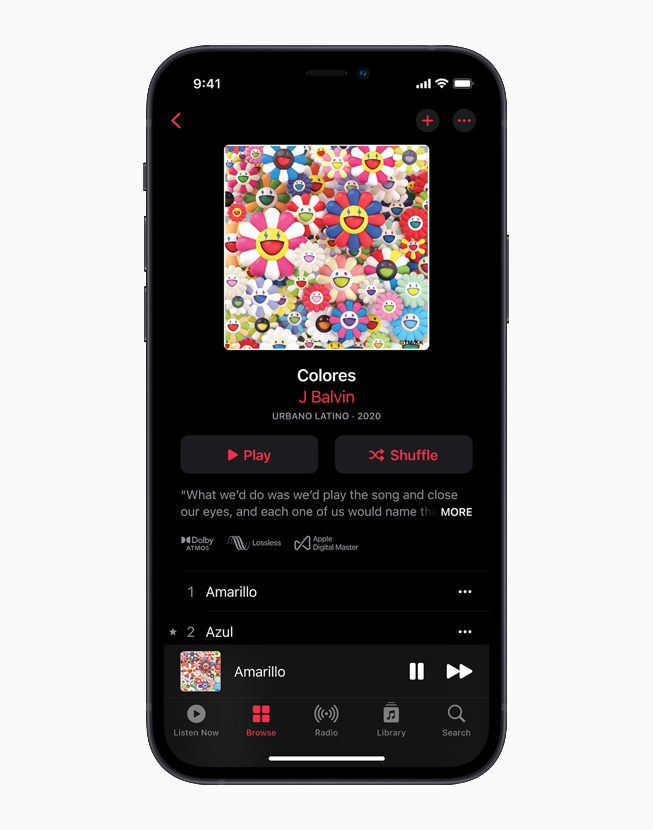 To start listening to lossless music on the iPhone or iPad you'll first want to ensure it's on iOS or iPadOS 14.6. Then, simply go to Settings, Music, and tap on Audio Quality. There you'll find the option to turn on or off Lossless audio, with two further options available if you turn it on:
Lossless: a maximum of 24-bit/48kHz
Hi-Res Lossless: a maximum of 24-bit/192kHz
On a Mac, first get it to macOS 11.4 and then you can find the same options for lossless audio in the Apple Music app. Just head to the menu bar, click Music, Preferences, then Playback, where you'll find the Audio Quality option.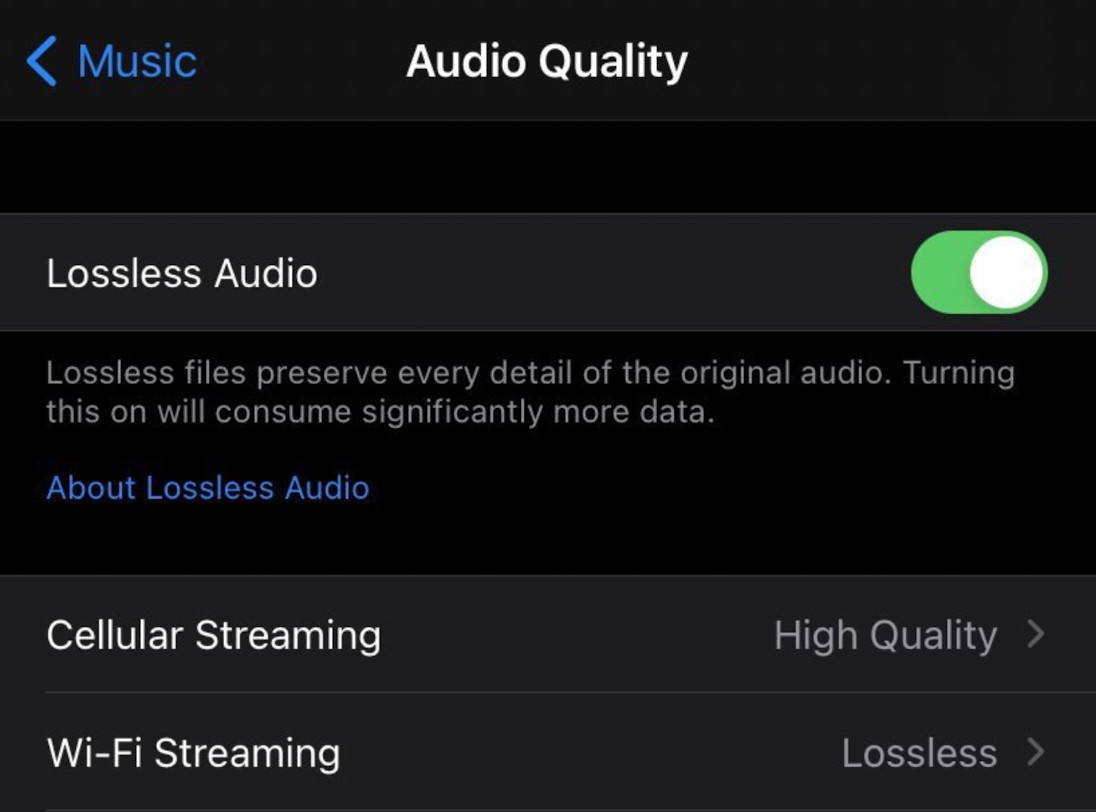 You'll also need wired headphones or powered speakers, or you can use the built-in speakers too. For listening to songs at sample rates higher than 48kHz, you'll also need an external digital-to-audio converter (DAC).
One thing to note is that Apple's range of wireless headphones (and Beats for that matter) do not support lossless audio. That's not Apple's fault, but rather a limitation of Bluetooth connections not being able to support lossless audio in the first place. Using one of Apple's Lightning to 3.5mm headphone jack adapter however will get you lossless audio support. Furthermore, you also won't be able to get lossless audio for broadcast radio as well as live radio and on-demand content from Apple Music 1, Apple Music Hits, and Apple Music Country.
[ SOURCE 2, IMAGE SOURCE ]