Astro has launched Sooka, the new streaming service that offers both free and paid content. The name comes from the Malay word 'suka' and will be focusing on curating content for millennials, such as live sports, Malaysian programming and Sooka exclusives too.
How much does Sooka cost?
You can download the app and stream content for free, without any subscription needed. We tried it too, and we managed to watch a few shows without paying anything or even signing up. Do note though that there are ads when watching the free content without a subscription.
For access to more content on Sooka, there's currently two plans on offer:
VIP Entertainment plan – RM 15.90/month

VIP+Sports plan – RM 41.90/month, current promotional price of RM 15.90/month
What's there to watch on Sooka?
The regular VIP Entertainment plan unlocks a variety of Malaysian content, such as local dramas and variety shows. Some of the shows included are Projek Anchor SPM, Rindu Awak Separuh Nyawa, Jebat, Scammer and more. Subscribing also gives you access to Sooka exclusives and original content such as Hantu Bonceng 2.0, PHD Muzik and Hawa.
The VIP+Sports plan meanwhile gets you everything the former does, as well as access to live sports coverage as well. You can expect access to stuff like the BWF World Championships, English Premier League matches, Formula 1 races, the Wimbledon Grand Slam and much more.
Furthermore, there are 17 live TV channels that you can stream. While subscribing to their VIP plan does remove ads when streaming content, do note that if you're streaming a live TV channel, if the broadcast goes to an ad, you will be watching that ad too.
While the VIP+Sports plan will be priced at RM 41.90/month, in conjunction with the upcoming UEFA EURO 2020 tournament, Sooka will be having a special promotional price for it, at just RM 15.90/month. This will give you access to all 51 matches from UEFA EURO 2020 on top of the other sports content available. Alternatively, you can also buy access to just a single UEFA EURO 2020 match, at RM 7.90/match.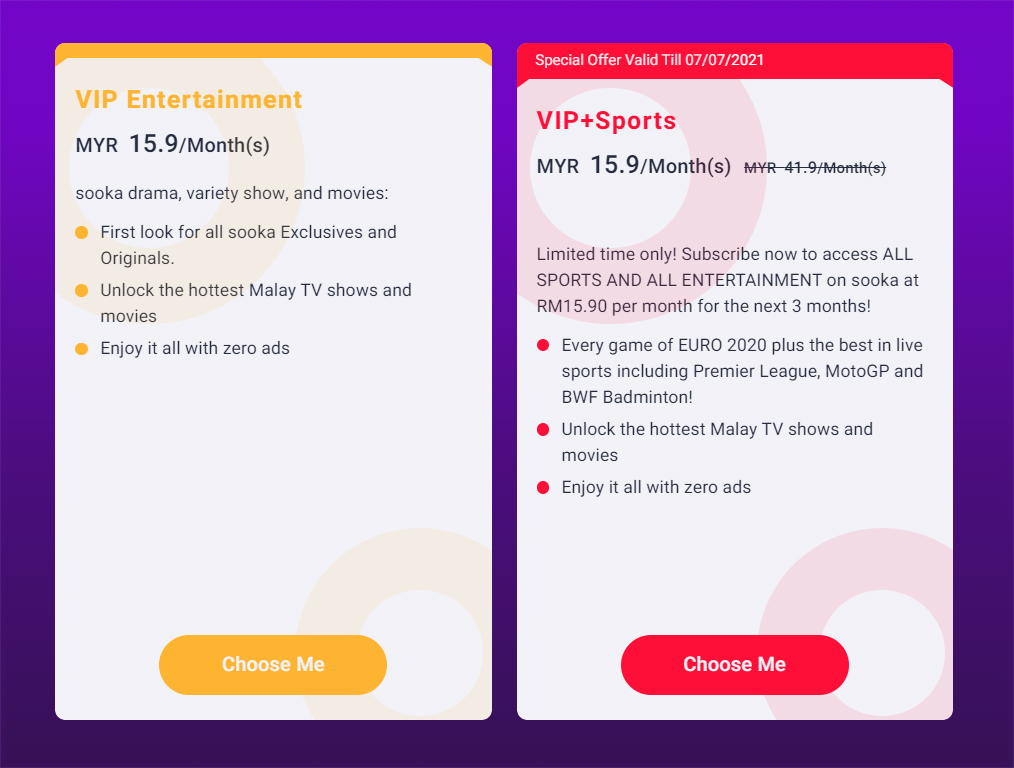 "Sooka comes at a time where users today embrace a mobile-first lifestyle and as such are attuned to consuming content online. The shift in viewing trends had consumers rapidly embracing the 'new normal' digital lifestyle, and great content has become a vital digital asset.

Sooka's content is curated for this immediate consumption, at affordable price points and simple plans, and we invite all millennials to try Sooka," – Emarina Mohd Kamal, Head of Programming at Sooka
You can watch it from either their app or their website, although if you register or have a paid plan with Sooka, you can only stream content on one device at a time only. You're also unable to cast or mirror your stream just yet, although Sooka are planning to support casting soon. Similarly, you can only stream content on Sooka for now, with downloading a planned feature for the future.
Where to get it?
While Sooka is launched by Astro, you'd notice going through their app and website that there isn't much Astro branding there. Nevertheless, if you're interested, you can download the app for free from the Google Play Store or the Apple App Store. You can also visit sooka.my to start streaming or for more info.