Gone are the days of the USB-C cable being capable of charging just ultrabook laptops and smartphones, as the USB Implementers Forum (USB-IF) has announced that the next revision of USB-C is set to have more than double of its current power delivery capabilities, going from the existing 100W maximum to 240W in the future.
The USB-IF has recently released the version 2.1 update to the USB-C specification, and perhaps the biggest eye-catching change is something they're calling the Extended Power Range (EPR). Essentially, USB-C cables with the EPR feature would allow it to support up to 240W of power, while cables with lesser power potential would be under the Standard Power Range (SPR).
And to help differentiate between EPR and SPR, future USB-C cables will have new visual identifiers on them. A USB-C cable would need to be able to handle both 5A and 50V to be qualified as an EPR cable.
That being said, with so much power comes great responsibility as well for manufacturers to prevent what USB-IF is calling 'arcing damage' when unplugging the cable, as shown by these images in USB-IF's press release: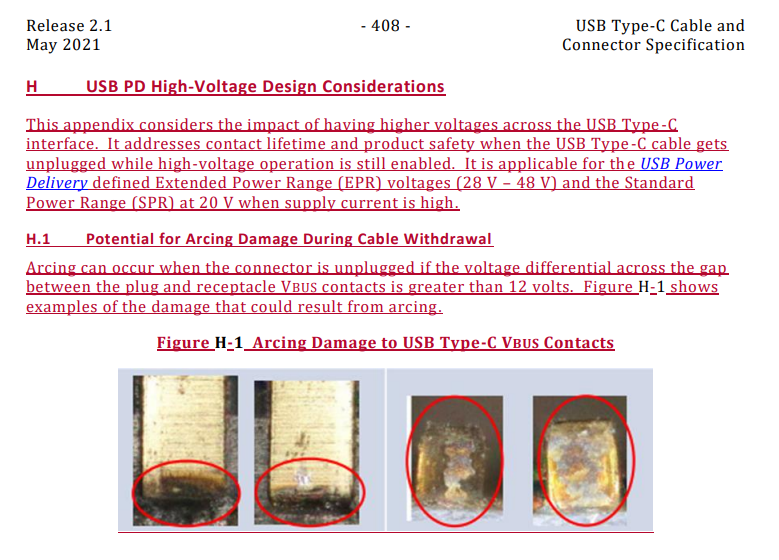 Of course, a souped-up gaming desktop will be have a power consumption far over 240W during peak loads, so a USB-C cable going to your power supply unit might not be possible just yet. But it could still power up most gaming laptops, barring the big 'portable desktops' with full-fledged desktop parts in them.
It's an exciting time for the multipurpose connector, and it seems as though it's only a matter of time before everyone and everything will be using a USB-C cable.
[ SOURCE, VIA 2, IMAGE SOURCE ]