This post is brought to you by MSI.
The world of PC gaming can be a confusing one. But as we undergo a third Movement Control Order (MCO 3.0), video games might be one of the safest ways to keep yourselves entertained—while staying home, and waiting for your vaccine appointments, that is. So, how do you choose a gaming laptop? A variety of factors, really, but one of the most important components in a gaming computer—or any computer, actually—is the processor.
As such, MSI has just launched a couple of new gaming laptop models to whet the appetite—and they're all powered by the latest 11th Gen Intel Core processors. With that in mind, here are 5 reasons why one of the MSI Sword, Katana, and Raider laptops should be your next gaming rig of choice.
1. The latest Intel Core processors under the hood
…obviously. Intel's 11th Gen Core (up to i9) processors have been upgraded to the high frequency 8-core solution, which means that you're getting the very best that Intel has to offer (L3 cache doubled to 24MB, DDR4-4300 RAM supported). This includes integrated Thunderbolt 4 support—which offers up to 40Gbps of throughput, while supporting dual 4K monitors. Or, a single 8K monitor, which would be a stunning, stunning display.
Plus, MSI's Sword, Katana, and Raider laptops also come with the latest WiFi 6E—which offers the same benefits as WiFi 6, but with an additional band supported: 6Ghz. This should solve many congestion-related network issues, and particularly for gamers, you're going to want a smooth, latency-less experience. This is probably as good as it gets.
2. Laptops with the craftsmanship of the katana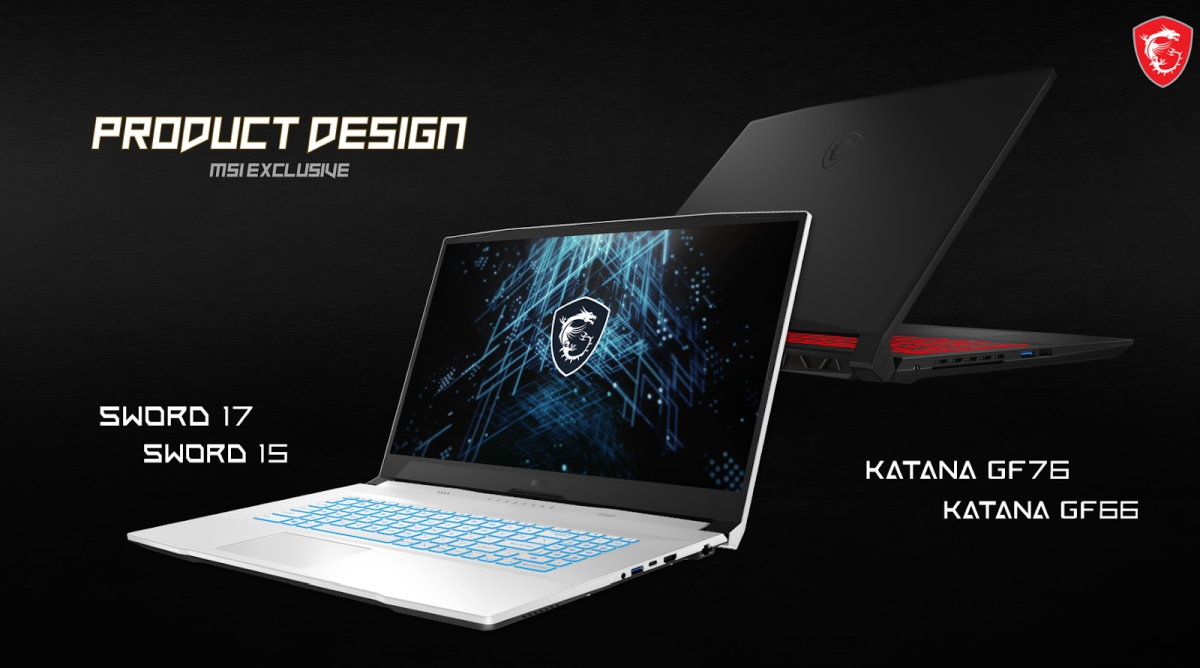 The katana has made appearances in plenty of games franchises over the years, and for good reason. Besides its obvious sharpness, the katana is also considered to be a work of art, with elegant, minimalist design paired to toughness and deadly functionality as a weapon.
This combination of deadliness and toughness has been incorporated by MSI into its new Katana and Sword series, with the former shrouded in jet black and the latter dressed up in a white, elegant design. Have a look, and judge for yourself:
3. The tried-and-trusted Intel x Nvidia marriage
The Katana/Sword series is the most powerful GF series from MSI thus far, with up to the Nvidia GeForce RTX 3070 GPU to offer the best performance for all of your gaming needs. If you need the absolute best, you can get an RTX 3080 option paired to an 11th Gen Intel Core i9 processor on the GE76 Raider.
MSI tells us that the GE76 and GE66 Raider has been tested across a series of popular AAA titles, and at the end of the day, we're talking about a seriously high FPS rate. The company even says that you'll be getting better performance compared to competitors, and a big part of that is the Resizeable BAR technology that gives the processor complete access to the GPU's VRAM.
This significantly increases computing performance, and accelerates the overall processing speed of your system for supported games.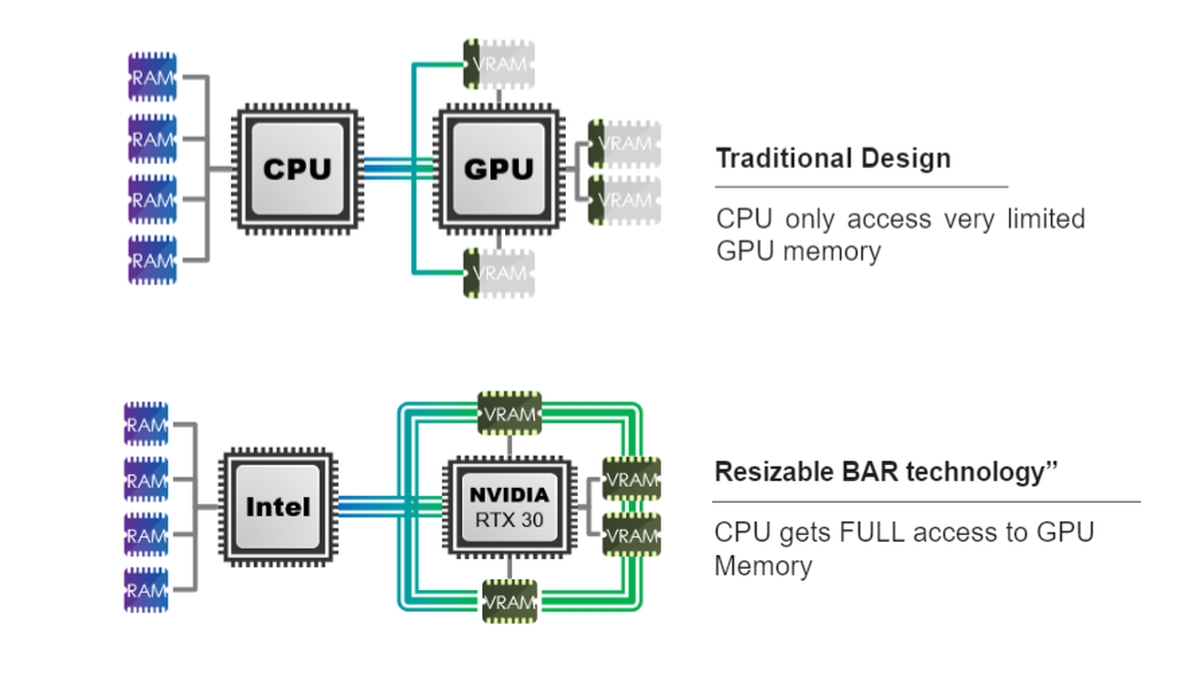 Assassin's Creed Valhalla is the first title to support the technology, and according to MSI, gamers can expect to see a performance boost of up to 10 percent thanks to Resizeable BAR technology. Pretty impressive.
4. The Dragon Center
The Dragon Center is essentially an optimisation application that has been designed by MSI. Software plays a huge role in the experience of using a laptop, and the Dragon Center offers a bunch of options to really tweak the raw power under the hood for its Raider gaming laptops. Discrete Graphics Mode, for example, ensures that all of your games are running on your high performance RTX graphics cards, and you can even tweak settings such as CPU core clock and BRAM usage.
This ability is hugely important, MSI says, and without these functions, you won't be able to fully release the power of the GPU under the hood.  
5. A crazy, super-fast 300Hz refresh rate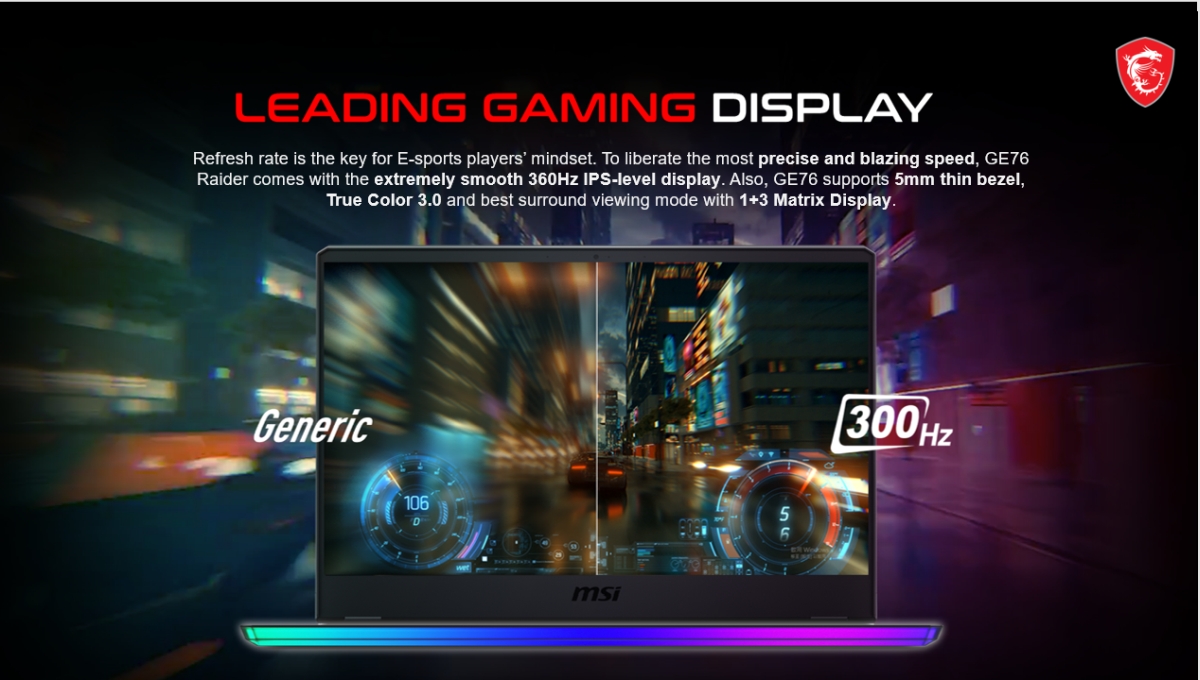 What's the point of having super high FPS if you don't have a fast screen to really take advantage of it, right? MSI says that the Raider series features the "leading gaming display", and at 300Hz, it's hard to disagree. The Katana/Sword laptops come with a fast 144Hz refresh rate too, but it's the Raider's ultra fast buttery smooth IPS display that really takes the cake. Meanwhile, on the GE76 model, you're getting a really slim 5mm thin bezel to emphasize the beauty of the screen, along with True Color 3.0 certifications and a 1+3 Matrix Display.
All of which combines to offer a brilliant experience.
Pre-orders for the MSI's new gaming laptops openfrom the 21st of May 2021! If you're keen find out more, click here.