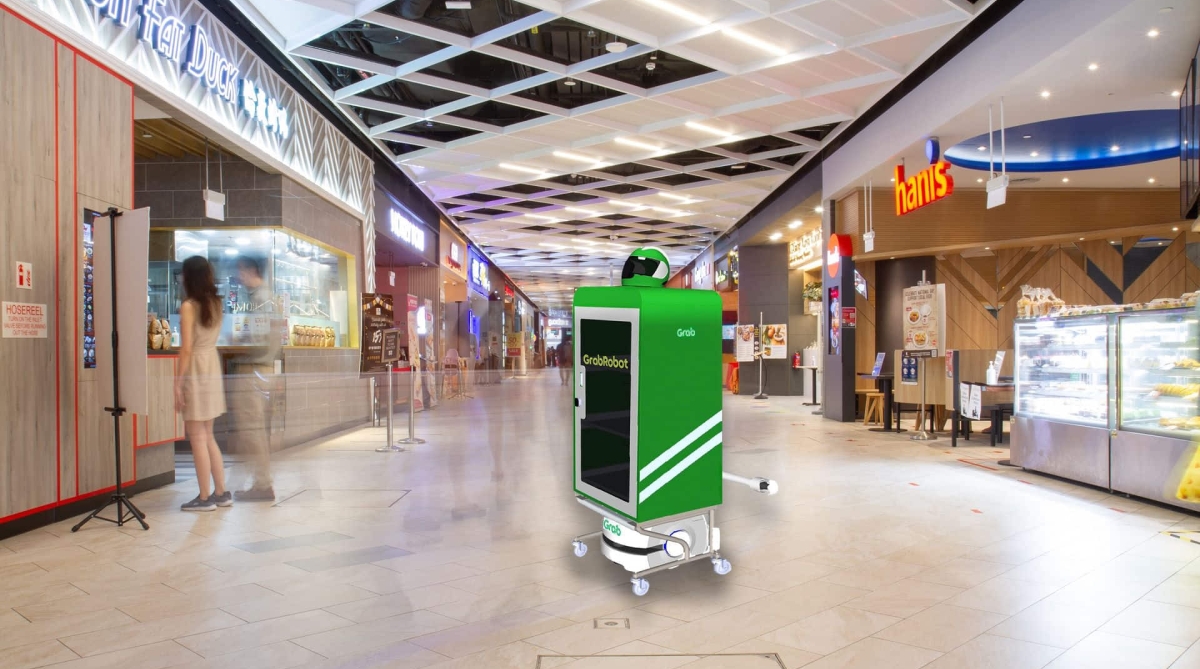 Now, it can be relatively cumbersome to order dishes from different restaurants within a single order for food delivery services like Grab. It simply isn't financially efficient, with the need for concurrent Grab orders that can significantly bump the overall cost of your meal with delivery fees. That said, there are a number of restaurants within Grab's mix-and-match that consolidates orders into a single delivery, provided they are within the same mall.
Now, Grab Singapore has announced an interesting new way to tackle that conundrum. In an official statement on the Singapore press page, Grab has announced that a new pilot robot runner service will begin from the second week of June 2021 at the Paya Lebar Quarter (PLQ) Mall. The aim here is for the robot to run around the mall, consolidating orders from various restaurants to help at centralised collection points.
Then, Grab delivery-partners will pick up the orders at these pre-deteremined locations, with the service estimated to save riders around five to fifteen minutes of time per order. Even with the mix-and-match service, the time needed to pick up orders from multiple restaurants within a mall can build up—which is why the indoor robot pilot is supposed to reduce the overall delivery time.
According to Yee Wee Tang, MD at Grab Singapore:
"As a tech platform that serves consumers, merchants and delivery riders, we are continually seeking innovative solutions that can improve the overall delivery experience for all parties. It is a fine balance to achieve and we believe that advanced technologies such as AI can help us do this well. The food delivery landscape is evolving very fast and the possibilities for innovation are endless."
What… or who is the Grab Robot Runner?
Attempted humour on my part about the who, robots aren't taking over (anytime soon, that is). The robot runner used in the pilot has been designed in partnership with Techmetics Robotics, a firm that specialises in autonomous mobile robots. Here, the Grab robot runner will be able to use AI to "learn" its surroundings, while there are also safeguards such as Light Detection and Ranging (LiDAR) sensors to detect obstacles, and even a voice of its own.
To address issues of hygiene, the food cart will be locked—to unlock the cart, a combination that is only available to merchants and Grab staff will be required. The robot runner is supposed to work with up to 35 GrabFood and GrabMart merchants in PLQ Mall, and Grab says that it hopes to handle over 250 orders everyday.
"For a start, a Grab runner will guide the robot runner on its ideal route. This will allow it to learn, adapt and function effectively in a controlled setting. The pilot is expected to last for one month and Grab will review its performance and viability before expanding this service to other locations."