Penang Chief Minister Chow Kon Yeow yesterday had accused the federal government of denying them from receiving a donation of 2 million Sinovac vaccine doses from a private company. Former Finance Minister Lim Guan Eng had also shot back at the government for rejecting the vaccine which could have been used to vaccinate Penangites.
The Minister of Science, Technology and Innovation, Khairy Jamaluddin had responded in a press conference this afternoon to refute the allegations. After looking into the matter, Khairy revealed that Penang's vaccine donation claim is nothing but a scam and accused the Penang chief minister of politicising the national immunisation programme.
After yesterday's press conference, Khairy had conducted an investigation and has reached out to Sinovac in China. He discovered that there was no evidence or document that an order has been made for Sinovac vaccines for the purpose of donation to Penang.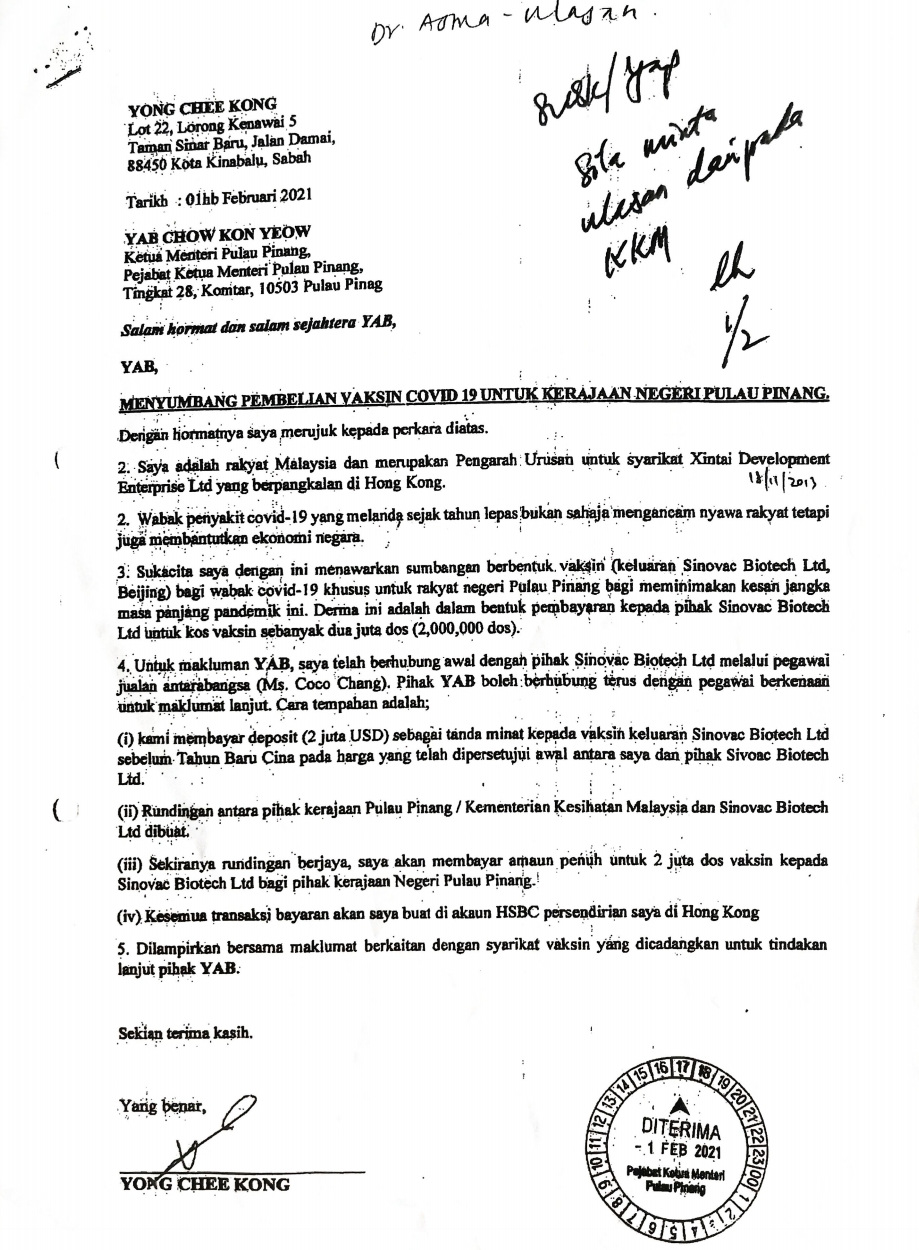 He added that the woman who was named (Coco Chang) as the salesperson in the donation offer letter has confirmed that she does not handle matters of Sinovac vaccines for the Asian market. She also denied being contacted for the so-called donation.
Khairy has also conducted a business name search on the donor (Xintai Development Enterprise Ltd) and it turns out that the company does not exist. Interestingly, Khairy also revealed that his office had received a similar donation offer letter on the 9th February 2021 which claims to offer 2 million doses of Sinovac vaccines to the Sabah state government. After verifying with Sinovac, they discovered that the offer is bogus.
He iterated that the donation claims by the Penang Chief Minister are not true. He called it a scam and bogus. He is baffled that the Penang state government is using a scam to accuse the federal government of blocking 2 million vaccine doses for the state.
Khairy said he welcomes all forms of vaccine donations as long as the vaccines have been approved by the National Pharmaceutical Regulatory Agency (NPRA). If there are any offers of vaccine contribution from any parties, he said that he will gladly assist with the delivery process.
He reminded that vaccines are a controlled item and it's not like buying a T-Shirt from Shopee. These are vaccines that require approval from the NPRA.
Khairy warns Chow Kon Yeow and Lim Guan Eng not to politicise the National Immunisation Program with this rubbish. "This is bogus. But I'm willing to be proven wrong", said Khairy.
If the Penang government can prove that the offer is legit, he will provide immediate approval to bring in the donated vaccines. He has instructed the COVID-19 immunisation task force to make a police report as soon as possible and he wished the Penang state government had done their due diligence before organising a press conference on the matter.
[ SOURCE, IMAGE SOURCE ]