The Xiaomi Mi 11 has been out for a couple of months now, and even though a flurry of other Android phones have been released since, it's still one of the best devices you can get at this price point in Malaysia right now. It sits between the more budget-friendly Mi 11i and the Mi 11 Ultra (with that monstrosity of a camera bump)—and to me, it offers the best balance in the series.
Should you get the Mi 11 right now?
The gist of it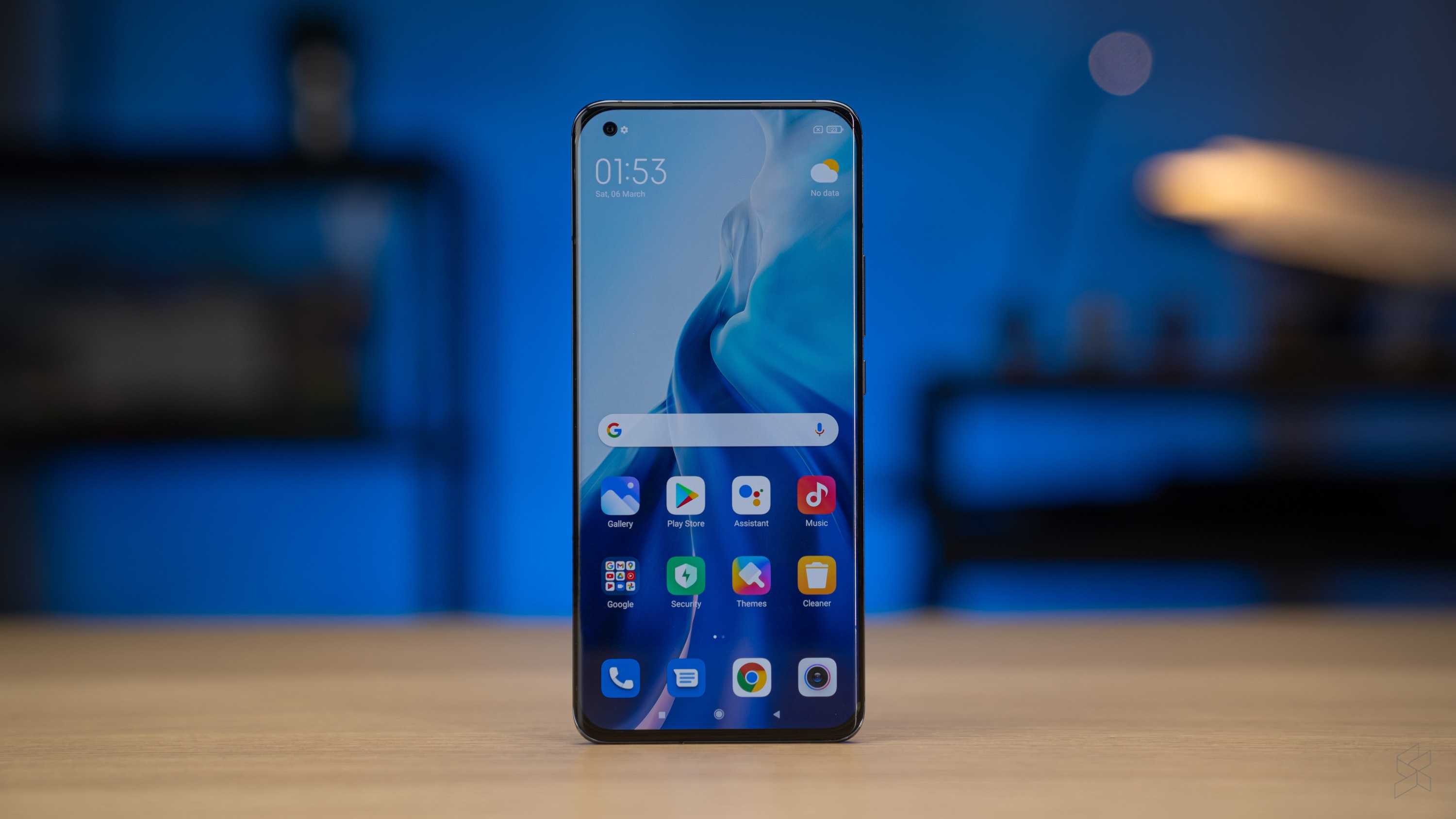 The Mi 11 holds the honour of being the first smartphone in the world to launch with the Snapdragon 888—the auspiciously-named latest chipset from Qualcomm. On the local side of things, a number of other Snapdragon 888-powered devices have been launched since, including the microscope-quipped Oppo Find X3 Pro and the gamer-centric Asus ROG Phone 5.
Beyond the power under the hood, Xiaomi has also clearly put a lot of work into the rest of the phone. From the frosted glass back, to the ultra-slim stainless steel frame—the Mi 11 genuinely feels like a top-end, flagship device. I'm also a big fan of the camera bump on the rear of the phone. Yes, I see some resemblance between the main camera's stainless steel ring and the iPhone 12 Pro's set of cameras, but I genuinely think this is one of the nicest-looking camera bumps on an Android smartphone I've seen in awhile.
And when you couple all of that with a big, beautiful display, improved cameras, and the latest hardware specs under the hood, the Mi 11 forms a compelling argument against the likes of the Exynos-powered Galaxy S21 series, or other Snapdragon 888-powered devices like the OnePlus 9 series.
Let's start with the display
Xiaomi calls this a "quad-curved" display, but the curved edges on the top and bottom of the screen are barely even curved, to be honest—it feels a little more like 2.5D glass. That aside, this is one of the nicest displays I've used in a smartphone, with bright, vibrant colours and crisp details thanks to the high resolution. It's simply a beautiful display, and I concur with DisplayMate's A+ grade for the Mi 11.
You're looking at a 6.81″ AMOLED screen pushing a WQHD+ resolution of 3200×1440 pixels, and a 120Hz adaptive refresh rate that scales between 30Hz, 60Hz, 90Hz, and 120Hz presets, depending on what's being displayed. This isn't quite the same as the dynamically-scaling refresh rates of LTPO displays, but it's better than a fixed refresh rate, still. Colours also look vivid, and details are super crisp in full QHD+ resolution. The pixel density of 515ppi is identical to the much-more-expensive Galaxy S21 Ultra, for some context.
Xiaomi has also incorporated a near-bezel-less design, which gives this something of an all-screen look. My only gripe with the bezels are the corners on the display, which are a little too rounded for my liking, cutting off a tiny bit of screen real estate. There's also HDR10+ support, 100 percent coverage of the DCI-P3 colour gamut, and 1,500 nits of peak brightness (900 typical). Like most Android flagships you see today (and those to come), this is also protected by Corning's supposedly toughest glass yet, Gorilla Victus.
In a nutshell, this is one of the best smartphone displays you'll find out there right now—and it shows.
What about performance?
The 5nm Snapdragon 888 powering the Mi 11 handles everything without a fuss, obviously. This is, after all, Qualcomm's latest chipset, which will be used by almost every flagship Android phone over the next couple of months. Demanding games run on high settings very smoothly, and I hardly noticed any framerate drops in my time with the phone.
Something worth noting is that there have been complaints of heating+throttling issues on the Mi 11, particularly during gaming sessions (or other demanding tasks). However, I did not notice any overheating (beyond my palms getting a little warm during COD Mobile). For those of you who want an idea of the Mi 11's performance in numbers, I ran a couple of benchmarks for your benefit:
Battery life is alright, and I got around six hours of screen-on-time on a single charge for a routine day's worth of usage with WQHD+ resolution and 120Hz refresh rate. That's usually made up of plenty of browsing, emailing, music, and YouTube, although I don't usually game too much on a regular day. If you're going to be performing more battery-intensive tasks such as gaming on a consistent basis, you can expect something a little closer to five hours of screen-on-time.
The good news, however, is that you get a GaN charger in the box. Yay! Sadly, it's a USB-A GaN charger—but it's still a powerful 55W power brick that gives you a full charge in around 45 minutes. And if you have a compatible Qi wireless charger, the Mi 11 supports wireless charging speeds of up to 50W—which is right up there with the fastest charging technologies out there currently.
What's not to like, then?
The usual, if you're familiar with Xiaomi smartphones. For one thing, you'll have to live with MIUI 12—and all that comes with that. This includes the usual ads within Xiaomi's system apps, which have probably been the most common source of complaints over the years. You can, however, disable most of these ads (check out this handy guide we shared awhile back).
I was also very excited about a new, unique feature—the ability to measure your heart rate with the in-display fingerprint scanner. Unfortunately, this appears to be geo-locked to certain regions, and I did not manage to access the feature, or even the Mi Health app. I've reached out to Xiaomi Malaysia for clarification on the matter, and I'll update this review accordingly.
Something else that offered a less-than-satisfactory experience was the camera on the Mi 11. Like many Xiaomi phones I've used, there is a noticeable delay whenever I click on the shutter button—which lead to plenty of out-of-focus shots (and much irritation on my part). On the other hand, image quality on the Mi 11 is probably some of the best I've seen on a Xiaomi phone, particularly with regards to colour reproduction. Everything looks more natural compared to the oversaturated look you typically see on Xiaomi phones.
For daylight shots, the camera performs very well, offering a good dynamic range, a lot of detail, and generally crisp and vibrant results. Here are some samples taken in good lighting:
Meanwhile, low-light photos are a little noisy, but it's still passable at this price point. You can also see the Mi 11's processing at work here, with some noise reduction—not so much that it looks unnatural, however. In my opinion, you get better results without Night Mode turned on:
There's also a macro camera, which… is what it is. It's more of a gimmick, in my opinion, and I can't think of a situation where I'd actually use this—besides a phone review, obviously. Something like the Oppo Find X3 Pro's Microlens, on the other hand… wow.
You do miss out on a telephoto lens, which is disappointing. As a result, the Mi 11 isn't capable of any optical zoom, but you have up to 30x of digital zoom available to you. Personally, I'd have swapped the macro shooter for a telephoto, but perhaps Xiaomi was reserving that for the Pro and Ultra models. You do have a 108MP resolution mode, so I suppose you can snap a high-resolution image and crop it to your liking while maintaining a certain amount of detail.
So, should you get this?
Xiaomi has always offered some of the most value-for-money smartphones in the market. This doesn't just apply to smartphones, of course. The huge variety of Xiaomi-branded stuff that you can find online is almost always of the affordable nature—from their phones, to WiFi security cameras, or even vacuum cleaners. A big part of that is down to the company's low-margin business model, one that has given us budget kings like the recent Redmi Note 10 Pro, or the original Pocophone F1.
But when it comes to making devices that can truly compete at the top-end of the Android smartphone world, things get a little more complicated. Ecosystem features like payment options, security features like Samsung Knox, or even simply the look and feel of a device—these are probably the differentiating factors when it comes to the premium flagship market. In contrast, Xiaomi's entire modus operandi has been to focus on the latest hardware and narrow margins, rather than value-add features.
But with recent devices such as the Mi 10 Pro and now, the Mi 11, Xiaomi has clearly put a lot of work into blurring the lines between the big boys and the would-be contenders. You could argue that Xiaomi got the ball rolling with Mi 10 Pro—but they're really driving this point home with the Mi 11.
To me, it's the best overall Android phone you can get under the RM3,000 mark (unless your focus is on gaming). It has one of the most beautiful displays I've ever used on a mobile device, full-sounding stereo speakers, and I genuinely love the look and design of the phone. There's even a little soundwave-inspired speaker grill at the bottom of the phone, although strangely, the corresponding speaker on the top of the phone uses a boring, straight-lined grill instead.
Sure, you might have a better software experience on another device. Or maybe you can't live without a telephoto shooter. Or perhaps, you want a device that has access to a wider range of ecosystem features—like Samsung's Galaxy world. But still. The way I see it, you can't ignore the Mi 11—not if you're looking for an Android flagship smartphone right now.
Photography by Zachary Yoong and Marcus Choo with the Sony A7 III.