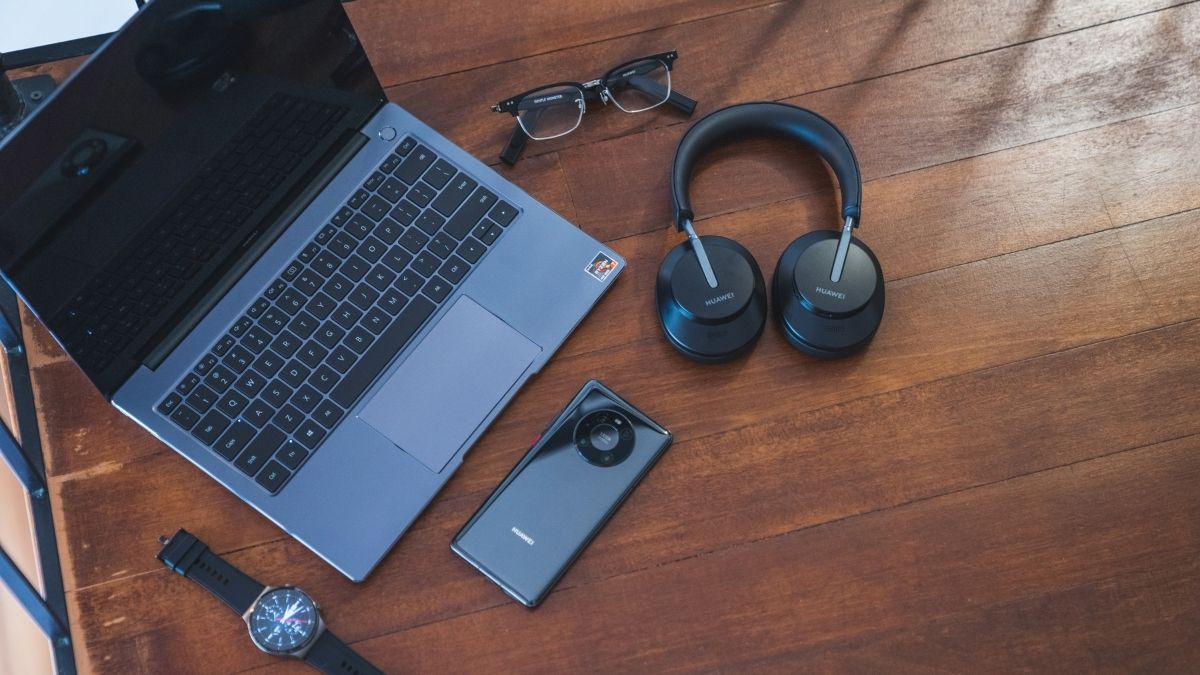 This post is brought to you by Huawei.
The Huawei MateBook 14, recently rated as the "Best Overall" laptop to buy in 2020 by Tech Advisor, has just been launched in Malaysia. Huawei has been steadily working on the design and specifications of the laptop by building upon the first-generation MateBook that first arrived with high-performance specs and the FullView Display. Now, the company is continuing to establish a solid reputation—for the entire MateBook series.
The new Huawei MateBook 14 is priced from just RM3,799, and specs include a beautiful 2K FullView Display, and an AMD Ryzen 4000 H-Series chip. Is this the ultra-portable laptop to buy in 2020 for your work-from-home setup? Here are 5 reasons why the Huawei MateBook 14 is perfect for WFH.
1. One of the best laptop displays in this price range
The Huawei MateBook 14 uses a 2K IPS display, pushing a resolution of 2160×1440 pixels, resulting in a pixel density of 185 PPI. The FullView design also means that you'll get a screen-to-body ratio of up to 90 percent, which means that you're looking at a near-full screen display.
For those who regularly use PCs for editing and colour work, the MateBook 14 covers 100 percent of the sRGB colour gamut. You shouldn't have any issues viewing the display in outdoor environments (like your balcony), with a max brightness of 300 nits, and a contrast ratio of up to 1500:1.
And for those long hours at your desk? German TÜV Rheinland certification for low blue light eye comfort means that the white balance and hue of the MateBook 14's display is automatically adjusted to filter harmful blue light in real-time, so your eyes won't be too fatigued at the end of the day.
2. High performance processors to power you through the day
The days of underpowered lightweight portable notebooks are gone—or at least, for Huawei. According to Huawei, most laptops within this segment use low-powered processors, with high-powered processors usually generating too much heat and consuming too much power.
At just 1.49kg, the Huawei MateBook 14 is certainly portable, but AMD Ryzen 4000H processors under the hood mean that this is a very, very capable machine. The Huawei MateBook 14 comes with a 6-core 12-thread AMD Ryzen 5 4600H processor, or an 8-core 16-thread Ryzen 7 4800H processor in Malaysia. These are based on AMD's 7nm process Renoir (Zen 2) architecture, with Huawei promising a performance that is comparable to "beasts".
Additionally, the new generation of MateBook 14 also has up to 16GB dual-channel large memory with up to 512 GB of PCIe NVMe SSD—so you won't have to worry about storage or multitasking capabilities.
3. Improved heat dissipation—inspired by smartphone technology
A common issue faced by lightweight laptops is heat, or the dissipation of heat when under heavy load. To solve this, Huawei says that heat dissipation technology used in their smartphones is key.
Basically, Huawei has reduced the size of the MateBook 14's motherboard to leave more space, with a new stacking design of the heat dissipation structure meaning that you won't experience the all-too-common "burning hands" sensation.
Additionally, the MateBook 14 also comes with dual shark fin cooling fans, with high-density S-shaped blades improving the airflow within the laptop's body. Dual heat pipes also increase heat dissipation efficiency, and the MateBook 14's intelligent filtering technology monitors the temperature of the machine in real-time via six temperature sensors.
4. A productivity-oriented screen aspect ratio
Many laptops utilise the 16:9 aspect ratio on their displays, which offers a great experience when watching movies, or even online content on platforms like YouTube. However, Huawei says that the MateBook 14's 3:2 display offers a productivity-oriented approach, with more vertical screen real estate for browsing or work.
This basically means that you'll be able to see more content on the same screen, which reduces the amount of scrolling or virtual page turning that you'll need to do. Plus, of course, the Huawei MateBook 14's high quality screen should also offer a great experience all round.
5. It's user-centric—just like your Huawei smartphone
According to Huawei, the MateBook 14 has been designed with a "smartphone way of thinking". This basically means that the company has focused on the user experience, with the brand's core advantages on their smartphones being brought over to their laptops—including the FullView Display, multi-touch display, heat dissipation, fingerprint unlocking, and fast-charging.
On the touchscreen version, the MateBook 14 supports ten-point touch, and you can even take a screen grab by swiping across the screen with three fingers. Specific areas of the screen can also be screenshotted by drawing shapes, with the laptop automatically recognising text within the space you've captured.
Additionally, Huawei's multi-screen collaboration is also supported on the MateBook 14. Here, you'll be able to directly share the screen of your Huawei smartphone onto your PC—-you can also drag and drop files for easy file transfers.
Super-charging has also been brought over from their smartphones, with the 65W USB-C charger weighing just 160g. Meanwhile, you can use this same charger to super-charge compatible Huawei smartphones.
As a cherry on top, the Huawei MateBook 14 also comes with a power button that doubles up as a fingerprint scanner, for added security.
Price and availability
All of that comes at a reasonable price, too. The Huawei MateBook 14 will go on sale in Malaysia from the 30th of October 2020, at a starting price of RM3,799. Meanwhile, you can pre-order the laptop now until the 29th of October 2020, and enjoy free gifts worth up to RM1,177. You can pre-order the Huawei MateBook 14 through the Huawei Store Pick-Up option, or via these channels: Shopee, Harvey Norman and Senheng.
And of course, if you have different needs, you can also check out the rest of the Huawei MateBook series. To find out more, click here.