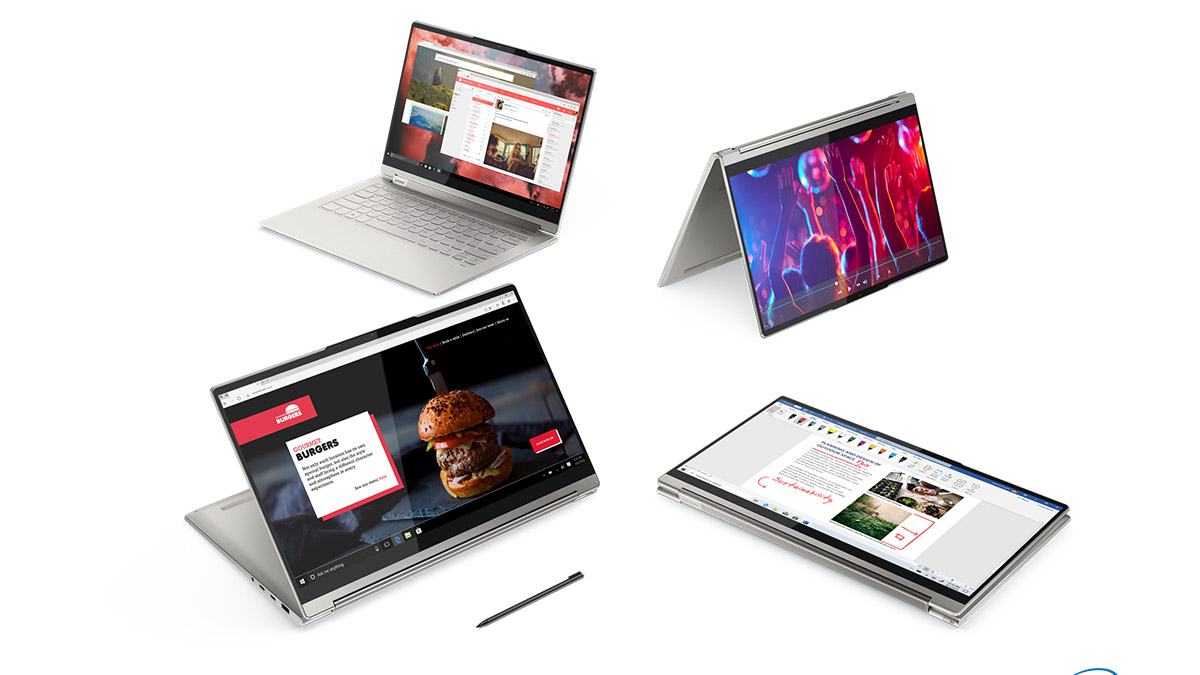 Lenovo has announced a trio of new laptops for the holiday season, ranging from slim convertibles to gaming laptops. These include the Lenovo Yoga Slim 9i, the 2-in-1 convertible Yoga 9i, and the latest gaming laptop from the company, the Lenovo Legion Slim 7i.
The company also revealed details on a couple of tablets, including the Lenovo Tab P11 Pro Android-powered tablet. Ready? Let's get into it.
Price and availability
The Lenovo Yoga Slim 9i will be available in multiple memory configurations from November 2020, while you can choose to pick up the Lenovo Yoga 9i in leather, or all-metal from October 2020—along with the Lenovo Legion Slim 7i.
Official EMEA pricing is as follows:
Lenovo Yoga Slim 9i – EUR1,899 (~RM9,418)
Lenovo Yoga 9i (leather) – EUR1,799 (~RM8,922)
Lenovo Yoga 9i (all-metal) – EUR1,999 (~RM9,911)
Lenovo Legion Slim 7i – EUR1,299 (~RM6,441)
*starting prices
Additionally, the company's new tablets are priced as following:
Lenovo Tab P11 Pro – EUR699 (~RM3,464)
Lenovo Tab M10 HD Gen 2 – EUR159 (~RM788)
Lenovo Smart Clock Essential – EUR59.99 (~RM297) (not available in Malaysia)
Lenovo Smart Tab M10 HD 2nd Gen – EUR179 (~RM887)
Lenovo Smart Tab M10 2nd Gen – EUR199 (~RM986)
*starting prices
Specs
Lenovo Yoga Slim 9i & Yoga 9i
The Yoga Slim 9i and Yoga 9i both feature 10th Gen Intel Core processors, with the Yoga 9i convertible laptop also available with a 10th Gen Intel core i9 HK-Series processor and a Nvidia GTX 1650 Ti option for discrete graphics.
Part of what makes the new Yoga laptops a little different—at least from the aesthetic POV—is the bonded black leather cover. However, if you'd prefer, you can still opt for an all-metal version for both laptops.
The Yoga Slim 9i, meanwhile, also has a 4K touchscreen IPS display (3840×2160 pixels), with up to 500 nits of brightness. The display is also a 3D Curved-edge display—a look that has supposedly been inspired by curved edges of smartphone displays.
The Yoga 9i also comes with a 4K IPS display, and there are options between a 14″ version or a 15.6″ screen size. On the 9i, Lenovo has added thermal venting holes beneath the keyboard, while a hidden heat bent behind the convertible's rotating hinge helps to drop temperatures even more.
Up to 16GB of DDR4 memory is available with the 15″ Yoga 9i, along with 2TB of PCIe SSD storage. For ports, there are two Thunderbolt 3 ports, and discrete graphics options available (more info soon).
Lenovo promises up to 20 hours of battery life with the Yoga Slim 9i, with a 15-minute charge providing enough juice for 4 hours of offline video playback. For the 15″ Yoga 9i convertible, you'll get up to 13 hours of total battery life—Rapid Charge Boost is also supported here.
Lenovo Legion Slim 7i
Lenovo calls this the "world's lightest 15-inch GeForce RTX gaming laptop", and the Legion Slim 7i packs quite a bit of wallop for its size. The 10th Gen Intel Core i9 HK-series processor is featured for the top spec variant, along with the Nvidia GeForce RTX 2060.
Weighing in at 1.86kg and with a thickness of 17.9mm, the Legion Slim 7i still has up to 7.75 hours of battery life (and Rapid Charge Pro). Lenovo also says that new "airflow solutions" have been implemented—machine-drilled holes above the keyboard.
Up to 2TB M.2 NVMe PCIe SSD is available for storage, which is mated to 32GB of DDR4 RAM. Display options range from a 4K IPS 15.6″ display to a 144Hz refresh rate Full HD IPS display; the latter is probably the better option for the gamers out there, while the 4K option will probably be better for media consumption (your Netflix, YouTube, and so on).
Like many gaming laptops out there, Lenovo also includes a full-sized gaming keyboard on the Legion Slim 7i—although this isn't quite a mechanical keyboard. However, the TrueStrike keyboard comes with second transition switches to offer a mechanical-feeling keyboard, with Corsair iCue RGB lighting also available. Plus, Lenovo has also said in the past that the TrueStrike keyboard is based on the famous ThinkPad keyboard.
Tablets
The company has also announced a couple of tablets—and the flagship offering here is the Lenovo Tab P11 Pro. Featuring an 11.5″ OLED display pushing a 2K resolution of 2560×1600 pixels, the Tab P11 Pro has a rather disappointing Snapdragon 730G under the hood. However, battery life is excellent: up to 15 hours on a single charge, Lenovo promises.
Additionally, the 10.1″ Lenovo Tab M10 HD Gen 2 has also been announced for users who want to experience Google's new Kids Space. This basically means that owners of the M10 will be able to tap into Google's recommended apps, books, and videos based on kids' interests. There will, of course, be parental controls. More details on that here.
To find out more about Lenovo's new products, click here.