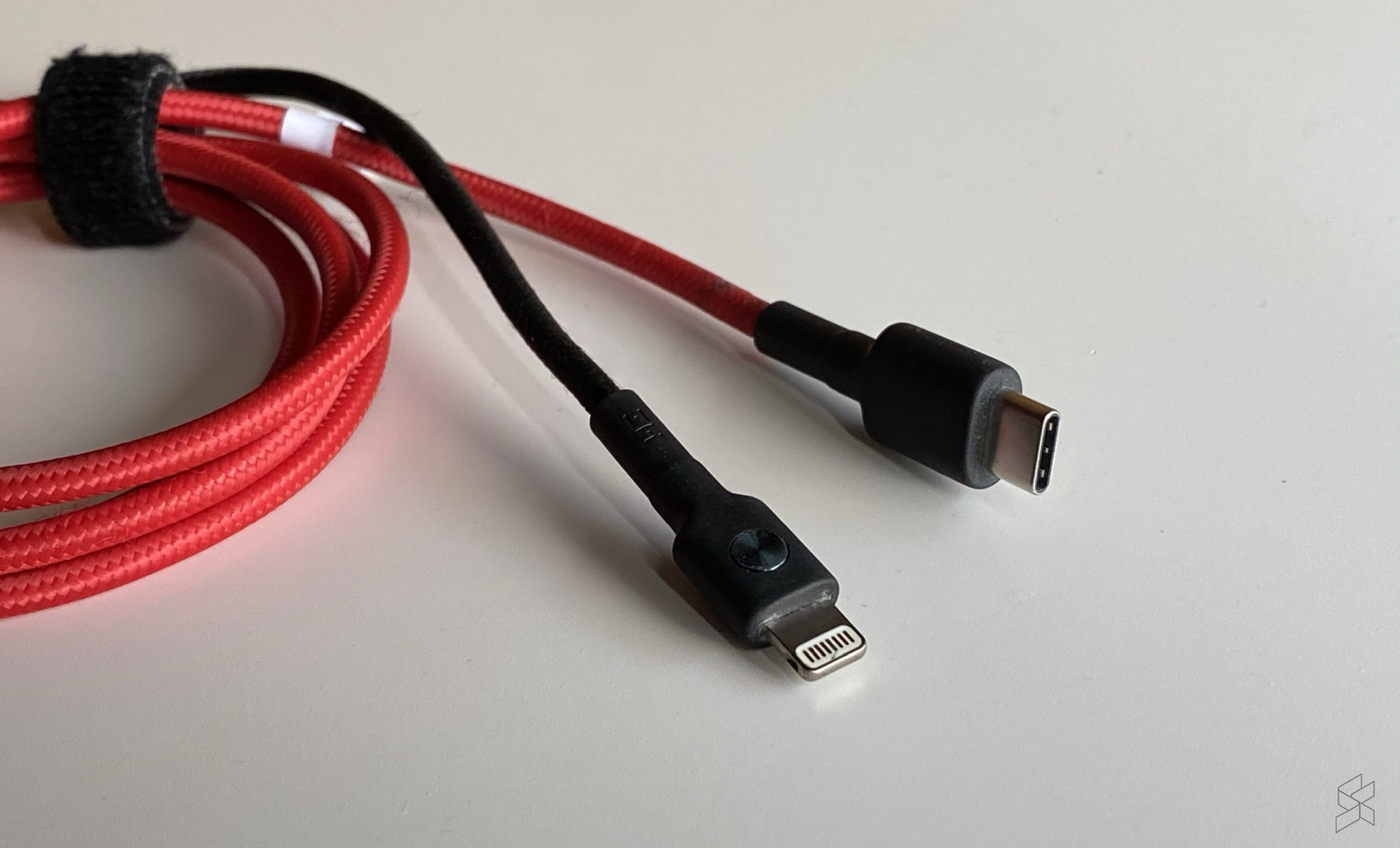 With the iPhone 12 expected to launch in a couple of months time, it has been speculated that Apple will not include a charger out of the box. Obviously, the move will help Apple save money from every device sold and there's a possibility that it could pass some of those savings back to its customers in a different form. According to a purported leak, it is suggested that Apple could be bundling a new cable which is expected to be more durable than what you get today.
Apparently, Apple is said to be releasing a new type of lightning to USB-C cable that appears to be braided. However, it still retains the same glossy plastic connector head that you get on the current version.
Apple's original iPhone cables aren't known for its durability and it is common for them to break somewhere close to the connector. Most third-party accessory makers would usually provide additional reinforcements to the cable and the connector head. This includes adding heat-shrink tubing so that the cable can better withstand daily wear and tear.
Most Apple users would definitely appreciate a better cable for their new iPhone and this could be a good tradeoff for not having a charger. If the rumours are true, this is also an indication that the Cupertino company will continue to use its lightning connector for the iPhone 12. While it has been rumoured that Apple will switch its new iPhone models to USB-C, Apple would probably want to stick to Lightning for a little longer since its Made for iPhone/iPod/iPad (MFI) program is generating some revenue that's charged based on per accessory sold.
For the next device, Apple is also rumoured to release a new 20W USB-PD charger which could provide fast charging for both iPhone and iPad. At the moment, the current iPhone models support 18W fast charging using Power Delivery standard and fast charging is only supported if you have a Lightning to USB-C cable.
Apart from Apple, Samsung is also thinking of not including chargers for its future Galaxy smartphones. In a way, this is seen as a move to reduce electronic waste as consumers can reuse their existing chargers and the USB-C power outlet might be getting more common in newer homes. In addition, customers are free to buy third party chargers that offer multiple ports and some would prefer the convenience of wireless charging.
[ SOURCE ]
Related reading