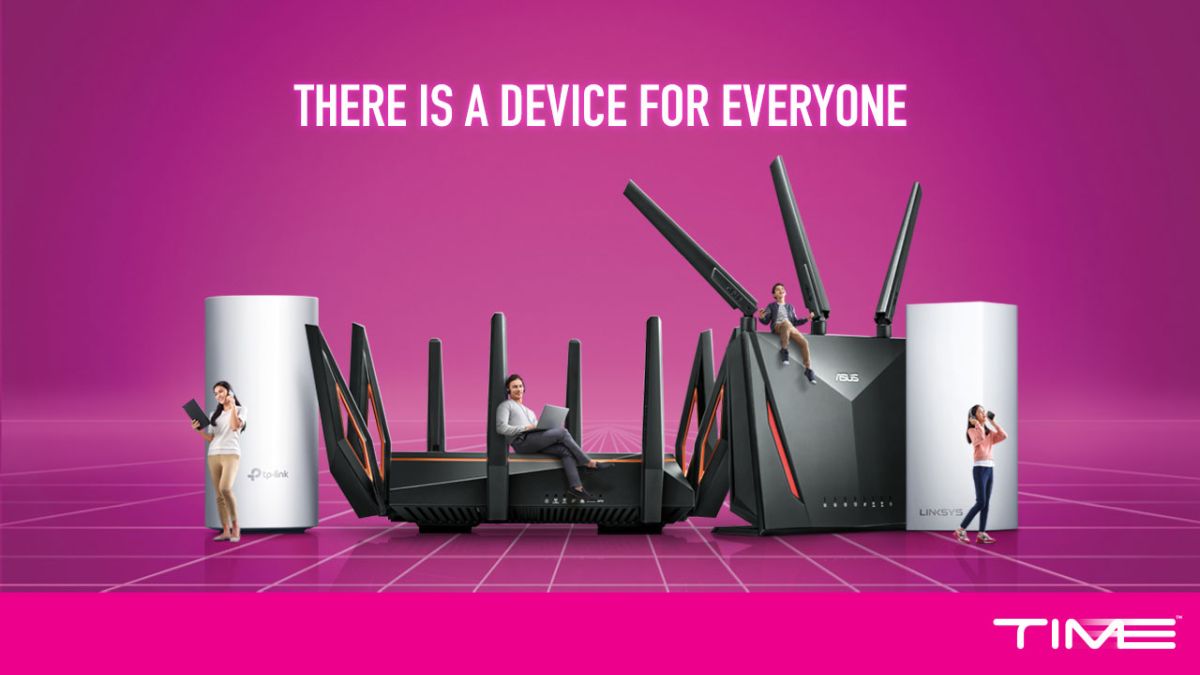 This post is brought to you by TIME Internet.
Home Internet speeds are getting even faster these days, especially with providers like TIME offering 100% fibre connections.
In reality, however, the advertised speed of the broadband plan you've subscribed to is merely the fastest speed achievable in an optimum scenario. Routers and network devices play a huge role in creating that optimum scenario for the best connection speeds, yet their importance is often overlooked.
Many users face a variety of issues with their home broadband connections, including latency spikes, network-related congestion issues, poor WiFi signals, and other issues that can be caused by having multiple devices and Internet users within the same household. So how do you ensure that you get the best possible experience with your home network?
Well, for a start, a good router can be a game-changer. TIME has recently updated its range of routers and broadband devices, with upgraded devices available for subscribers of TIME Fibre Home Broadband—with a suitable option for everyone, regardless of what their broadband needs may be. Here's a quick breakdown:
The gamer's choice: Asus AC86U
First up, we have the Asus AC86U, a router that offers a number of gaming-centric features to help gamers enjoy a better home network experience. This includes "Double Gaming Boost", a low-latency mode for online gaming, along with the WTFast Game Accelerator, which lowers ping times and minimises packet loss with route optimisation—thanks to a built-in Gamers Private Network.
Meanwhile, there's also adaptive QoS (Quality of Service). This basically prioritises important traffic over the network, such as gaming, streaming, or transferring large files. If your priority is gaming, you can choose to assign a single WiFi band for gaming to ensure that your experience is as smooth and uninterrupted (by other activities/devices) as possible.
TIME subscribers can purchase the AC86U for RM699, which includes a 2-year warranty.
For the heavy-duty user: ROG Rapture GT-AX11000
A more premium option, the ROG Rapture GT-AX11000 supports up to 10Gbps and is powered by a quad-core CPU. This also translates to better efficiency for multi-device households, with something called Orthogonal Frequency Division Multiple Access (OFDMA) dividing channels into sub-channels—which allows users to connect more devices simultaneously and get faster speeds.
The ROG router also has WiFI 6 support, which provides wider network coverage and reduces device power consumption, along with a dedicated 5GHz band for gaming to avoid competing for bandwidth with other non-gaming activities. You also get Adaptive QoS (also available with the aforementioned Asus gaming router), along with the same WTFast Game Accelerator.
The AX11000 is available for RM1,809 for TIME subscribers. Again, customers will get a 2-year warranty.
For consistent WiFi quality over a wider range: Mesh WiFi Systems
Meanwhile, there are also options for mesh WiFi. Essentially, mesh WiFi systems are made up of two (or more) nodes—router-like devices—that work together to provide your house with blanket WiFi coverage. The system consists of a main primary node that hooks up to your ISP modem, and a series of secondary satellite nodes that connect wirelessly to each other.
Linksys Velop Mesh WiFi
The first option is the Linksys Velop Mesh WiFi, which is available at RM649 for a single node or RM1,199 for the package with two nodes. This model has the benefit of being both a router and a WiFi mesh system, which means that you don't need a router in addition to the nodes. Linksys also says that their router covers up to 2,000 square feet—making it particularly useful for users who live in homes with multiple walls and floors—and its Tri-Band system means that multiple devices can connect to the Internet simultaneously without congestion-related issues.
TP-Link Deco P9
TP-Link's Deco P9 is another option, and it's a pretty interesting one at that. A combination of dual-band WiFi and powerline technology, you can use your home's electrical wiring to establish an even stronger mesh network while still utilising the seamlessness of mesh technology to get up to 1,500 square feet of WiFi coverage. The package with two nodes is available for RM719.
AirTies Air 4830
Lastly, there's also the AirTies Air 4830, which is the most affordable of the Mesh WiFi options at RM570 for two nodes. You get WiFi coverage up to 1,500 square feet, and a single WiFi ID means that you can stay connected on the network seamlessly no matter what.
A device for everyone
With the sheer number of connected devices that everyone now carries, routers and broadband devices are the often underappreciated workhorses of home networks. However, choosing the right device for you really depends on what your needs are. Gamers have certain requirements—low latency connections, primarily—that might be best handled by the Asus AC86U gaming router, while those of you who need stable connectivity in a large home might find one of the Mesh WiFi systems a better option.
So if you fall into the rather large category of users who find that you experience network issues with your broadband connection at home, it's certainly worth upgrading to one of TIME's newly offered devices. Check out the complete list of devices here.
If you aren't a TIME subscriber yet, it might just be the perfect time to sign up with the first month free for all 24-month contract TIME Fibre Home Broadband plans from 6th January to 29th February 2020. TIME Fibre Home Broadband plans are priced at RM99/RM139/RM199 for 100Mbps, 500Mbps and 1Gbps respectively.