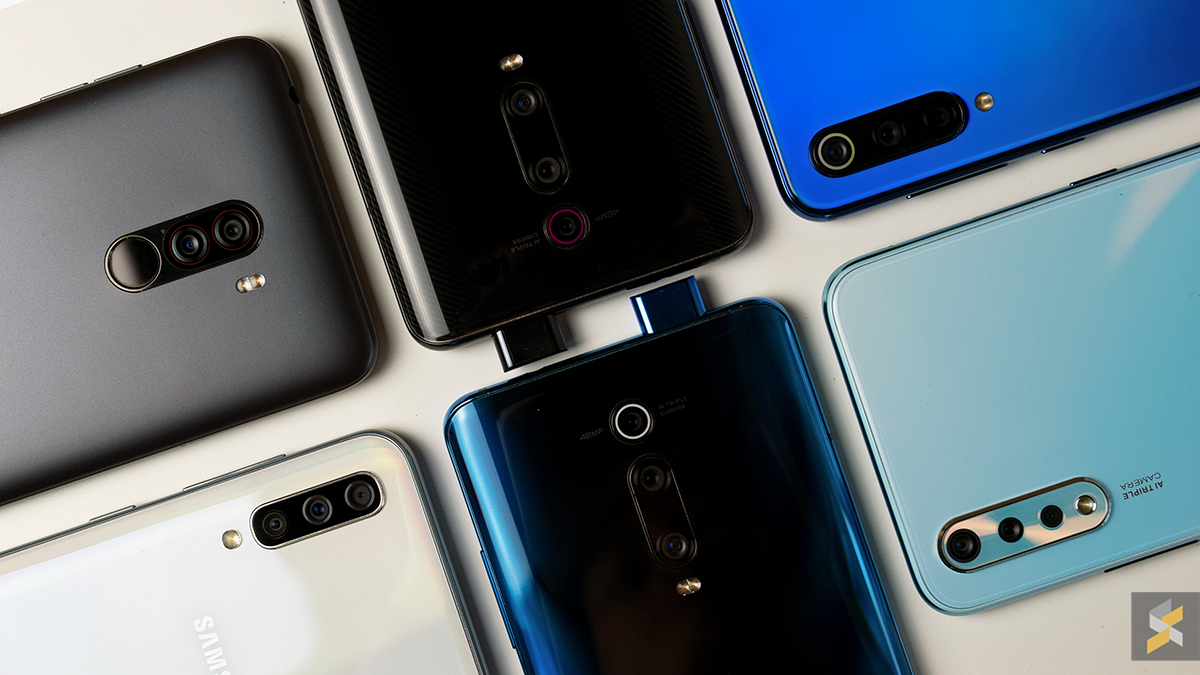 Intro
UPDATE: Thanks to a price drop for one of the smartphones in our list, we've added in a new device into this buyer's guide. We'll continue to add any smartphones that are worth considering in this price bracket.
In this day and age, the budget/midrange smartphone segment is no longer reserved for those who simply aren't too bothered with what their smartphones can actually do. It's the middle of 2019, and affordable smartphones are arguably succeeding at blurring the lines between what constitutes a high-end smartphone, and a phone just to get you through the day.
Remember the days when you couldn't actually take a decent picture with a smartphone below RM1,500? Or when cheaper smartphones were destined to be devices that could just about run a few apps at the same time, with a storage cap of 32GB? Yeah, those days have come and gone.
Instead, the budget/mid-range segment has been heating up ever since Xiaomi upped the ante last year with the release of the celebrated Pocophone F1, with flagship specs and features squeezed into a really, really attractive price point, similar to the impact that the OnePlus One had a few years ago. In fact, one could argue that Xiaomi has set the bar for high-performing, affordable smartphones, with competitors scrambling over themselves to meet the admittedly huge demand in that price range.
With that in mind, we've compiled a list of the best smartphones you can buy under RM1,500 for the first half of 2019. There are a few devices from late 2018 within the list that are still great buys even now, but for the most part, we've stuck to more current smartphones. I've not included any smartphones that cost less than RM1,000—I'll be posting another buyer's guide soon, which will have the best 2019 devices under RM1,000.
Before we move on, it's important to note that everyone has different priorities when it comes to their daily drivers, and as such, there's really no right and wrong when it comes to picking the best option for you. To ensure that this guide only has the best options in this price range, there are several minimum requirements that each device within the list must meet: At least a midrange processor (eg. Snapdragon 6xx and above, Exynos 9610), a Full HD resolution, and smartphones that are on Android Oreo and above.
We've also stuck to smartphones that are officially available in Malaysia, as AP sets from China bring a certain degree of risk when it comes to after sales support and warranties. Therefore, prices listed in each section are retail prices, although you can probably find slightly cheaper deals from local retailers—remember to check if the warranties are covered by local manufacturers, as well.
If this is your first time on one of our guides, no worries—each smartphone will have an entry within the following table of contents, with a brief rundown on some specs and features for each entry provided. We've also included updated prices for each device; you'd be best advised to stick to official stores and authorised resellers, although imported AP sets from China can be tempting with more affordable prices.
When you're done going through all of the entries, you can view a full comparison table so you can see specs from each smartphone on the list side-by-side (you can also jump straight there, no judgement). And if you're still having trouble deciding, we've also included an "Editor's choice" at the end where you'll see the best 3 smartphones in the segment, in our humble opinions.
Now that we've caught you up to speed, let's get things started.
Editor's note: The following list is compiled in alphabetical order.