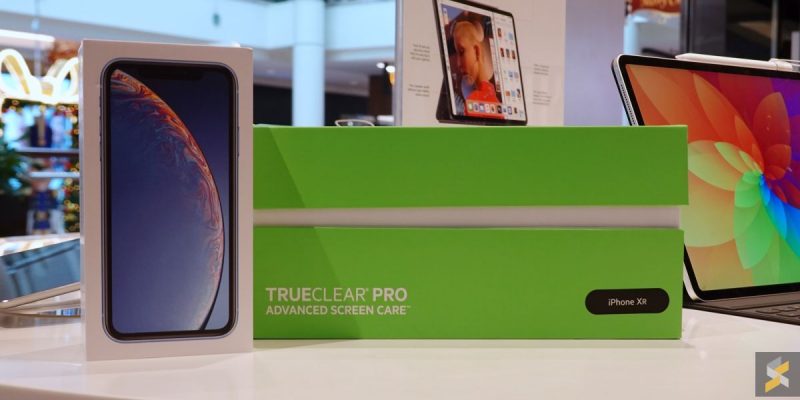 Like window tinting for your car, a screen protector is something of a necessity for your smartphone and like window tinting, you're tempting fate when you try to apply a screen protector on your phone yourself. You'll need the steady hands of a surgeon and the sterile conditions of an operating theatre to get a perfect, dust-free, air bubble-free screen protector application but does it have to be so difficult?
Recently, Belkin announced that its TrueClear Pro 2.0 Advanced Screen Care line of tempered glass screen protectors for iPhones is available in Malaysia. The company says that you can avoid all the problems you typically get when applying a screen protector thanks to a specially-designed applicator which ensures that the screen protector, when applied, is dust, air bubble free and perfectly aligned.
Belkin is so confident with the TrueClear Pro screen protector that it offers a 2-year warranty for the product and will replace the tempered galss screen protector within the two years even if it was damaged due to a drop. As far as I know, Belkin is the only company that offers a two-year warranty for screen protectors.
What makes this screen protector so special? A lot of it hinges on the special applicator that guarantees a perfect application every time. We had a chance to check out how the special applicator works and to see if the TrueClear Pro 2.0 is indeed as good as what Belkin claims.
Here's how they do it.

Step 1: Clean the screen

The iPhone's screen is thoroughly cleaned with a liquid spray that removes oil stains and smudges.

Step 2: Remove all the dust

Once the screen is free from oil and smudges, a dust removal sticker is applied onto the screen to remove any remaining dust.

Step 3: Insert phone into applicator

To ensure an accurate alignment, Belkin has developed a specific mould for each iPhone model. Your iPhone is inserted into its specific mould and then the iPhone and mould is inserted into the applicator

Step 4: Apply screen protector, close applicator lid, press on device and pull pull-tab

With the mould and phone in the applicator, you close the lid, apply pressure on the device and pull on the pull-tab.
Step 5: Push away the air bubbles
Once done, you take the phone out of the applicator and remove any residual air bubbles from under the screen protector using a special anti-scratch plastic tool.

And you are good to go.

The whole process takes about five minutes. We tested the application on an iPhone XR and iPhone XS Max, and I can say that the fit and finish is top-notch. Easily the best I've seen. 
The tempered glass screen protector is clear and smooth, almost imperceptible if not for the thickness of the protector itself. In spite of that, the screen protector looks solid. One that looks like it is up for the job of protecting the screen of your brand new iPhone.

The TrueClear Pro 2.0 screen protector is covered under Belkin's 2-year limited lifetime warranty. This includes replacements if your screen protector is damaged for any reason within the warranty period. Even if you drop your phone and the screen protector is damaged, take it back to the store where you brought it and Belkin will replace it. The warranty period is two years from the date of purchase.

The TrueClear Pro 2.0 Advanced Screen Care solution is currently available at the following Machines stores:

Machines – Suria KLCC

Machines – Sunway Pyramid

Machines – Mid Valley

Machines – The Gardens

Machines – IOI City Mall

Machines – Pavilion Elite

And here's how much it costs:

Standard Tempered Glass for iPhone XS Max/XS/XR/X/8 Plus/8/7 Plus/7/6: MYR99

InvisiGlass Ultra for iPhone XS Max/XS/XR/X/8 Plus/8/7 Plus/7/6: MYR145

Tempered Curve for iPhone XS Max/XS/XR/X/8 Plus/8/7 Plus/7/6: MYR165
As mentioned, all the screen protectors in this range are tempered glass. The difference between the price range is the glass. The highest range is curved tempered glass with a larger coverage area which offers edge-to-edge protection to protect against corner drops.
The InvisiGlass Ultra, on the other hand, is not curved but is said to be chemically engineered to be stronger than normal tempered glass. This added strength allows it to be thinner than a normal tempered glass protector for a better touchscreen experience.