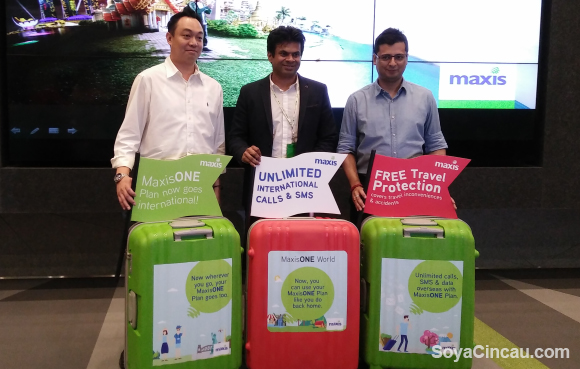 Travelling the world is probably one of the most common things found on anyone's bucket list, but travelling internationally comes with its own set of headaches.
Maxis wants to relieve one of those headaches with their new MaxisONE World international roaming plan which gives you unlimited outgoing and incoming calls and SMS for RM38/day.

It is an automatic roaming package that activates once you make or receive a call overseas with your local number. In addition to the unlimited calls and SMS, Maxis are also throwing in 500MB of roaming data per day on top of your existing data quota. If this isn't enough or if you run out of quota, you can purchase additional data at the same rate as it would be in Malaysia. Keep in mind that this plan automatically activates once you have international roaming charges that exceed RM10. Otherwise, you will be charged accordingly.
From the looks of it, this is a one-of-a-kind plan by Maxis, bundling unlimited calls and SMS when roaming plus the ability to use your existing local data quota overseas. Comparatively, the other telcos are only offering unlimited daily data roaming for about the same price.
Perhaps the best part is that all of this is done automatically, even the selection of roaming networks. Simply turn on data roaming and Maxis will connect to their preferred roaming partners saving you the headache of manually choosing the operators and accidental exorbitant charges when you connect to the wrong network. This definitely eliminates a lot of potential headaches, something you don't need more of when travelling.
The only drawback is that this is exclusive to MaxisONE postpaid plan subscribers, so others on the Maxis network, even MaxisONE Business (but more roaming offers are coming soon), who are not under the MaxisONE postpaid plan banner aren't eligible for this.
As icing on the cake, Maxis are also providing a travel insurance plan to all subscribers of the MaxisONE World plan. Once your plan has been activated, you will be eligible for the Travel Protection Plan which covers benefits like medical and accidental plus travel inconveniences like loss of travel documents, baggage and even baggage delay. For more information on this, you can head on over to their website.
As part of the first phase of the MaxisONE World rollout, it is now available in 8 ASEAN countries — Singapore, Indonesia, Thailand, Myanmar, Brunei, Philippines, Cambodia and Laos. Maxis is pushing for the next phase to happen in Q3 later this year which will widen its availability to other countries in the Asia-Pacific region.
If you'd like to find out more, you can head on over to the plan's main page and browse through their FAQ located at the bottom of the page.