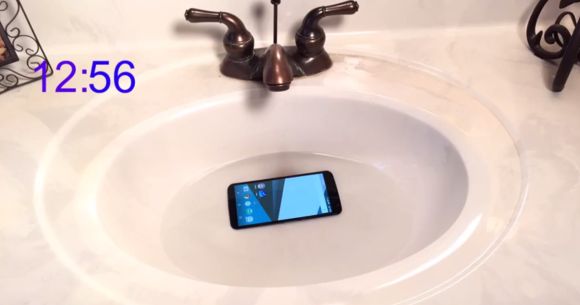 Before Sony had started the waterproofing trend, Motorola has been incorporating some water resistant features onto their phones. They are usually labelled as splash proof but it appears that its nano-coating repellent is good enough to protect its device from light showers to accidental drops into water.
One of such device is their Nexus 6. Although they never boasted about it being waterproof, some are saying that it has the same coating as its Motorola Droid Turbo (aka Moto Maxx).
To find out if the coating on the Nexus 6 is any good, someone has managed to dunk a unit into a basin filled with water for 60 minutes. Surprisingly it survives, proving that its nano-coating is sufficient enough to protect it from water damage. Mind you that Motorola has never claimed it to be waterproof, so it isn't recommended to take this down for a swim. In another video, someone has tried to charge the Nexus 6 wirelessly in a bathtub and it works. Of course, the Qi Wireless power bank is wrapped up in plastic in the short test.
At least it is good to know that this high-end beast can play nice when it comes to contact with water. Check out both videos after the break.