Sony has come a long way with its Android smart phones. With the newly announced Xperia Z3, this is their best smart phone yet with input from Sony's audio, video and imaging divisions.
Looking at the specs alone, the Xperia Z3 does look like a minor update or a mere facelift over its predecessor. Well, let's do a quick recap of what Sony has done in the past flagship models. The whole high-end waterproof smart phone trend began with their original Xperia Z in early 2013. It was a great device at that time and its water resistance opens up new underwater camera possibilities. 6 months later they released the Sony Xperia Z1, a solid device with metal frames but the screen had poor visibility. Then at MWC 2014, we have the Sony Xperia Z2 that looks the same as the Xperia Z1 but it gets a much improved and slightly bigger 5.2″ screen, front stereo speakers and a larger battery which actually lasts us slightly more than 24 hours of average use.
So what's in store with the new Xperia Z3? Read on for our first impressions.
Sony Xperia Z3 Hands-on Video
Exterior Design
Starting with the exterior, the Xperia Z3 offers a new approach for its omni-balance design. Unlike its predecessors that feature flat edges which looks aesthetically pleasing, the new Xperia Z3 is refreshed with rounded aluminium frame and each corner is protected by a new resin material which acts as protective bumpers. This not only makes the Xperia Z3 more comfortable to hold but adds more durability to the overall device. You can view the design difference in our side by side comparison of the Xperia Z3 with the Xperia Z2 and Xperia Z1.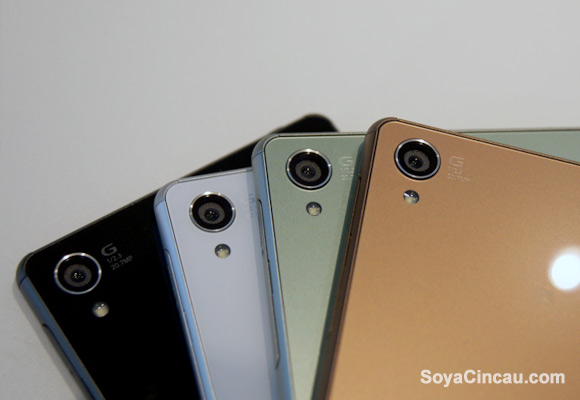 For the new model, Sony has dropped the unique purple colour and now the Xperia Z3 comes in Black, White, Copper and Green. The Green colour looks quite elegant with its greenish silver colour (similar to Perodua Viva's Pearl Jade colour) while the Copper option appears to be their alternative to the overly striking gold colour. The Black version comes with a single tone all-black appearance while the white model uses silver colour frames.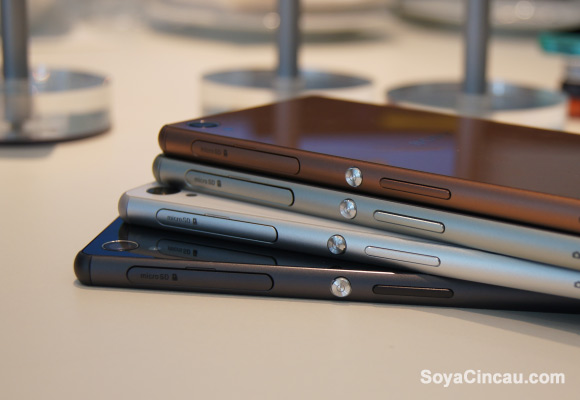 The water and dust proof capabilities have been improved as well and this time it boast IP68 rating, which is the highest for a smart phone. Sony rates the device to be capable of being submerged to 1.5 metres for 30 minutes and the same IP68 rating also runs throughout its current waterproof device line up which includes – the Xperia Z3 Compact, Xperia Z3 Tablet Compact and Xperia M2 Aqua.
Like the past flagships, the Xperia Z3 still uses flap covers to keep its ports dry. On the Xperia Z2, we find the flap covers for the micro-USB and micro-SIM slots to be very annoying. Fortunately Sony has made some changes by housing the hardly accessed microSD and Nano-SIM (yes, the Xperia Z3 uses Nano-SIM) on the right side, while the frequently used micro-USB charging and data transfer port on the left comes with its own smaller flap cover.
The signature metallic power button remains unchanged and so are their volume rocker and camera button. Both front and back appearance remains familiar with a clean flat look. For the white colour model, the stereo speakers grills which are placed inwards are more noticeable. The new model is lighter than before, shaving off 11 grams from its overall weight (Xperia Z2: 163 grams) to 152 grams (Xperia Z3).
Hardware
To recap on the specs, the Xperia Z3 retains the similar 5.2″ screen size that does a Full HD resolution of 1920×1080. Underneath, it gets an updated 2.5GHz Quad-Core Snapdragon 801 processor with 3GB of RAM and there's 16GB of on-board storage which can be expanded with microSD. You'll also get a 20.7MP main camera and a front facing 2.2MP shooter as well. Meanwhile, the battery for the Xperia Z3 is slightly smaller than the Xperia Z2 at 3,100mAh but Sony says that it is possible to get up to 2 days of battery life from a single charge.
The spec-sheet alone doesn't tell much of what the new Xperia Z3 has to offer. The front 5.2″ display although it has the similar Triluminos and X-reality technology as the Xperia Z2 is actually all new. In terms of colours, the Xperia Z3 offers cooler whites which is more natural to look at as the colours are tuned using Live colour LEDs which tweaks all 3 primary colours (Red, Green and Blue). Outdoor visibility has improved as well, where the image is analysed by the pixels and the display optimises automatically with no impact on the battery life. From our private workshop session with the technical team, they have also allocated dedicated RAM for the display, which reduces dependency on the CPU and increases power efficiency overall. This is one of the main factors which makes it possible for the Xperia Z3 to last longer despite having smaller battery capacity.
Although it is still doing Full HD resolution, the output of the display is still vibrant with text appearing sharp as well. During a test with a torch light, the Xperia Z3 is much improved over the Xperia Z2 with faster brightness adjustments and pictures still remain clearly visible with the glaring light.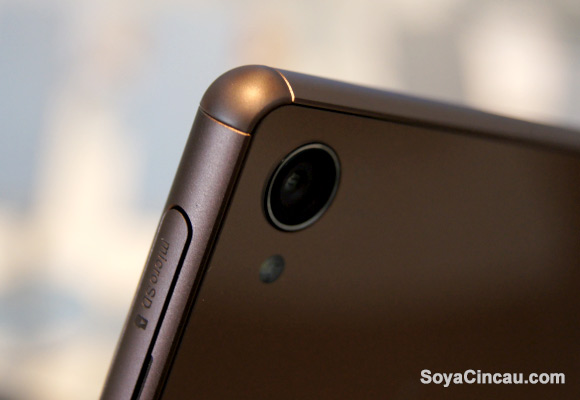 While the camera maximum resolution remains unchanged at 20.7MP, the camera module on the Xperia Z3 is actually all new. Utilising a smaller camera module, Sony is able to reduce the Xperia Z3's overall thickess from 8.2mm (Xperia Z2) down to 7.3mm (Xperia Z3). The new camera also offers better low-light photography with its highest ever ISO 12800, which is double of its Xperia Z2's max ISO of 6400. Taking group photos is now easier too as the G-Lens on the Xperia Z3 boast a wide angle 25mm, as opposed to 27mm on the Xperia Z2. We have taken some photo and video samples which we will be sharing them a bit later.
For taking videos, the Xperia Z3 not only retains the popular SteadyShot stabilisation but they have added a new Intelligent Active mode which Sony claims to be better than Optical based Stabilisation. From what we understood, the new Intelligent Active mode takes input from the phone's gyroscope and with a delayed data saving of the footage, it is able to make the necessary compensation for a stable video output.
Sony has also added several more camera features through its Camera Apps gallery. Now they have Face-in, which is basically a picture in picture feature that uses both front and rear cameras. You can resize the front camera video by hand and it is smart enough to track your face as long it is within view of its front facing camera. Another neat addition is its new Multi-Camera mode which allows you to connect different cameras up to 3 devices at any one time. You can either pair it with another Xperia smart phone, QX Lens camera, or even its new action camera.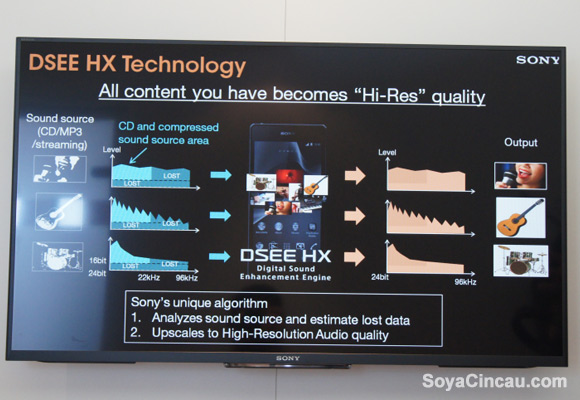 In the sound department, Sony had earlier introduced a Digital Noise Cancellation feature that's built-in on the phone. This allows a more compact in-ear headphones with noise cancellation possible but only if you used the appropriate headsets. For the new Xperia Z3, they are introducing High Resolution audio, that claims to offer a more immersive audio experience. There are a couple of High-Res audio sources available but if you're listening to standard MP3 or audio files, the Xperia Z3 has built-in DSEE HX, which is basically an engine to upscale your standard audio to High-Res.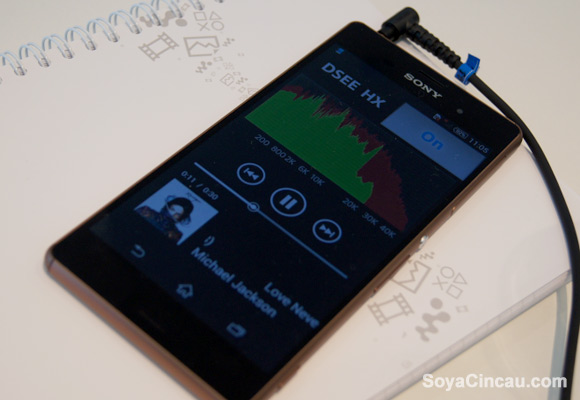 We are not hardcore audio enthusiasts ourselves but when we tried a demo audio with a pair of Sony's High-Res headphones, we can actually hear the difference with DSEE HX enabled. Like the Digital Noise Cancellation feature, this would only be applicable if you purchase the right headphones that are sold separately.
Software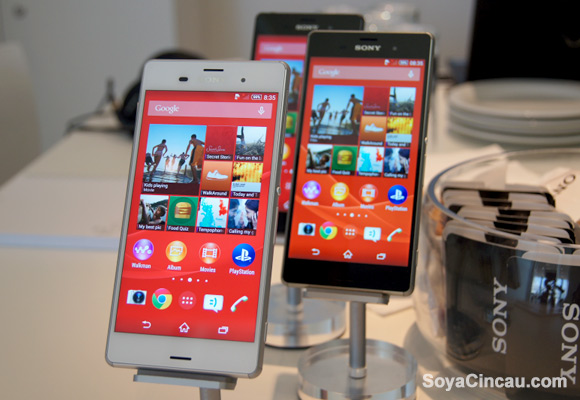 The software is pretty much the same as before with the exact same UI as its current line up. The Xperia Z3 runs on the latest Android 4.4.4 KitKat and it is worth pointing out that it supports on-screen video recording which can be accessed by short pressing the power button once. This makes it perfect to send step by step software instructions from your own device.
With Sony putting greater emphasis on having a connected family of products, they have also introduced PS4 Remote for the very first time that's exclusive to their latest Xperia Z3 family. If you have a PS4 at home, you can now play it on your Xperia devices by installing an app and then pair it with their new DualShock controller. For a better experience, there's also a Game Controller mount that hooks up the controller and it has a suction cup to hold your Xperia device in place. So if you have guests or family members watching your living room TV, you can now play your PS4 games remotely with your smart phone or tablet.
Conclusion
Overall, the Xperia Z3 is a promising flagship and we have high expectations on its claimed battery life. While most of its rivals are shouting on high resolution displays and faster processors, Sony is giving more attention on the experience side of things covering refreshed design and colours, build quality and longer battery life.
If you're looking for a solid and well crafted smart phone, that's waterproof and comfortable to hold in a single hand, you can't go wrong with the Xperia Z3. In terms of availability, we expect the Xperia Z3 to be launched in Malaysia very soon as they will be having a regional launch sometime next week. Do expect it to carry a similar price tag as its predecessor of RM2,399.
Sony Xperia Z3 Hands-on Photos