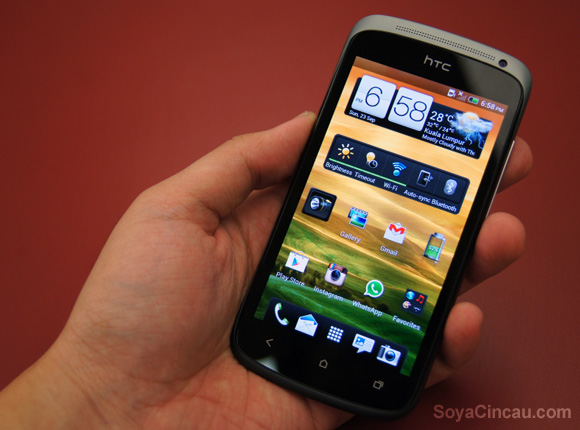 Being a middle child usually comes with its own dilemma. This is what the HTC One S faces when it was launched in Malaysia. The big brother HTC One X has being in the spotlight as the flagship product while the HTC One V is a lower entry device that rides on the popular iconic design of earlier HTC models.
Despite being a betweener device with 4.3″ display, the HTC One S still has something to shout about. It is the thinnest HTC smart phone yet at only 7.8mm. While the big brother One X uses polycarbonate plastic, it uses aluminium just like the smaller HTC One V. So does the One S stand a chance of being a recommended device from the line up? Read on to find out.
Design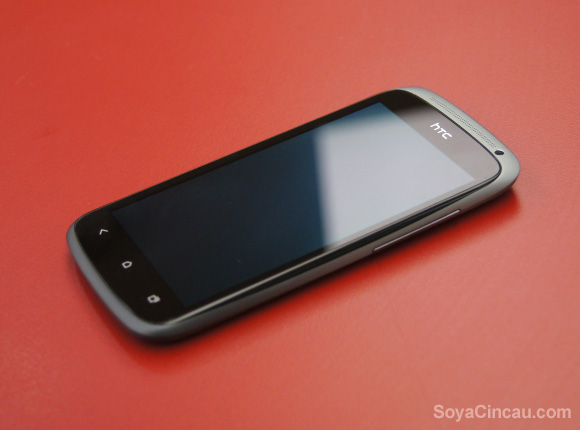 At first glance, this does look like a baby HTC One X from the front. Some might find the design pretty bland as it does carry some of its early 2010 designs such as the original HTC Desire and the Nexus One.
While it doesn't seem to be a radical design change over the years, they have continued with the use of premium materials on the One S. Having a unibody aluminium body, it gives both sturdy and upmarket feel in the hands. One of our past favourites was the aluminium clad HTC Legend which is recently reborn as the HTC One V.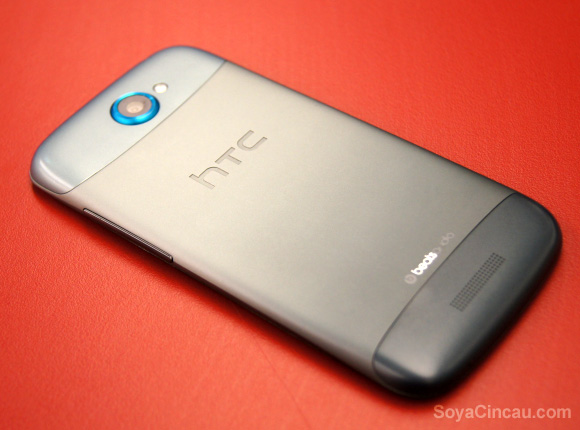 We had a blue colour review unit that comes with anodised gradient finish back. It appears light blueish silver from the top and transitions to dark gun metal at the bottom. The "htc" logo is nicely engraved right smack in the middle of the aluminium body. The much talked about micro-arc oxidation treatment body is only available in the matte black version.
If we have to choose between the HTC One X and One S for a day to day device, we would prefer the One S for its premium finish and it feels much more comfortable to use with one hand due to its smaller width. The bigger HTC One X is just simply too big for single handed use.
In terms of dimensions, the One S weighs just 119 grams and has a thickness of just 7.8mm which is quite a lightweight for a 4.3″ smart phone. As comparison, the new iPhone 5 is slightly slimmer weighing 112 grams with a thickness of 7.6mm.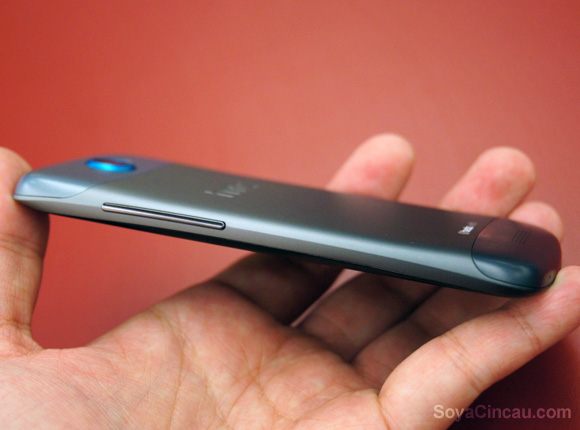 Over at the front, the One S has a nice all black glass that dominates the whole facade and it comes with 3 capacitive buttons at the bottom. At the ear piece area, it features the same micro-hole grill design with a front facing VGA camera placed on the right.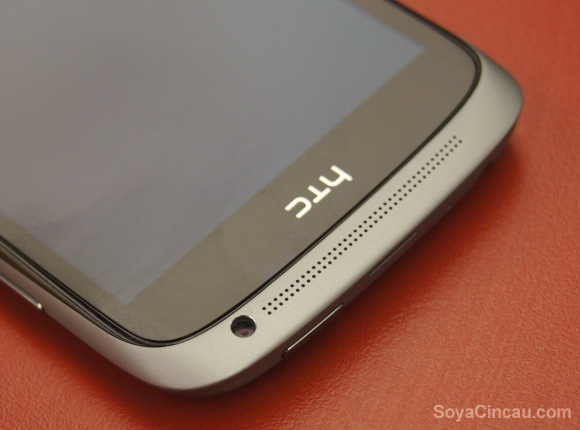 Just like the HTC One X, the LED notification light is hidden underneath the micro-hole grill. The notification light is something we disliked as it is hardly noticeable especially during bright and outdoor conditions. It could have been better if they placed the LED light more prominently underneath on the glass panel instead. HTC has done a much better job with notification lights in their past models.
The volume rocker is placed on the right while the exposed micro USB is located on the left, which is exactly the same as the One X as well. Over at the top, you'll find a 3.5mm jack and a very flush power/wake button. Being a unibody design, the HTC One S back cover only gives you access to the micro SIM slot.
Similar to the One X, there's no micro SD expansion slot or user replaceable battery available. It is interesting to point out that the small plastic back cover also acts as an antenna since the body is made mostly out of aluminium.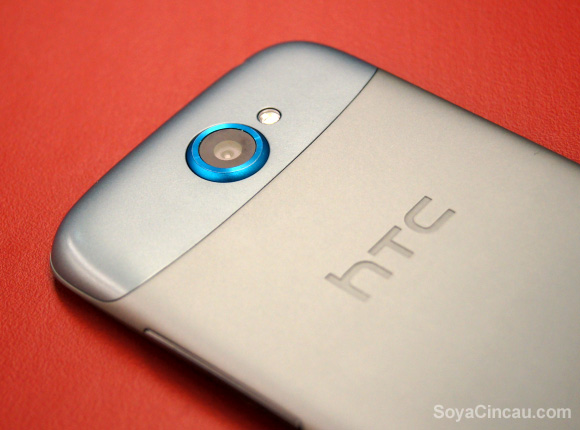 If we have to complain, it would be the protruding camera lens which sticks out like a sore thumb. It is understandable that HTC is pushing its camera as the main highlight for the One X/S but having it designed this way would make it more prone to scratches. After decent time of usage, we noticed the blue colour ring around the camera lens is starting to lose some colour due to wear and tear.
Hardware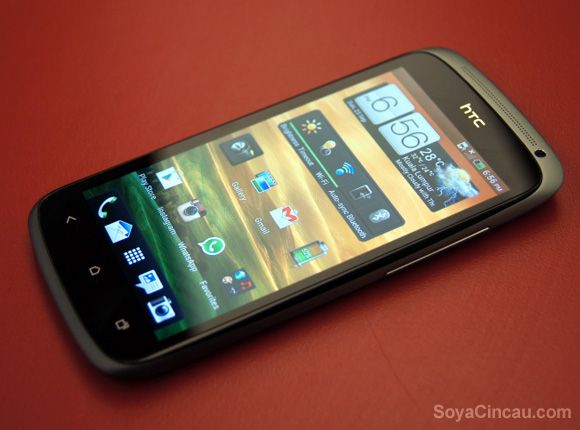 Internally, the HTC One S that we get in Malaysia runs on a dual core 1.7GHz Qualcomm S3 processor instead of the benchmark crunching dual core 1.5GHz Qualcomm S4 that was first announced globally.
Despite not being an S4 variant, the One S manages to pull through with our heavy day to day usage. It performed admirably well with no major performance issues to report. On board it comes with 1GB of RAM and 16GB of storage, which 12GB is usable. For storage expansion, HTC is bundling 25GB of Dropbox for 2 years.
Being a notch down below the HTC One X, the One S 4.3" display comes with a lower qHD resolution of 960×540 which is still rather decent. While the One X comes with a Super LCD display, the One S uses Super AMOLED which looks vibrant but upon closer look, the PenTile effect is very much visible if you looked hard enough. For us, the Pentile screen on the One S isn't really a big problem and it still does a good job with text and video playback. Even at the lowest brightest setting, the screen is still bright enough for most indoor conditions.
The only hardware area which HTC One S is lacking is NFC. The all aluminium back is probably the reason why HTC has omitted this but surprisingly Sony is able to work around this barrier with the aluminium clad Xperia P.
Camera
The f/2.0 8MP camera with assisted flash works just as snappy as its HTC One X. It comes with the same burst mode which lets you take non-stop 3fps photos up to 99 shots and switching the camera on is rather instant without much hesitation. Similar to the One X, it also lets you take still shots while recording a HD video. Even if you forgot to take pictures, you are still able to capture still shots during video playback.
In our video test, it tends to struggle in low light conditions and there's a noticable lag in our sample video below. The camera also comes with panorama, HDR and pre-loaded filters which can be applied as you shoot.
Software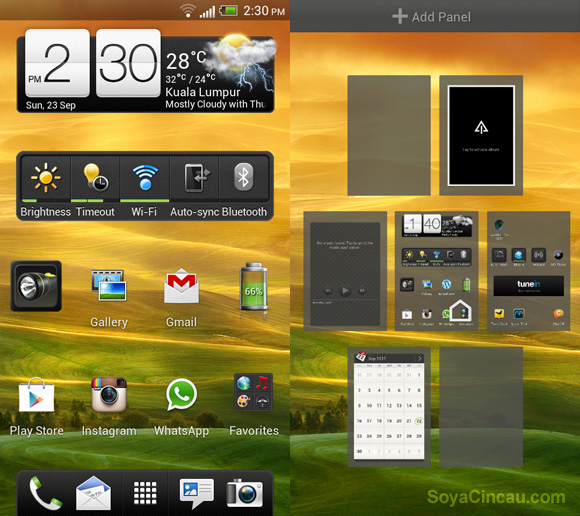 The HTC One S runs on the current Android 4.0 Ice Cream Sandwich with HTC Sense 4.0 skin on top. The home screen is buttery smooth even with the HTC widgets running on the home screen. We liked how the lock screen can be easily personalised for weather or to show the latest social feed in a single glance.
Just like the HTC One X, we do not like the default browser and the multi-tasking interface which is quite a chore to use. For example if you wish to switch between apps quickly, the HTC skinned "running apps" view has a nice full screen carousel of apps that only show one app at a time. We would prefer if they stick to the original Ice Cream Sandwich stock version which makes switching apps faster.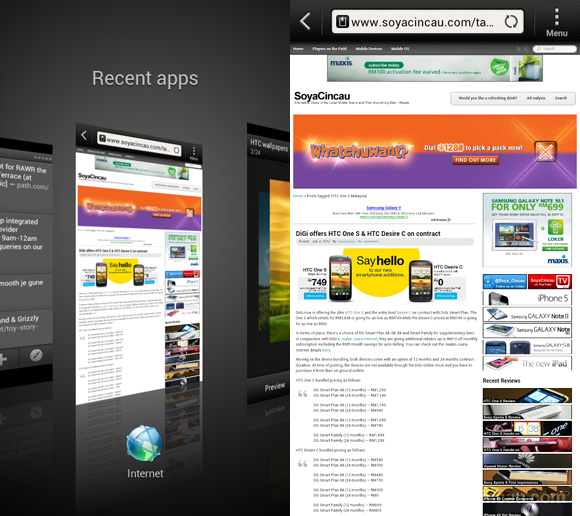 The new HTC native browser is still quite annoying with its always "full screen" mode view that prevents you from gaining access to the notification bar. Switch between browser tabs on the native browser is also a pain which requires more steps than necessary. Of course the browser issue can be solved by installing other browsers such as Chrome or Dolphin Browser.
Another feature that we liked is HTC's car mode which offers big button interfaces that's suited for drivers. You'll get to manage calls, read SMS (no sending for obvious reasons), stream radio stations through TuneIn radio app as well as HTC's Navigation.
Performance/Battery Life
On a full charge, the HTC One S with its 1,650mAh lasted about 12-14 hours on an average use which is not too shabby. During pro-long use, it noticeably tends to heat up especially when watching videos. The back can get really warm and it can be felt even on the ear piece when you're answering a call.
In terms of performance figures, the HTC One S scored 3900 points in Quadrant Standard Benchmark and 7160 in AnTuTu benchmark.
Conclusion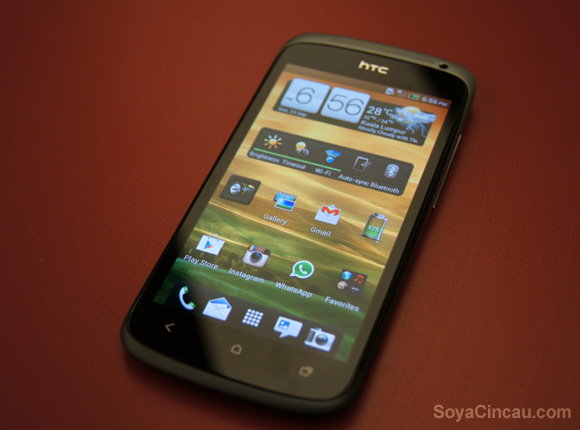 The HTC One S is a sleek looking smart phone that's well built with a nice premium finish. The cold aluminium body stands out from most phones available out there which are predominantly using plastics, even on flagship models. It is just perfect to hold and we feel that the 4.3″ display is the right size for a mid-high end device.
Pricing is probably the One S's greatest challenge. Launched at RM1,838, it is on the crossroads between the mid range and high end models. For additional few hundred Ringgit, one can easily get a HTC One X or Galaxy S III which comes with quad-core processor and a higher 720p display.
However for those that value premium materials over the latest hardware specifications, the HTC One S is probably your cup of tea. While it isn't running on the latest S4 processor, the 1.7GHz dual core S3 is powerful enough for most users out there. It is just a pity that it doesn't come with micro SD slot and a slightly bigger battery. Currently at some online mobile retailers, the HTC One S can be yours below the RM1,500 range.
Photo Gallery