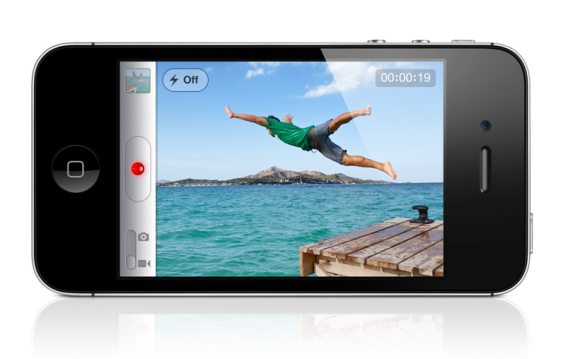 The highly anticipated iPhone 4S was launched in Malaysia with the 3 big telcos offering iPhone 4S contract plans. While the plans offer all round bundles of text, sms and data, some people out there aren't too keen with the contracted offers.
With Apple Online Store also offering the iPhone 4S outright from RM2199, consumers now have the freedom to choose other plans that suit their needs. It is also worth pointing out that the Apple Store is selling the 32GB and 64GB versions at a lower price compared to the listed RRP from the telcos.
Read on to find out other plan alternatives & ownership costs from DiGi, Maxis & even U Mobile.
The Alternative Plans
[pp_gallery]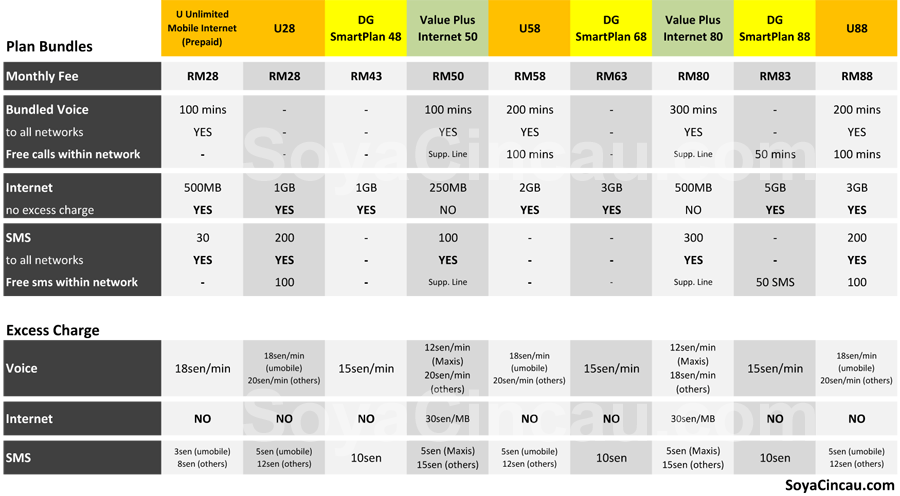 [/pp_gallery]
For those that uses more data than making calls and SMS, you can opt for DiGi's SmartPlan 48, 68 and 88 which is a mobile data oriented plan. Calls and SMS are charged separately as you go which is perfect if you hardly make much calls. For the extreme data users, SmartPlan 88 offers a whopping 5GB data for only RM83/month. All DiGi subscription fees listed are after RM5/month rebate for auto-billing.
U Mobile in the other hand have something similar with their new data postpaid plans U28, U58 and U88 with bundled voice/sms. U28 is currently the cheapest option available with 1GB of data and 200+100 bundled SMS for only RM28/month. The subsequent higher plans U58 and U88 offer extra 1GB with more goodies of either calls and SMS. Just like its postpaid plans, U Mobile does not charge for extra usage but downloads will be throttled to lower speed.
If you need a bit of everything, there's a U Mobile Unlimited Mobile Internet on prepaid that offers 500MB of data, 100 minute of voice calls and 30 SMS for only RM28/month. Unlike most prepaids, U Mobile offers uncapped download speeds.
Over at Maxis, if the iValue plans from RM100/month is too much to bear, you can opt for its recently introduced Value Plus Internet postpaid plans. There's Value Plus Internet 50 and Value Plus Internet 80 which offers 250MB and 500MB respectively with bundled talk time and minutes. Although the subscription is lower than iValue plans, the bundled data is rather low, at least 4X less than its competitors. Another word of caution is that Maxis charges for excess usage at 30sen/MB. If you see yourself using more than 500MB/month, you are better off with iValue Plans.
Cost of ownership
So how much does it cost in the long run? We calculated the iPhone 4S which you buy directly from the Apple Online Store and the total minimum subscription fee (excluding excess usage) in 12 and 24 month duration below:
24 months duration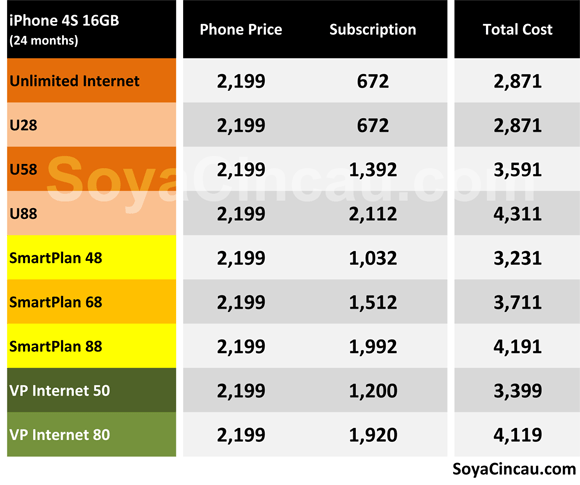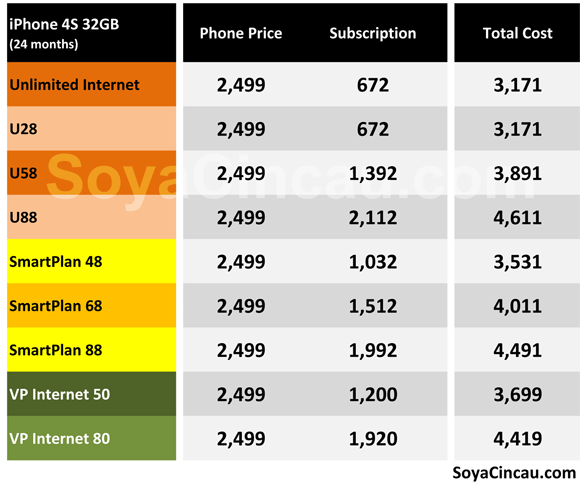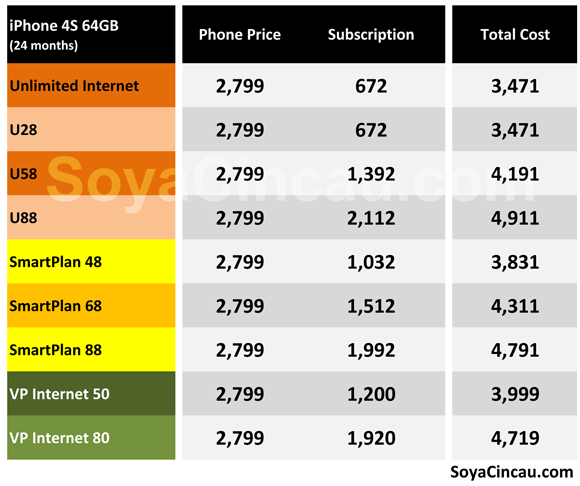 12 months duration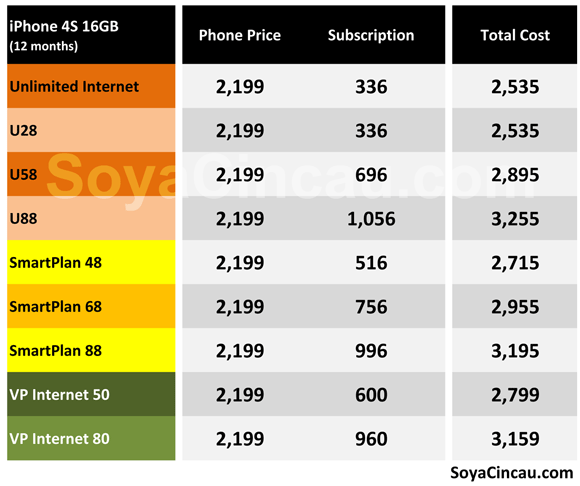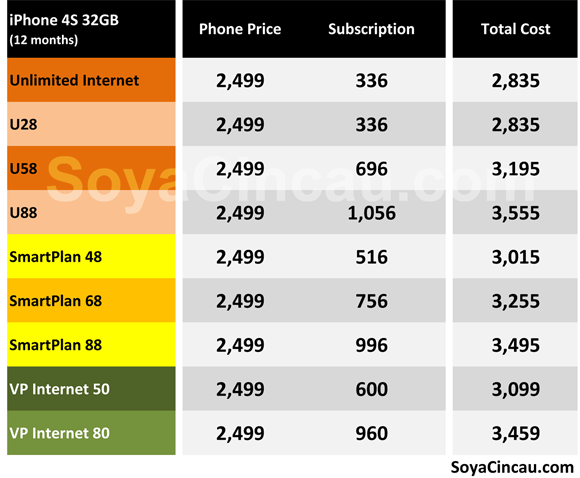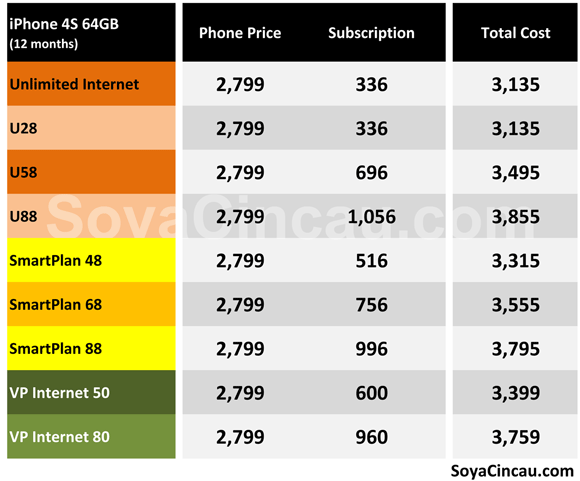 Summary
From the comparison above, U Mobile's U28 Postpaid and Unlimited Mobile Internet package on Prepaid is the cheapest plan for the iPhone 4S from just RM28/month. Compared to the mainstream iPhone 4S plans from the big 3, the total minimum cost of ownership (iPhone 4S 16GB + subscription) is only RM2,871 over 24 months. As comparison, the cost of ownership of the iPhone 4S on the lowest commitment Celcom i68 plan for 24 months is RM3,270.
All calculation above are based on minimum usage assumption without exceeding the bundled data, talk time and minutes. Whichever option you choose from the above, you are free to cancel or switch operators at anytime since the iPhone 4S is bought outright without contract.
As always, we would advise studying your mobile phone usage patterns from your monthly bill to find out which plan is suitable to your needs. Plans and pricing aside, other factors to consider is network coverage, service and customer service quality which varies depending on area.
If you spot any mistakes, do alert us at the comments below.
For more information on the plans above, click on the links below:
U Mobile U28, U58 & U88
U Mobile Prepaid Unlimited Mobile Internet
Maxis Value Plus Internet Postpaid
DiGi DG SmartPlan 48, 68 & 88
Related Posts
iPhone 4S now available at Apple Online Store
iPhone 4S DiGi, Maxis & Celcom Plans compared
iPhone 4S Camera compared
iPhone 4S Siri Review