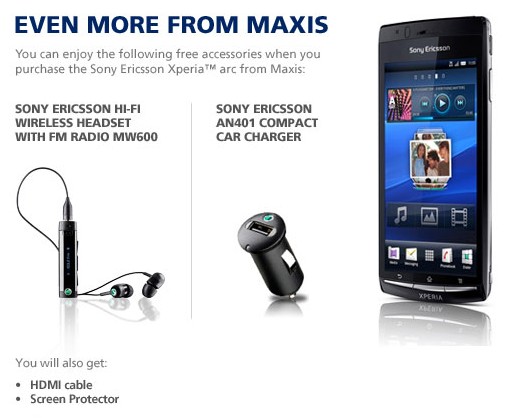 Maxis has finally updated its website with its Sony Ericsson Xperia arc bundling offers. As expected with any other Android devices, the Xperia arc comes bundled with a data plan contract bolted on a Value Plus postpaid plan 50 and above. You'll also get additional RM10 monthly rebate on your data plan, making the 3GB option costing RM78/month.
As revealed moments ago, the Sony Ericsson Xperia arc is offered with contract at RM1749 for 12 months, RM1599 for 18 months and RM1499 for 24 months. Outright, it goes for RM2099.
In addition, those that purchase will get extra accessories as shown above, which includes HDMI Cable and also a USB Car Charger.
For more information, head over to Maxis's Android page. You can check out our previous Xperia arc posts here.