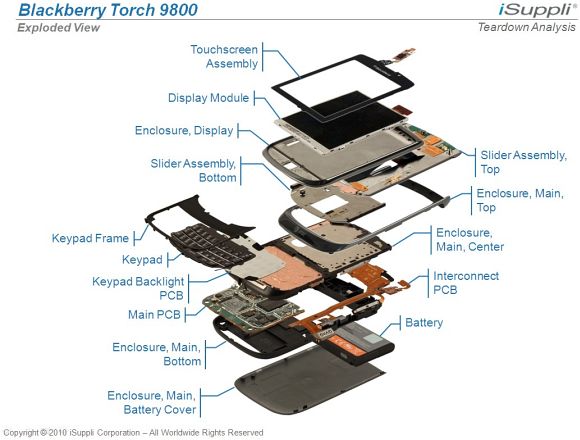 iSuppli Corp a research company has torn down a Blackberry Torch to find out what goes inside and how much does it cost. A long list of components had came up to $171.05. Add that with an estimated $12 cost to manufacture, the Torch costs $183.05 to roll out from the factory.
In the tear down, apart from a new GPS IC from CSR, most of other components are similar or virtually identical to previous Blackberry such as the Bold 9700. The touch screen display is reported to be similar as the BlackBerry Storm 2 9550 and it shares the same accelerometer as well.
When it comes to component costs, the most expensive was the 3.2″ 480×360 touch screen LCD which came up to $34.85. The next expensive was the memory subsystem at $34.25 followed by the circuit board and enclosure plastics at $23.35.
If you want to know more, hit the link for full component and price breakdown.
[ SOURCE ]