Malaysia had reported a record high 47 COVID-19 deaths yesterday and it's a sign that we are still struggling to contain the pandemic despite the multiple iterations of movement control orders. In the past week alone, 272 people have died due to the virus and that's 57% of the total COVID-19 deaths recorded in Malaysia for the entire 2020.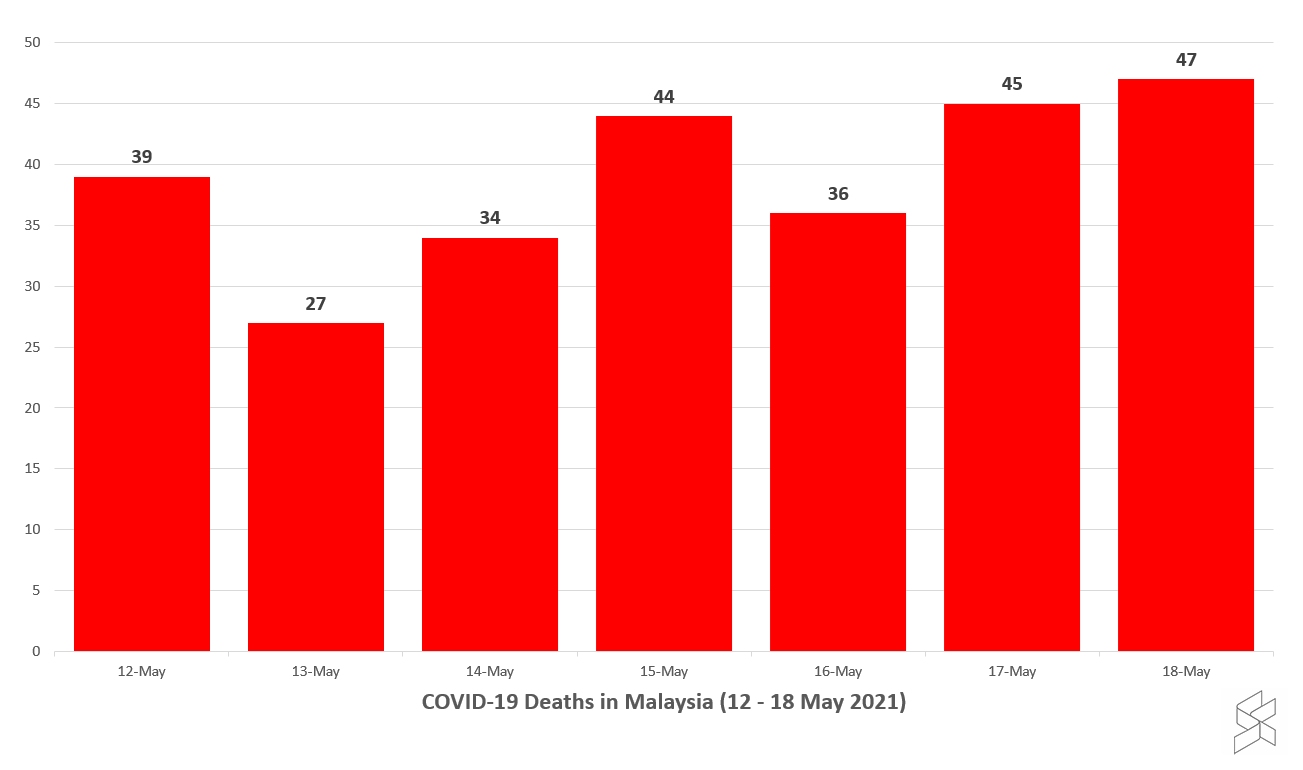 Last year, Malaysians were 10x more likely to die in road accidents than COVID-19. Unfortunately, the current situation is very different with COVID-19 killing an average of 38.86 people per day (12-18 May).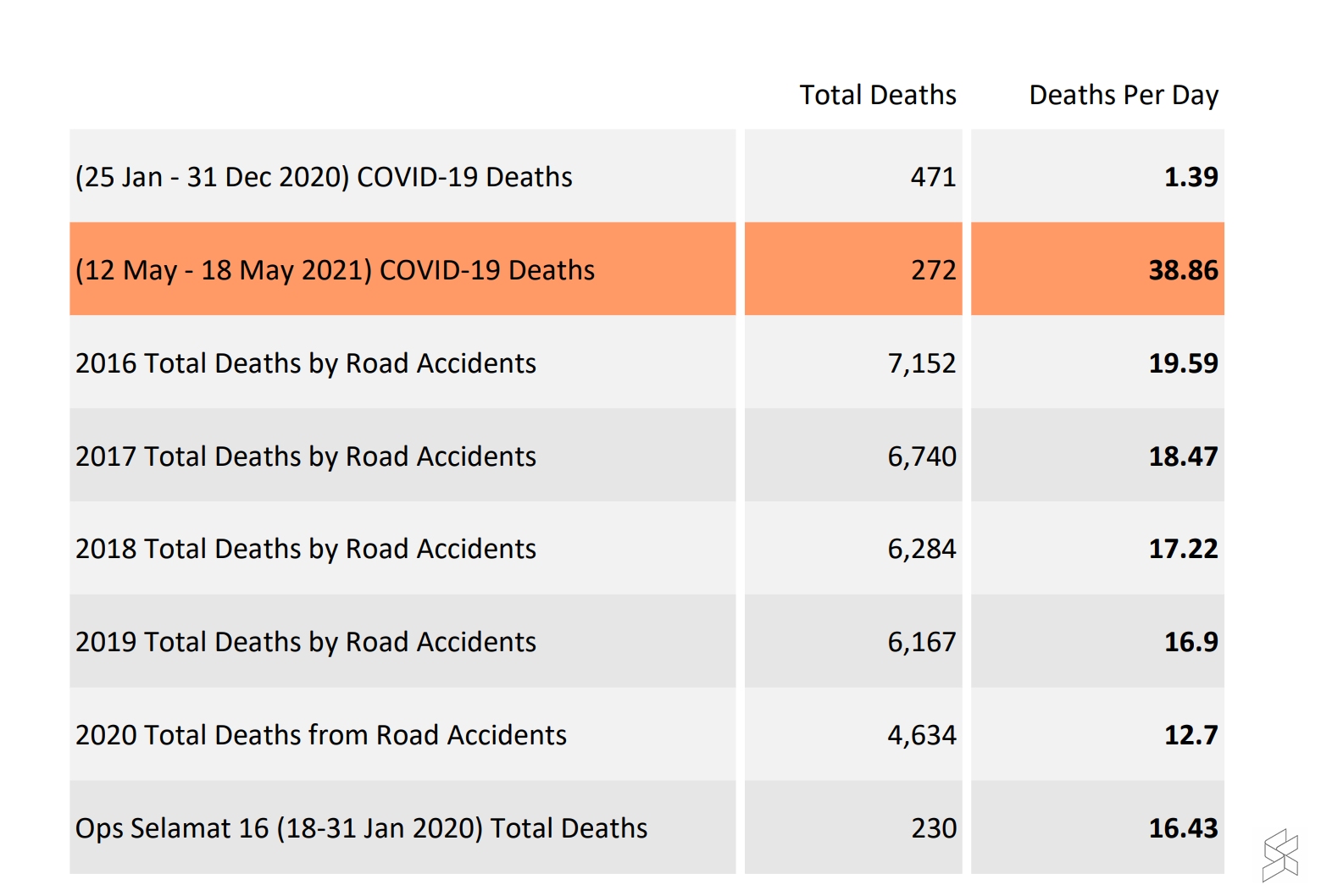 As a comparison, road accidents have killed 12.70 people per day in 2020, and in 2016, the death rate for road accidents was 19.59 people per day. Based on the latest numbers, Malaysians are now 3x more likely to die from COVID-19 than in a car crash, and the rate could go up higher if the infections continue to rise.
It's going to get worse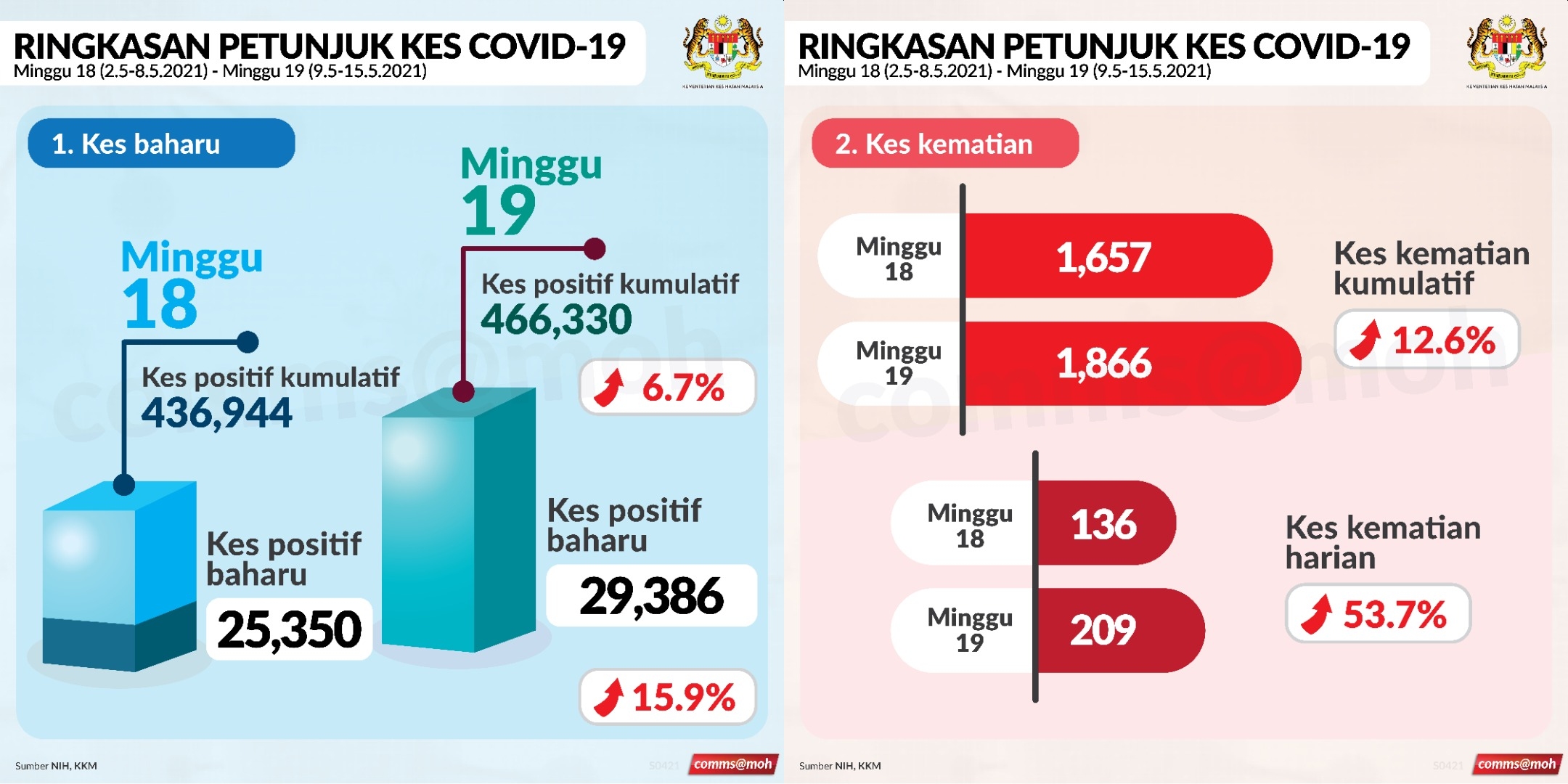 The Ministry of Health (MOH) has repeatedly raised the red flag due to the surge of hospitalisations and deaths caused by COVID-19. As of yesterday, there are 44,827 active cases with 531 patients in ICU and 277 requiring ventilators. Several hospitals are hitting their maximum capacity and authorities are now preparing field hospitals and containers in anticipation of more cases and deaths.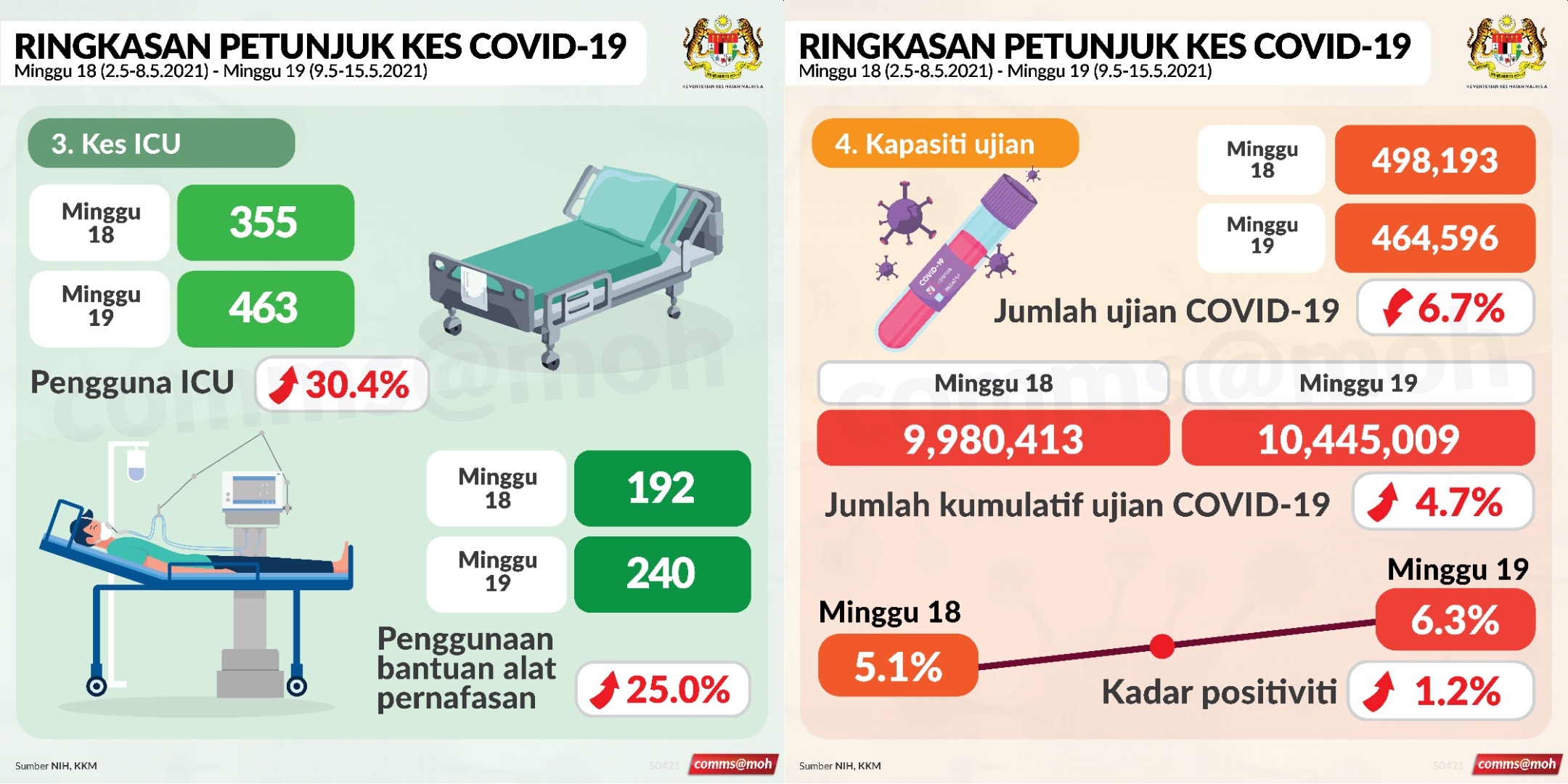 According to MOH's infographic, the number of COVID-19 tests conducted has dropped by 6.7% while the positive rate has increased from 5.1% to 6.3% between week 18 and week 19. This is a sign that Malaysia may potentially have more positive cases that haven't been detected yet.
Based on the infectivity rate, it is forecasted that Malaysia could see 8,000 new cases daily by next month. This would put massive pressure on the healthcare system and more lives could be lost for not being able to receive required treatment.
What can be done?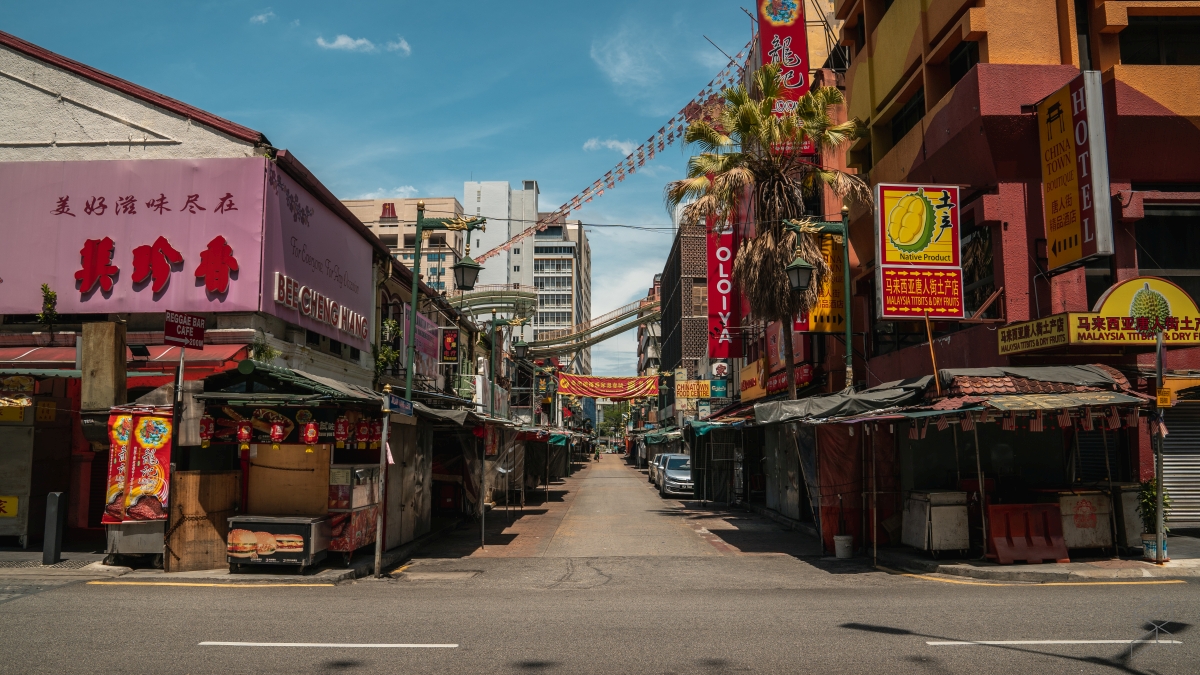 The current movement control order doesn't seem to be effective in flattening the curve of infections. Unlike the first MCO which imposes more restrictive lockdown measures, all economic sectors are still allowed to operate. While the authorities offer some flexibility for people to exercise and to go out to buy necessities, it is still common to see large groups or families going out in public spaces.
Health Director-General Dr Noor Hisham Abdullah had expressed concerns about the spread of new Variants of Concern (VOC) in the community as many positive cases do not show any symptoms and their screening tests return negative. It is believed that these VOCs has caused the rapid spread of new infections and are linked to high fatality rates.
While authorities have yet to introduce tougher measures to curb infections, Dr Noor Hisham has urged Malaysians to practice self-discipline and to refrain from going out unless absolutely necessary. He strongly encourages companies to allow employees to work from home as much as possible and to limit the number of employees at the premises at any one time.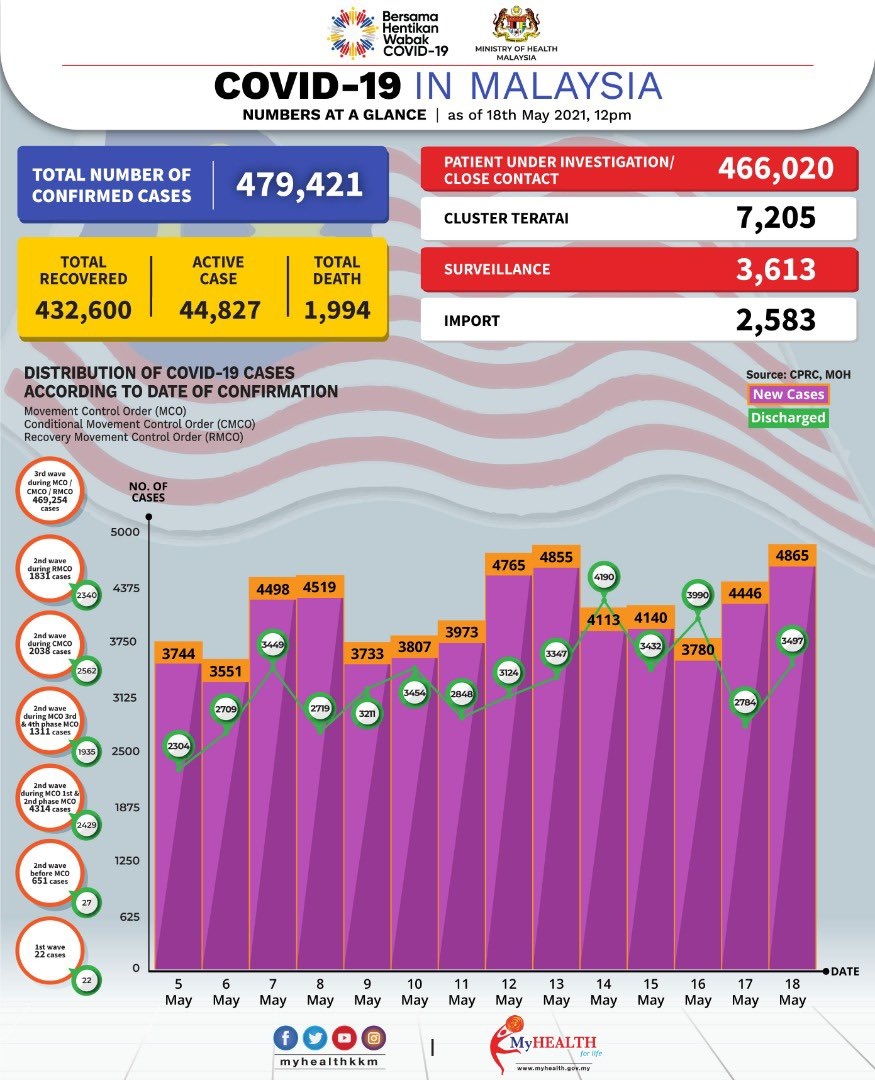 In the meantime, the COVID-19 vaccine is seen as one of the solutions to curb infections. However, it is only effective if Malaysia can vaccinate 70-80% of its population to achieve herd immunity. At the moment, only 42% of the targetted population have registered so far and we need to get as many people registered as soon as possible.
Vaccinations are still ongoing and are gradually increasing as more doses are made available. For those who can't wait for the mainstream immunisation program, the next batch of AstraZeneca vaccines will be open for booking this coming Sunday, 23rd May 2021 in 5 states with priority given to senior citizens.
Vaccinations don't just protect you, but also people around you that can't get vaccinated due to health reasons. Despite the different efficacy rates, all vaccines that have been approved by the National Pharmaceutical Regulatory Agency (NPRA) are effective in preventing hospitalisation and death due to COVID-19. The best vaccine is the one that can be injected into your arm. If you're not registered, you can do so via MySejahtera or sign up online via Vaksincovid.gov.my.
[ IMAGE SOURCE ]
Related reading